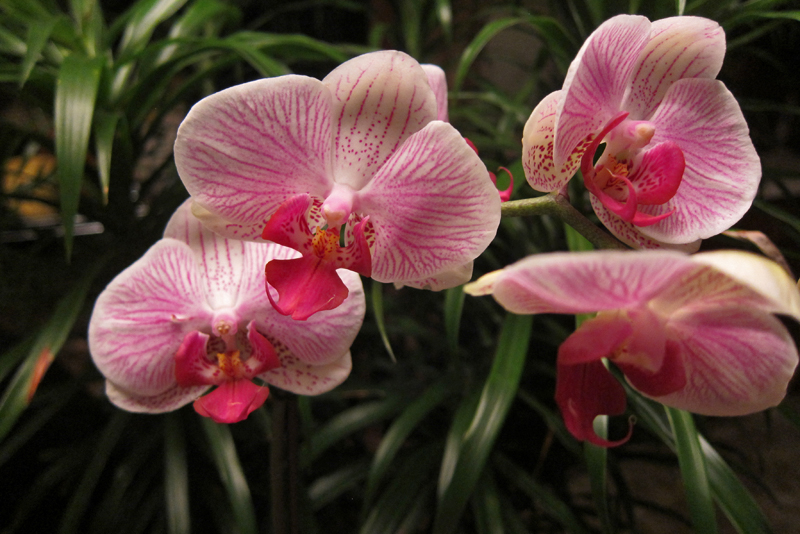 Terrestrial orchids, or those orchids which grow in soil, make up approximately 25 percent of the total number of species of orchids. The vast majority are epiphytes which grow primarily in the tropical regions of the world. Most terrestrials grow in temperate regions – those areas of the world between the tropical zones and the polar circles to the north and south.

There are two main types of terrestrials, those that have tubers and lose their leaves in the fall and winter and those that have pseudobulbs for water retention and are generally evergreen. The latter most often grow in warmer areas while the kinds with tubers generally inhabit a wider variety of habitats. They are perennial in habit and die back during cold or dry seasons and grow rapidly and flower during spring and summer or when the rainy season occurs.

The most fascinating thing about terrestrial orchids, at least to me, is their dependence upon fungi to live. Many orchids have a symbiotic relationship with various fungi in their environment, but the terrestrial orchids seem to be much more reliant on this relationship than epiphytes or lithophytes. It has been estimated that if a wild terrestrial orchid is dug up and transplanted, even with the best of intentions, over 99 percent of them will die because the new environment will not have the correct fungi to keep it alive. This has posed a great problem for those who try to rescue orchids in the way of development projects.

It is thought that the plant in these relationships provides nutrition and a safe haven for the fungus to grow while the fungus provides carbon and water to the plant. In addition, it appears that the orchids depend upon the fungi which also live on the roots of specific nearby trees and shrubs in a microenvironment that is of value to all the plants, so that if you move them they will lose the ability to use those fungi.

There are even some orchids which have no ability to photosynthesize at all and rely on their fungus relationship to provide all the nutrients for growth and flowering. An example of this is the saprophytic orchid which grows completely underground and is leafless. The only evidence that they exist is when the flower is pushed up through the soil to attract a pollinator. So far, they have only been found in Australia, but they are almost impossible to detect, so there may be more.

You Should Also Read:
Orchid Distribution
Native Orchid Conservation
Leafless orchids


Related Articles
Editor's Picks Articles
Top Ten Articles
Previous Features
Site Map





Content copyright © 2023 by Susan Taylor. All rights reserved.
This content was written by Susan Taylor. If you wish to use this content in any manner, you need written permission. Contact Anu Dharmani for details.