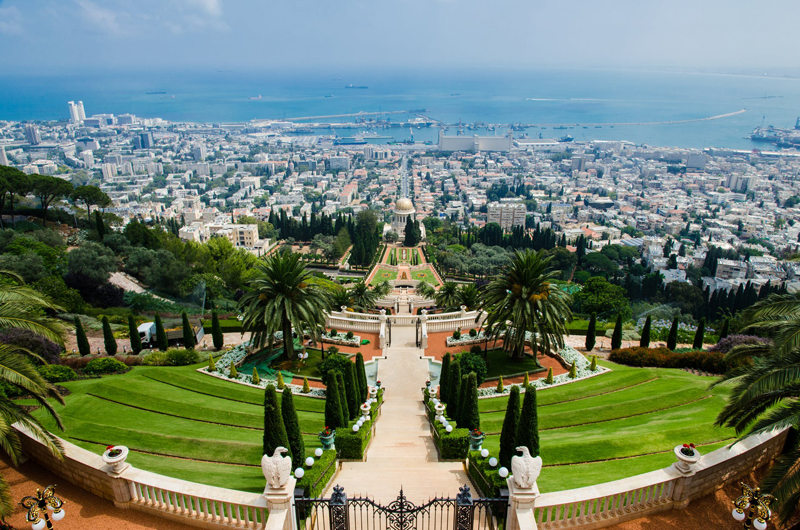 Despite a lot of gurus, books, products to buy, leaders to elect or depose, diets to espouse, and even pills or plastic surgery, that promise happiness, some of us are still searching. Religion has addressed happiness throughout recorded history, and probably longer. The Teachings of the Bahá'í Faith repeatedly emphasize that the role religion is critical, not only as the quickest way to personal happiness, but also as it is the only way to world peace.

Bahá'u'lláh, Prophet/Founder of the Bahá'í Faith, proclaimed that humanity was all one family and the whole earth one common fatherland. This precept is not only about maximizing personal happiness but also about embracing civic engagement and spiritual connectedness, hope and charity. His Son, 'Abdu'l-Bahá, explained the process of civilization in this way: "The primary purpose, the basic objective, in laying down powerful laws and setting up great principles and institutions dealing with every aspect of civilization, is human happiness; and human happiness consists only in drawing closer to the Threshold of Almighty God, and in securing the peace and well-being of every individual member, high and low alike, of the human race; and the supreme agencies for accomplishing these two objectives are the excellent qualities with which humanity has been endowed." - The Secret of Divine Civilization, pp. 60-1

My educational background is in the sciences, and I am happy to report that researchers are beginning to study the effects of some spiritual practices long considered only the purview of theology. Scientists have begun to add their observations on the cause and maintenance of happiness to the body of information built up by merchandisers, philosophers and theologians. Some very interesting areas of agreement have emerged. They have observed and recorded, for instance, that happy people have some important attitudes and behaviors in common:

Happiness is a choice, one that can be made every day. Really. The mind does not know the difference between a fake smile and a real one, once those muscles are in action. We are what we practice to be, my grandmother always said. The Bahá'í Writings instruct us, "Be calm, be strong, be grateful, and become a lamp full of light, that the darkness of sorrows be annihilated, and the sun of everlasting joy arise from the dawning place of heart and soul, shining brightly." - Tablets of 'Abdu'l-Bahá, vol. II

Take care of yourself. Good health isn't a gift; it is a habit that can be cultivated. Take care of diet, exercise, emotional and spiritual nutrition daily, and do it before trying to take care of everyone else. Remember to put in a few minutes every day on something that brings genuine pleasure.

Meditate. Spend time with yourself daily. Prayer helps me get to that quiet place, to go within, and make contact with self. Yoga and other relaxation techniques help, too. Use what works for you. The main thing is to spend the time and energy to make this inner connection.

Stop, look and listen. Practice mindfulness. Savor the world around you, paying close attention to all the sensory information. Stay connected to the natural world; it will feed the soul. Avoid trying to multitask. Do one thing at a time and give it full attention.

Concentrate on the positive. Limit negative influences. Television news, for instance, accentuates the bad in the world and mostly ignores the good. What we pay attention to will thrive, so keep it mostly positive.

Keep a sense of humor. Studies have shown that, in addition to improving immune function, laughter massages internal organs, lowers blood pressure, cleanses the blood and stimulates the release of mood-lifting hormones.

Set attainable goals. Invest in your future, so that there is always something to look forward to. Keep making new dreams and working on them.

Make and maintain friendships. Spend time with people who make you feel good. Feeling good? Share the news and brighten someone else's day, too. Try smiling at every third person you meet in the grocery store next time you go, and watch what happens--to them, and to you. "Happy the soul that shall forget his own good, and...vies with his fellows in service to the good of all..." - 'Abdu'l-Bahá, Secret of Divine Civilization, p. 116

Give thanks. Cherish each day; keep a daily list of things to be glad about. Remember to look at it! Practice gratefulness.

Last, but not least: It is never too late to take the first step.

"If we are not happy and joyous at this season, for what other season shall we wait and for what other time shall we look?" - 'Abdu'l-Bahá, Promulgation of Universal Peace, from a talk in New York, July 1, 1912
You Should Also Read:
Be Happy - Serve
Joy and Laughter
Gelatology - the Study of Joy and Laughter


Related Articles
Editor's Picks Articles
Top Ten Articles
Previous Features
Site Map





Content copyright © 2023 by Cheryll Schuette. All rights reserved.
This content was written by Cheryll Schuette. If you wish to use this content in any manner, you need written permission. Contact Cheryll Schuette for details.