Vanda Alliance Orchids – Orchid Profile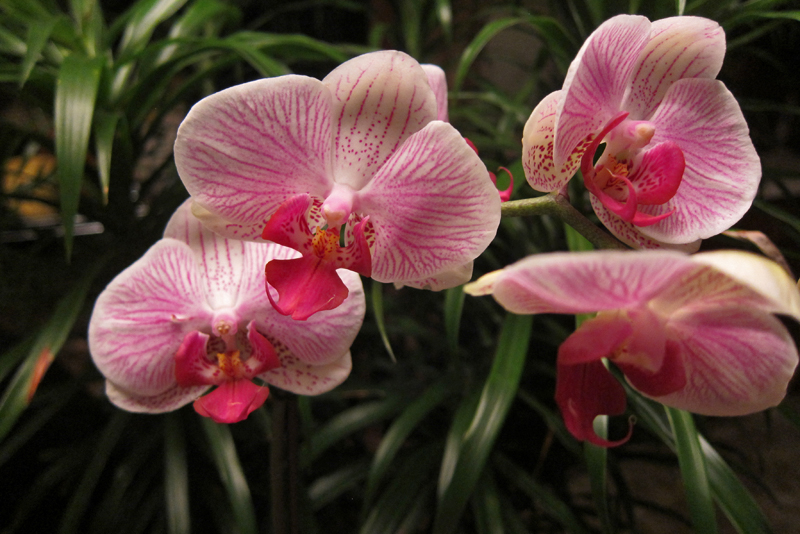 Vandaceous orchids are among the most spectacular of all orchids with brightly colored flowers up to 6 inches or 15 centimeters across. They are one of the only genera of orchids which actually has flowers which are a true blue color and many hybrids have been made to enhance this color. One of the most well known hybridizers of Vandas is
R.F. Orchids
in Homestead, Florida. Their site has some excellent pictures of Vanda hybrids as well as species.
In general, they originate in southeast Asia and are warm weather, sun loving plants. Few will grow and bloom well in indoor conditions unless care is taken to expose them to high light by moving them outdoors during summer months. Vandas are monopodial in growth habit or grow from one tip at the top of the plant such as Phalaenopsis. After they have attained mature size, side growths can start to appear which will produce plantlets.
There are three distinct types of Vandas: Strap leaf, terete leaf and semi-terete leaf. Strap leaf Vandas have somewhat flat and leathery leaves and require a bit less light than the other varieties. Terete leafed varieties have circular, pencil shaped leaves and require very high light to almost full sun to flower well. Semi-terete plants are generally hybrids of the two varieties and require very good light to flower. Vandas also come in a variety of sizes from giant plants with leaf growth up to 6 feet or 2 meters, to tiny varieties only about 2 inches or 5 centimeters tall.
But no matter the size, Vandaceous Alliance plants are almost all grown with little or no medium after they reach adult size. Many growers will simply attach the plants to a hook and hang the in the top of greenhouse under a misting system. Others put them in teak baskets with no medium. They are heavy feeders and should be fed year round once a week with good quality all purpose fertilizer with even numbers such as 20-20-20 and flushed once a month with plain water to minimize salt buildup.
Unless you live in a tropical climate where you can leave your plants outside, you will want to consider the smaller varieties such as
Ascocentrums
or
Rhynchostylis
which produce smaller flowers but retain the bright colors of the genus. Another very famous orchid in this alliance is
Neofinetia falcata
which is easily grown in windowsill conditions and requires cooler temperatures than most Vandas.
You Should Also Read:
Orchid Profile - Dendrophylax lindenii
Recommended Orchid Vendors
Gift Ideas Under $25


Related Articles
Editor's Picks Articles
Top Ten Articles
Previous Features
Site Map





Content copyright © 2022 by Susan Taylor. All rights reserved.
This content was written by Susan Taylor. If you wish to use this content in any manner, you need written permission. Contact Anu Dharmani for details.