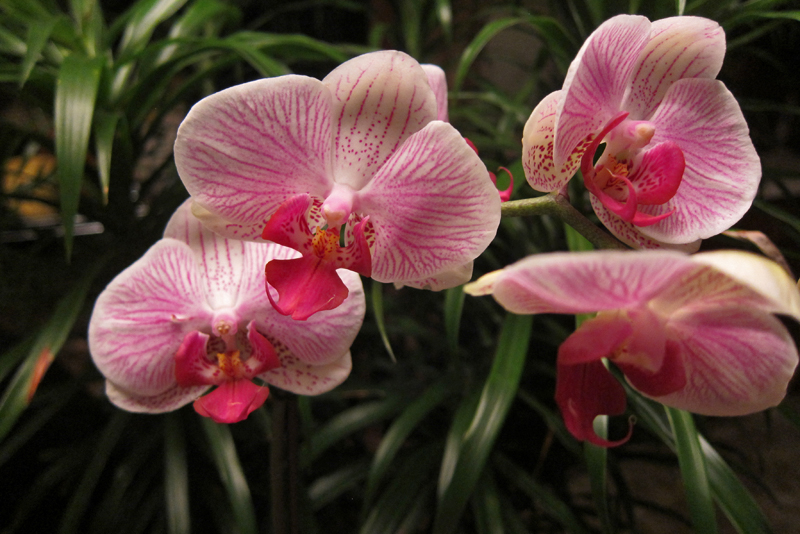 Repot
Fall is a good time to repot those orchids which have already bloomed and are going into a rest period or growing pseudobulbs which will mature over the winter. With cooler weather the transplanting process will be easier to bear. Some of the varieties to repot are Doritis, Doritaneopsis and Encyclia as well as Phal seedlings.

Move Your Phals to a Cool Spot at Night
Fall is the time to move your Phals to a cool spot, around 60 degrees Fahrenheit or 15 Centigrade at night, until you see inflorescences starting at the base of the plant. When the growths are about 2 inch or 5 centimeters long, the plants can be moved back to their normal warmer conditions. Stake the inflorescence beginning at about 6 inches or 15 centimeters and make sure that you keep the plant positioned the same direction in relationship to the light for best presentation of flowers.

Move Plants Inside
Prepare all your plants for moving into warmer conditions before the first cold front arrives. Check them for insects in the pots, clean up dried out sheaths where bugs might hide and even start moving some of the tender plants inside as night time temperatures cool. Then you will ready for that first really cold weather and only have a few plants to take care of at the last minute.

Water and Fertilizer Requirements Change
Fall is a time when you will need to adjust your watering and fertilizing schedules to accommodate the variable weather conditions. As the temperatures cool your plants will use less water and start slowing on their growth, so will need less fertilizer. Generally I keep with my same fertilizing schedule of every other watering throughout the year. But in fall that watering goes from twice a week to every five days and then to once a week in winter.

Keep Your Air Circulation Going
It is especially important during the fall and winter months to keep air circulation going especially in a greenhouse or enclosed growing space. Mold, mildew and insects thrive in stagnant conditions and will cause many problems without proper air circulation.

Light Requirements are Changing
Fall brings changes in light conditions for inside and outside growers. Make sure your plants are getting enough light with the changing conditions or move them around if you are removing shading used during the hot summer months. Leaves on orchids can burn if they get too much direct sunlight.

You Should Also Read:
Orchid Growing Tips
Spider Mites
Growing Orchids Under Lights


Related Articles
Editor's Picks Articles
Top Ten Articles
Previous Features
Site Map





Content copyright © 2022 by Susan Taylor. All rights reserved.
This content was written by Susan Taylor. If you wish to use this content in any manner, you need written permission. Contact Anu Dharmani for details.