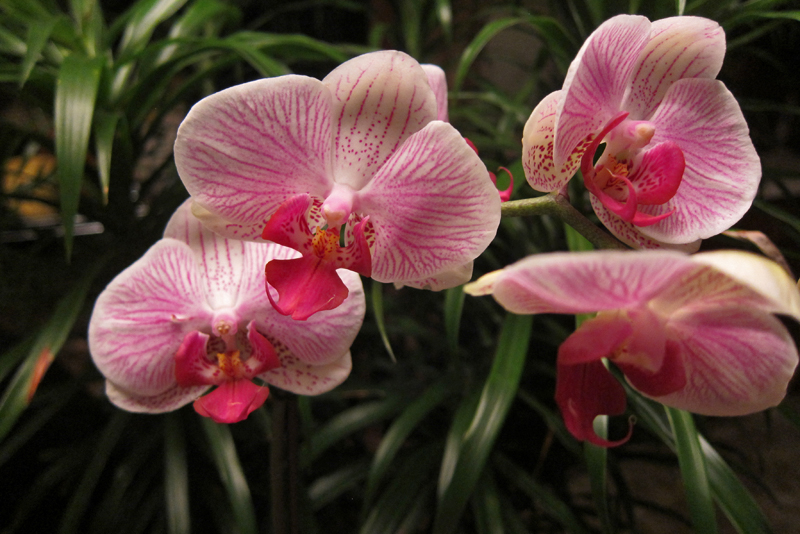 When considering mounting orchids, one of the most important things to do is to make sure that you have all the materials you will need ready and prepared. Count the number of orchids you wish to mount and then prepare enough materials to accommodate them by size and type. Once you have selected your mounting material soak it overnight in water and also soak about a handful of Sphagnum moss per plant.

In order to assist in removing your plants from the pots, soak them for an hour or so to soften the root system and loosen it from the pot if the roots have grown onto the pot. Use a dull knife to gently cut between the pot and the plant to remove the roots. When done carefully, it is possible to remove roots without causing harm to the plant at all. Use a hose to remove all loose media and then gently remove by hand any that remains. Cut off any damaged or rotted roots and then trim the live roots to encourage them to grow after mounting. I always then soak my plants in Physan or Consan for at least five minutes to reduce the chance of bacteria and fungus entering the plant.

Spread the moss on the mounting, arrange the roots over the moss and then use six to ten pound fishing line (monofilament) to tie the orchid to the mount. Fishing line is widely used because it can be left on the mount since it does not biodegrade and is nearly invisible. You want to mount the plant well enough to keep it in place on your material, but not so tightly that you are cutting the roots or the plant with the line. Another idea is to use old panty hose to attach the plant to the mount. Once the orchid is well attached, the panty hose can be removed. This is a good option in addition to the fishing line so that some extra moss can be used to cover the outside of the roots while the plant is getting established.

Keep the orchid in a somewhat shady spot for a couple of weeks and spray sparingly until you see new roots growing and then move it to the location where you will be growing it. It is virtually impossible to overwater mounted plants, so if you like to baby them mounting is a good way to grow. During hot weather, however, it vitally important to water every day or the plants will not fare well.

You Should Also Read:
Mounted orchids
Growing Orchids on Mounts
How to Make an Orchid Tree


Related Articles
Editor's Picks Articles
Top Ten Articles
Previous Features
Site Map





Content copyright © 2019 by Susan Taylor. All rights reserved.
This content was written by Susan Taylor. If you wish to use this content in any manner, you need written permission. Contact Anu Dharmani for details.