Secret Recipes of Homebrew Chef Sean Paxton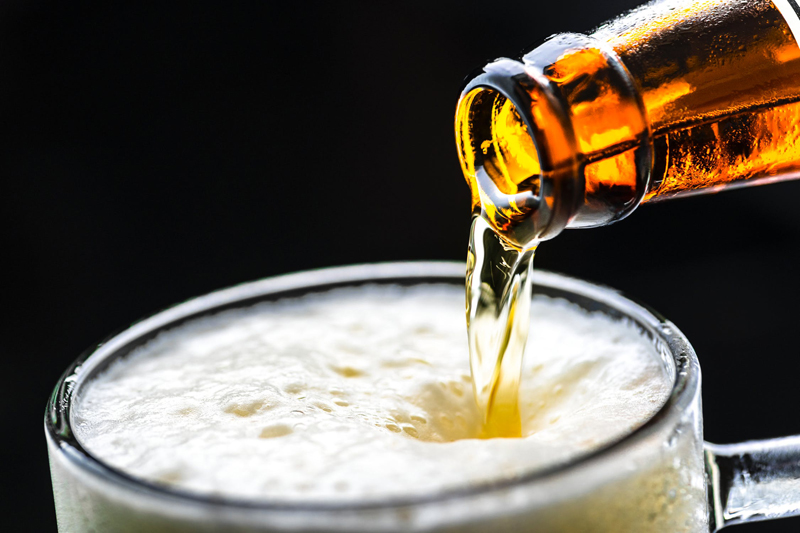 Homebrew Chef Sean Paxton reigns as one of the great beer and food chefs of the Craft Beer Renaissance in the United States. As a professional chef, his interest in cooking had begun to spill into the realm of homebrewing, and by 1993, he was making magic in the brewkettle. In his pursuit, he began identifying the foundation of each style of beer and how it paralleled the flavors of food. He developed a philosophy that included cooking with beer and elaborating on it further by pairing each dish with a complementary beer. The results have skyrocketed him into the spotlight as a leading authority across the country. His most famous beer dinner was held at Ebenezer's Pub in Lovell, Maine, where he prepared a 12 course beer and food extravaganza that lasted 6 hours.

As a guest chef at the 2009 Great American Beer Festival's Beer & Food Pavilion, Chef Sean Paxton has been generous with his secrets. In his demo with Will Meyers of Cambridge Brewing of Cambridge, Massachusetts and Ron Jeffries of Jolly Pumpkin of Dexter, Michigan, he presented delights to please the palate – then presented the recipes for your own enjoyment. If you attended this presentation, you will not remember La Roja Sorbet - this is an additional treat that Chef Paxton has given as his Chef's Extra.

Peel & Eat: Roasted Rock Salt and Sgt. Pepper Prawns

Playing with a theme can be a great way to inspire your guests. The idea of salt & pepper was the idea behind this dish. Using a saison style ale and 'dry peppering' with 4 different peppercorns enriches the peppery flavors from the warm fermentation, without overpowering the glass or dish. Then using rock salt as a cooking medium, helping transfer the heat evenly to the delicate shellfish, adds flavor without being over salty.

Serves: 4 as an entree or 8 as an appetizer

Ingredients:

8 cups Sgt. Pepper Saison by Cambridge Brewing Company*
2 pounds Prawns, 16-20, head and shell on, deveined
4 pounds rock salt, like what you would use for hand cranked ice cream

Directions:

In a large bowl or sealable container, add the prawns and cover with the beer. Let sit in the refrigerator for 1-4 hours to marinate and infuse the favors of the peppery saison into the shellfish.

Preheat the oven to 475°F. Take a medium to large size casserole pan(large enough to let all the prawns lay in a single layer) and fill it with the rock salt. Place into the center of the oven and let heat with the oven. Once the oven has come to temperature, let sit for another 10-15 minutes. Remove the prawns from the beer and pat dry with a paper towel. Remove the casserole pan from the oven, and pour out half of the hot salt into a second bowl. Arrange the prawns onto the salt rocks and then pour the remaining salt over the top of the prawns. Place back into the oven and roast for another 8-10 minutes. The prawns should be an light pink/orange color and be fully cooked. Test one to be sure that they are done. Remove them from the oven and using tongs, pull the prawns from the rock salt and arrange onto a serving platter. Serve immediately.

* If you aren't near Boston and can't get this beer, try using your favorite saison and adding a tablespoon of freshly ground mixed peppercorn blend to it. This will be a decent substitution.

Braised Duck Legs in La Roja

Rich and succulent, this braised duck leg with warm the soul on the cold fall and winter nights with its complex flavors and textures.

Serves: 4 guests


Ingredients:

4 each duck legs, with thigh attached
750 ml La Roja, Jolly Pumpkin Artisan Ales
4 ounces unsalted butter, organic
2 ounces olive oil
2 each leeks, white and light green part only, sliced
4 each shallot, peeled and sliced
1 each orange, zested and juiced
1 bunch thyme, fresh
1 stalk lemongrass, outer leaves removed, minced
1 cup sour cherries, pitted
1/2 cup dried pears, diced
1 cup chicken stock, preferably homemade
sea salt and cracked black pepper
butter, unsalted

Directions:

Wash duck legs and pat dry with a paper towel. Place legs into a shallow container, large enough to hold all 4 legs in an even layer and pour the La Roja over the top. Cover and refrigerate for 4 hours to 2 days.

Preheat oven to 325°

Remove the duck legs from the beer, reserving the La Roja for braising. Pat the legs dry with paper towels and with a sharp knife, score the skin in long slats across the leg/thigh. Repeat the process until all four legs have been scored.

In a Dutch oven or large sauté pan over medium heat, add olive oil and butter. Add the duck legs, scored side down to the Dutch oven. Brown each side for 6 minutes, forming a nice crust. Remove from the pan and place into a bowl. Add leeks and sauté for 5 minutes or until translucent. Remove the leeks from the pan adding to the duck leg bowl, reserving the butter/oil in the pan. Next add shallots and sauté for 6 minutes, or until lightly caramelized. Add sautéed leeks back to the pan, deglazing with La Roja. Add the orange zest and juice, thyme, lemongrass, cherries and pears, along with the duck legs, arranging in a single layer back to the pot. Top with the chicken stock and bring to a boil, cover with a lid and place into the center of the oven for 2 ½ - 3 hours or the duck is fork tender.

Carefully remove the duck from the pan, placing onto either the serving plates or a sheet tray to keep warm. Place the Dutch oven over a high heat and reduce the remaining ingredients to a sauce like consistency. Check the seasoning and mound in 2 tablespoons of butter, to give a velvety smooth finish to the sauce. Serve with a celery root puree, mash potatoes or mashed sweet potatoes. Garnish with the sauce over the duck leg.

La Roja Sorbet

The first time I tasted Jolly Pumpkin's beers, my taste buds never knew what was ahead with each sip. Complex, sour, tart, tannin, with flavors that evolve over the course of several minutes. By using this beer in a sorbet, the chef can create a perfect palate cleanser after a rich or fatty dish, or as a component in a dessert and play up the intense stone fruit characters.

Serves: 6 as a dessert or 12 for a intermezzo

Ingredients:

750 ml La Roja from Jolly Pumpkin Artisan Ales, chilled
1 cup simple syrup (optional)
2-3 liters liquid nitrogen in a dewar or a ice cream maker

Directions:

Pour the chilled beer into the bowl of an electric mixer, leaving behind any remaining sediment in the bottle. Adjust the tart/sour component, if desired, with the simple syrup. This will also add texture to the finish sorbet, by inhibiting the freezing process and giving mouth feel. Fit the bowl to the mixer and affix the whisk attachment. Turn on the mixer for a few minutes to whip some air into the mixture. Then turn the mixer off and carefully add about 2 cups of liquid Nitrogen, turning the mixer on low after the Liquid Nitrogen has been added, being careful not to splash any. Repeat this same procedure until the sorbet has set, usually with about 4-6 cups of liquid Nitrogen per bottle. Serve immediately.

To make the simple syrup, add 1 part sugar to 2 parts water and bring to a boil. Remove from heat and cool. Store in a jar, refrigerated for 4 weeks.

Cheers!

Photos are: Homebrew Chef Sean Paxton; Nationally aplaused menu from 12 course Beer Dinner at Ebenezer's Pub in Lovell, Maine, courtesy of Chef Sean Paxton

NOTE: Recipes are courtesy of Homebrew Chef Sean Paxton and are used with permission.

 
You Should Also Read:
Sean Paxton - Homebrew Chef Shares Beer Recipes
Beer & Food Pavilion at the GABF 2009
GABF Photos from the 2009 Beer & Food Pavilion


Related Articles
Editor's Picks Articles
Top Ten Articles
Previous Features
Site Map





Content copyright © 2022 by Carolyn Smagalski. All rights reserved.
This content was written by Carolyn Smagalski. If you wish to use this content in any manner, you need written permission. Contact Carolyn Smagalski for details.