Guest Author - Jeanne Egbosiuba Ukwendu
Name:
Grant's Gazelle
Scientific Name:
Gazella Granti or Nanger Granti
African Names:
Swala Granti (Swahili)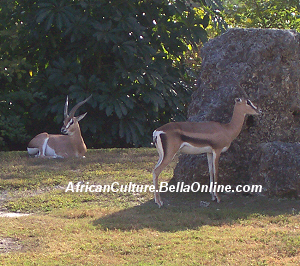 Height:
3 feet
Average Adult Weight:
84 to 175 pounds
Life Span:
12 years
Description:
Grant's gazelles resemble Thomson's gazelles, but are larger and have a broad white patch on the rear which extends onto the back. Some varieties of Grant's gazelle have a black stripe on each side of the body like the Thomson's gazelle. In other Grant's gazelles the stripe can be very light or non-existent. There is a black stripe running down either side of the white buttocks. Grant's gazelle's lyre-shaped horns are thick at the base, ringed and measure roughly 18 to 32 inches. On females, black skin surrounds the teats with white hair on the udder. This probably helps the young recognize the source of milk.
Habitat:
Grant's gazelle are found in open grass plains and frequent bushy savannahs. They avoid areas of high grass.
Countries found in:
Grant's gazelle are found in East Africa including Ethiopia, Kenya, Somalia, Sudan, Tanzania and Uganda.
Babies:
Gestation is 7 months. Grant's gazelle give birth to one calf at a time. Baby Grant's gazelle are nursed for 6 months, but do eat their first solid food around the age of one month.
Food:
Grant's gazelle eat herbs, leaves from shrubs, short grasses and shoots. They are not dependent on water, but obtain the moisture they need from their food. Grant's gazelle generally feed at night when the humidity is higher.
Group Name:
Herd. Herds can have as few as 10 to 15 Grant's gazelle or up to several hundred.
Conservation Status:
Lower Risk / Conservation Dependent
Predators:
Humans, lions, cheetahs, leopards, hyenas, and hunting dogs.
Interesting Facts:
Grant's gazelle have the ability to allow its body temperature to rise by as much a ten degrees with the outside temperature. They use a technique of forcing air through nasal passages in order to cool their brain to keep it from overheating.