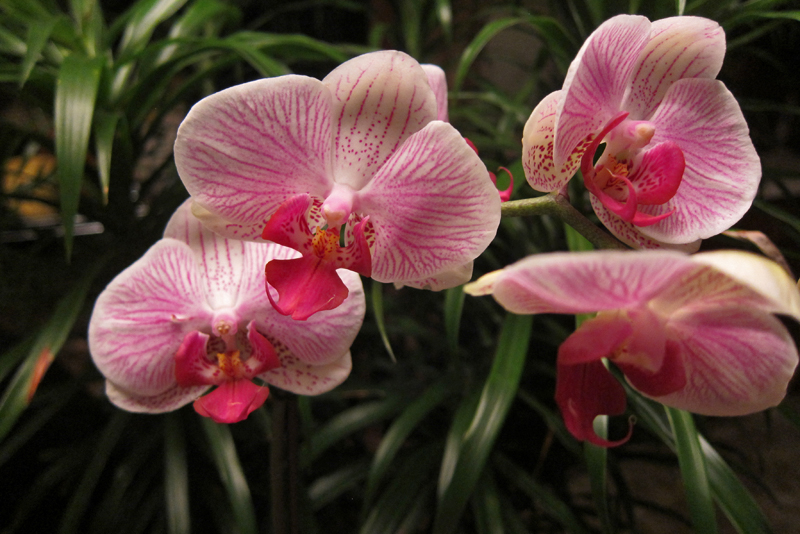 Phalaenopsis is without doubt the most popular and easily available of all the orchids. They are the most popular potted plant in the United States after the Christmas Poinsettia. There are many reasons for this popularity – the color range of the flowers, the ease of care, the long flowering time, and the elegance of the flower presentation.

Phals come in some of the widest ranges of colors of all the orchids. The original wild whites and pinks have been bred into an incredible range of pure white to dark purple to red and most recently orange. In addition to these pure colors, all kinds of patterned flowers are now available and can be used in any kind of decorative environment. For the winter holiday season the white Phals provide a wonderful counterpoint to the brighter red and green colors.

They are one of the easiest of orchids to grow indoors as their light needs are fairly low and they are happy in temperatures which are normal in a household environment. Watering should be done about once a week with rain water, bottled water or tap water left out overnight to reach air temperature. Daily morning spraying will help the plant and increase humidity. If you have the plant in a decorative planter, be sure to remove it before watering and make sure that there is no water in the bottom of the pot when you replace it. Moss around the plant on top of the planting media will help keep the humidity around the plant higher.

One of the best things about Phals is their long flowering period. Last year my daughter in law gave me a double spiked Phal for Christmas and it flowered until about the middle of June—six months. It then spiked again in July and started flowering in October and should still be in flower for this Christmas season. This is unusual, but most of them will flower for at least four months. Be sure that when you pick out a plant, you choose one that has only one or two flowers open so you can see the color but has lots of buds left to open.

The presentation of the flowers on a Phal depends upon its ancestry. Some will have one long and arching inflorescence, others – known as multiflorals – will have branching inflorescences with many flowers. In addition to the differing growth types, Phals come in different sizes. Recently, much work has been done in producing smaller plants especially with the multifloral growth habit.

Go out and get yourself one of these great orchids to enhance your holiday decorations and to keep your spirits up during the dreary winter months after you take down your other decorations!
n
You Should Also Read:
Flowering size plants
Buying on the Internet
Recommended Orchid Vendors


Related Articles
Editor's Picks Articles
Top Ten Articles
Previous Features
Site Map





Content copyright © 2018 by Susan Taylor. All rights reserved.
This content was written by Susan Taylor. If you wish to use this content in any manner, you need written permission. Contact Anu Dharmani for details.