Invictus is a movie set in South Africa just after Nelson Mandala is elected president. Faced with the potential of a civil war, Mandela is looking for ways to unite a South Africa torn apart by apartheid. Mandela zeroes in on the nation's rugby team - the springboks. The springboks are a team that every black in South Africa, including Mandela himself, would root against hoping the other team, no matter who they were, would win. Now the new president gets behind the team hoping the team can win the rugby world cup and help to unite the country with a common cause.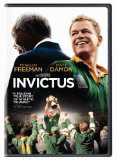 Invictus is well cast and well acted, although you can hear Morgan Freeman's accent slip every now and then. Matt Damon's accent is impeccable. The tension between the blacks and white was, at times, so thick you could cut it with a knife. The white people are expecting to lose everything when the new regime takes over the country. Time and time again, Mandela shows both sides what true forgiveness is.
One of my few criticisms of Invictus is the slums. The movie does get the appropriate reaction from the audience when they show the slums, the shanty-type buildings built from bits and pieces of scrap metal and wood. However, the slums were too clean. Normally, you'll see used tires on the roofs holding them down against the wind and garbage all over the place. The slums in Invictus were simply too clean to be real slums.
My other problem is with a scene in which a jetliner buzzes the stadium where the rugby world cup is being held. The build-up to this scene is as if something ominous is going to happen. A jetliner really did buzz the stadium just before the 1995 rugby world cup. At that time, pre-9/11, this would have been seen as a harmless, even patriotic, stunt. Post 9/11, this is viewed as a potential terror attack. The movie plays this up as an impending threat, which did add to the tension of the movie, but it should have been played up as a harmless stunt.
Overall, this is an excellent movie showing the genius of Nelson Mandela's forgiveness of people and his ability to unite a country.
Invictus
is available on DVD from Amazon.com
My ticket for this movie was purchased by me with my own funds.
This site needs an editor - click to learn more!

You Should Also Read:
The Ghost and the Darkness - Movie Review
Discovering Benin, West Africa - Movie Review




Related Articles
Editor's Picks Articles
Top Ten Articles
Previous Features
Site Map





Content copyright © 2022 by Jeanne Egbosiuba Ukwendu. All rights reserved.
This content was written by Jeanne Egbosiuba Ukwendu. If you wish to use this content in any manner, you need written permission. Contact BellaOnline Administration for details.