Growing Orchids Semi-Hydroponically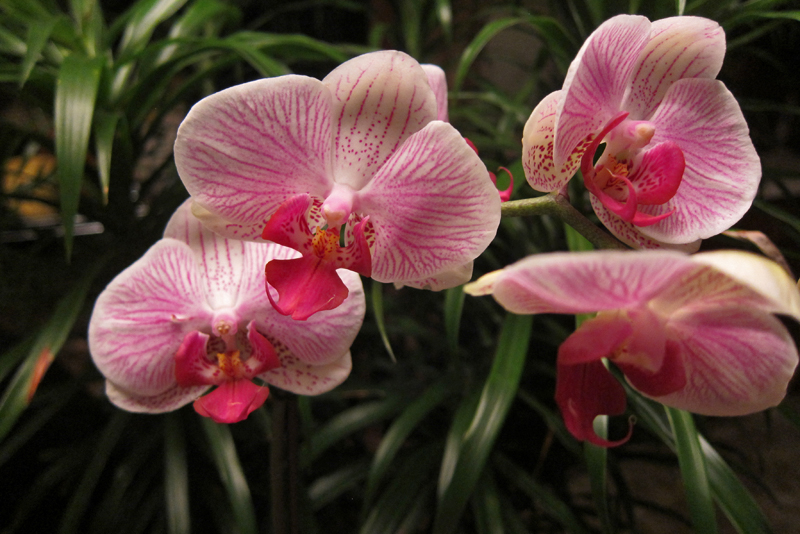 Semi-hydroponics, or S/H, is becoming more common in the orchid world. This technique was originated by
Ray Barkalow
, who maintains a wonderful website with a great deal of information on both orchid culture in general and S/H.
Semi-hydroponics is the use of a porous medium in a pot with a reservoir of water at the bottom of the pot which wicks moisture up through the media allowing for constant moisture as the plant uses up the water. Most pots sold for this culture are plastic with drainage holes approximately one inch or three centimeters up the side of the container. Water is poured into the pot to flush all the media at the time of watering so that there is less chance of mineral buildup. Since the plant has a reservoir to draw from it is necessary to water less often, usually when all the water at the bottom of the pot is gone. Fertilizing is recommended at each watering using approximately one-quarter recommended strength or you can use timed release fertilizer to save time.
There are several reasons that so many growers are now experimenting with this method of growing. It is a great time saver. Using an inert media reduces the need to repot due to deteriorating bark or other natural materials. The only time repotting is necessary is when the plant has outgrown the current container. With monopodial orchids this provides an exceptional opportunity allow your plants to grow undisturbed for several years and to establish their roots. Repotting is simplified because all you have to do is move the plant to a larger container and add more pellets to fill in the spaces. Not as much trimming of roots and very little problem removing the plant from the previous container. Many of the recommended containers are opaque so that you can see the root growth on your plants which gives you a great idea on how they are doing.
Some roots will grow down into the reservoir. Orchid roots are exceptionally variable in their abilities. If they grow in a pot in solid media, they will adapt to survive there. If they grow on a branch, they will adapt to that environment. So when a plant is in S/H, the roots that grow down into the water will adapt to live and absorb water in that environment too.
In addition to being a good way to grow orchids, S/H reduces the need for natural materials used for potting such as tree fern which is now considered to be on the decline due to over harvesting for the plant trade. The inorganic medium can be cleaned and reused in much the same way as clay pots by soaking in a bleach solution overnight.
You Should Also Read:
Orchid Growing Tips
Buying on the Internet
Semi-Hydroponic Orchid Growing


Related Articles
Editor's Picks Articles
Top Ten Articles
Previous Features
Site Map





Content copyright © 2022 by Susan Taylor. All rights reserved.
This content was written by Susan Taylor. If you wish to use this content in any manner, you need written permission. Contact Anu Dharmani for details.