Guest Author - Jeanne Egbosiuba Ukwendu
Name:
Dromedary Camel or Arabian Camel
Scientific Name:
Camelus dromedarius
African Names:
Jamal (Arabic), Geel (Somali), Jamali (Swahili)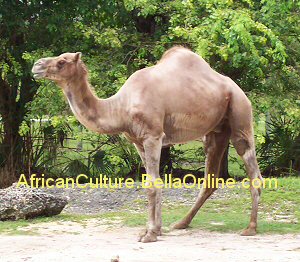 Height:
Up to 6 feet
Average Adult Weight:
A camel can weigh up to 1540 pounds.
Life Span:
Camels live up to 50 years.
Description:
The color of a camel varies from cream to almost black. Camels can carry up to 1000 pounds, but do best when the load is around 330 pounds. They have broad, flat, leathery pads with two toes on each foot. When a camel walks the pads spread out, preventing the foot from sinking into the sand. The camel has a large mouth with 34 sharp teeth. Their nasal passages are protected by large muscular nostrils that open and close.
Habitat:
When camels roamed wild they lived in the arid plains and deserts of North Africa.
Countries found in:
Egypt, Eritrea, Ethiopia, Kenya, Libya, Morocco, Somali, Sudan, Uganda,
Babies:
Camels have a 13 month gestation period after which a single calf is born.
Food:
Camels are herbivores and can go weeks without eating. Camels eat dates, grass, hay and such grains as wheat and oats. When crossing the desert, a camel will eat dried leaves, seeds, and desert plants.
Group Name:
A flock of camels.
Conservation Status:
Domesticated
Predators:
Wolves, tigers, lions, and humans.
Interesting Facts:
The dromedary camel is the most common species of camel.
Dromedary camels actually have two humps, but only one is developed.
Camels have two rows of eyelashes to keep sand out of their eyes.
A camel's hump is made of fatty tissue, not a water storage area.