How to Choose a Healthy Orchid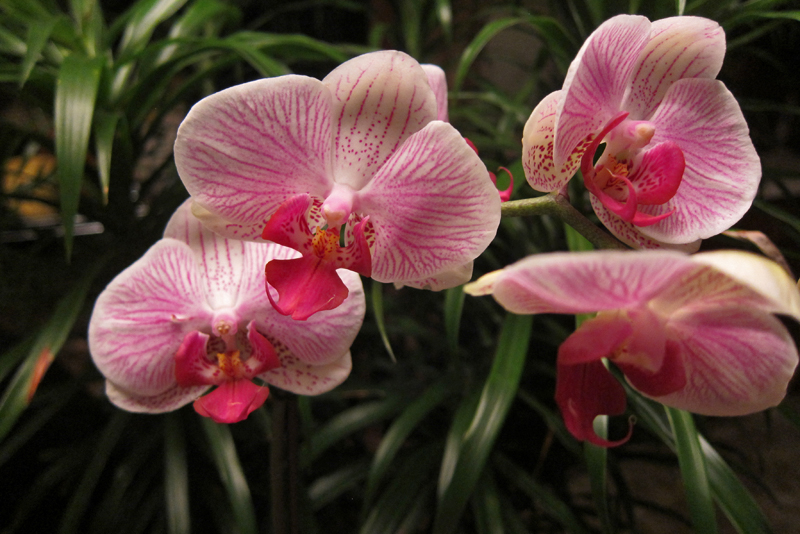 When you are looking at orchid plants in a nursery the chances are that they will be healthy and well grown. However, there are some things you can look for to ensure that the plant you're buying will be the best you can get.

The best way to get flowers that you are going to like is to buy a plant in bloom, or a plant that is exactly the same (a mericlone) of one that you have seen in bloom. Check the leaves on the plant to make sure that they are plump and smooth looking not wrinkled or pocked. They should be of uniform color and have few if any spots. Some varieties of orchids will develop spots on the leaves from high light levels, so ask your vendor about it. Look for insect damage under the leaves and check the media to make sure that it and the visible roots look healthy.

The flowers should be free of any odd looking color breaks which might indicate a viral infection. Color breaks can be anything from unusual patterning when the color should be plain to blotching. If you think a flower looks odd, check with another vendor for the same plant and compare flowers. One exception would be the harlequin Phals which have spots which can be different on each flower.

If possible, take the plant out of the pot to inspect the roots so that you know they are healthy and growing and not rotting. This is not always possible to do, especially if you are purchasing from a vendor such as a supermarket or hardware store. I that case, make sure that the orchid has not been overwatered and sitting in water. The leaves will show withering and sunken spots from overwatering just as they do from under watering. In many cases it is possible to save these orchids by immediately taking them out of the decorative plastic and repotting them in a good medium. Water carefully afterwards.

Always be sure to quarantine new plants if you have healthy plants already. Most new growers will learn this lesson the hard way by bringing home just one infected plant that will cause problems with all the others. Remember orchids only grow one or two new shoots a year. It will take years to replace all the leaves from a really bad insect devastation! Spray for insects and fungus and keep separated for approximately 10 days at the least. A month is even better.

You Should Also Read:
Should I repot that new orchid?
How to choose an orchid
Flowering size plants


Related Articles
Editor's Picks Articles
Top Ten Articles
Previous Features
Site Map





Content copyright © 2022 by Susan Taylor. All rights reserved.
This content was written by Susan Taylor. If you wish to use this content in any manner, you need written permission. Contact Anu Dharmani for details.