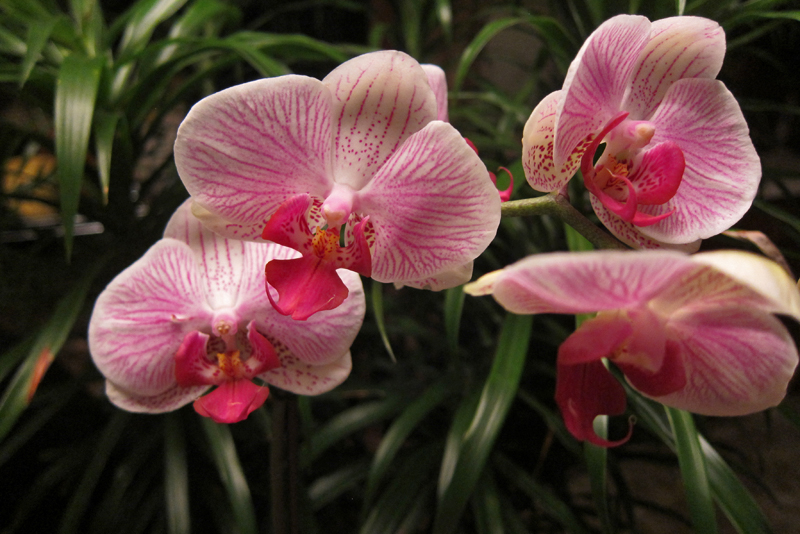 AOS has video clips
The AOS has added clips on a number of orchid care subjects to their site at
The American Orchid Society
. These are well produced and very informative videos. Check them out.
Don't worry if your Dendrobiums lose their leaves
Dendrobium orchids will sometimes lose their leaves during cooler winter months, especially if they are in cool greenhouses. The leafless canes will sometimes produce inflorescences and even if they do not they continue to provide energy to the rest of the plant. As long as they are green leave them on the plant. If they turn yellow or dark brown, cut them back.
Clean up your plants
Get a head start on spring repotting by cleaning up your plants. Remove dried sheaths from Cattleyas and make sure that no unwelcome pests are hiding in them. Remove dead backbulbs so that will not need to be done at repotting time. Clean off leaves with lemon juice to remove any mineral or fertilizer buildup. This will make them look better as well as allow your plants to absorb more sunlight.
Divide plants in the pot
If you're going to repot a plant that is growing out of its pot, go ahead and make the cut with a strong pair of shears. Be sure to use a sterile cutting tool such as disposable razor blades or sterilized shears. Spray the wound with a fungicide and place a marker such as a plastic plant tag in the cut to keep it from growing back together. Precutting your plants will speed up the production of side shoots on the back bulbs as well as encouraging new growth on the growing side.
Check your name tags
Name tags on your orchids will generally survive for about 3-4 years. If you have been doing well with your plants for that length of time, check the status of your tags. Replace old tags with new ones before you are no longer able to read the old ones. At the same time if you have not repotted the plant, check the media to determine whether or not the plant needs to be repotted.
Dispose of plants that are not growing well
Every grower has some plants that are simply not doing well in his or her environment. Take the time to identify these plants and decide whether or not to continue to spend your time and money on them or to give them to someone with a different growing environment who might be able to do better. There are probably some plants in every collection which are close to death which simply need to be disposed of. Weak plants, in addition to taking up time, also will attract bugs and rots which can move to healthy plants.
You Should Also Read:
Getting Ready for Spring Repotting
Winter Orchid Growing Tips
Spring Orchid Growing Tips


Related Articles
Editor's Picks Articles
Top Ten Articles
Previous Features
Site Map





Content copyright © 2022 by Susan Taylor. All rights reserved.
This content was written by Susan Taylor. If you wish to use this content in any manner, you need written permission. Contact Anu Dharmani for details.