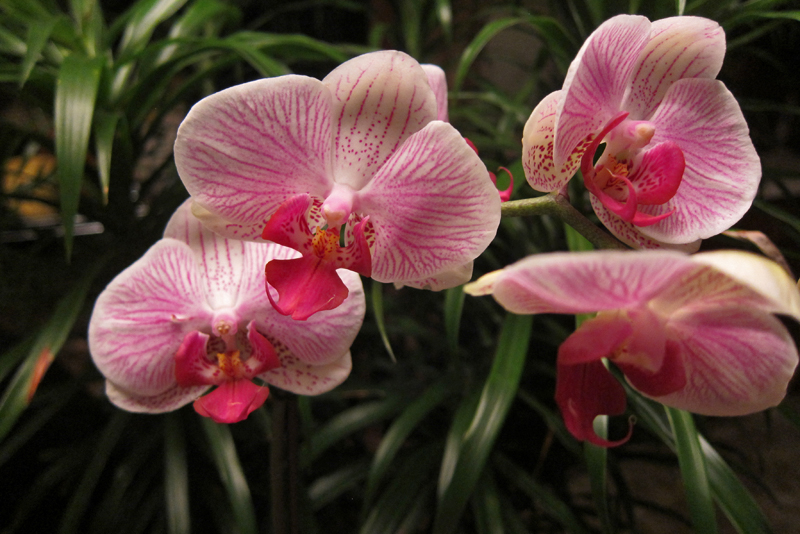 The word "keiki" is from the Hawaiian word meaning "baby" or "child." When used in the context of orchids, it represents a baby plant produced by an orchid which is an exact clone of the mother plant. Some orchids, such as Phalaenopsis, Dendrobium and Epidendrum produce keikis regularly.
Here are some pictures of a Phal keiki from one of my favorite vendors
Repotme
. You can see how the little plant is growing from the finished inflorescence and now has two leaves and three roots. This is about the correct size to remove the plantlet and pot it in its own container. Most growers recommend that you cut above and below the keiki and include a piece of the inflorescence when trying to pot a keiki. This eliminates the difficulty of cutting it off the inflorescence and possibly destroying it. Be sure you use a sterile cutting tool such as razor blades or a sterilized pair of snips to keep the plant healthy. After cutting, be sure to spray with a fungicide to keep problems from forming on the cut edges.
Dendrobiums produce keikis along their canes where a leaf is produced quite regularly and they sometimes will produce one instead of an inflorescence at the tip of the growing cane. Many growers have luck cutting a cane and laying it on its side in sand or just on a growing shelf and the cane will produce little keikis at the points where there were formerly leaves. If you have a favorite Dendrobium, you can do this and give all your friends pieces of it. Follow the directions above as far as cutting and spraying.
Carefully plant your babies in small, usually 2 inch, or 5 centimeter, containers. Some growers plant Phal keikis back in the pot with the mother plant. Most orchids grow best in root bound conditions when potted so small pots are preferred. Soak the medium for at least several hours, preferably overnight, so that there is moisture available when the plant is first put in the pot. Plant so that the crown of the plant is just above the medium. Keep in a warmer, shadier spot than the mother plant until it is obvious that the baby is starting to grow on its own. This will generally take about a month. Then move to a spot in the same conditions as the mother plant. You can keep this original reproduction or clone of your plant or give it to a friend.
You Should Also Read:
Orchid Keikis
Name Tags in Orchids
Sphagnum Moss


Related Articles
Editor's Picks Articles
Top Ten Articles
Previous Features
Site Map





Content copyright © 2019 by Susan Taylor. All rights reserved.
This content was written by Susan Taylor. If you wish to use this content in any manner, you need written permission. Contact Anu Dharmani for details.