Documentary Film - Drinks Writer Michael Jackson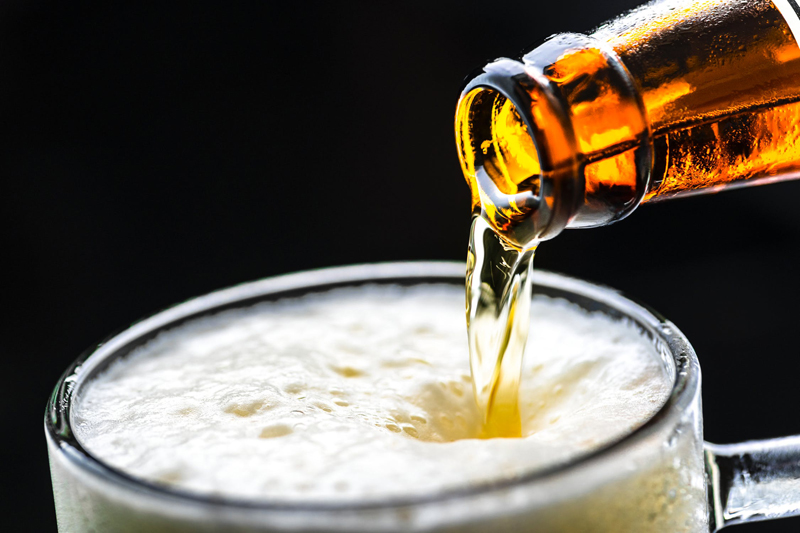 JR Richards has taken a leap of faith, directing production on a long awaited documentary about Beer Hunter and Whiskey Chaser Michael Jackson (1942-2007). The film is scheduled to premier in the latter part of 2010. Jackson, Maven of Malt, championed the community of beer and whiskey with greater enthusiasm and forthright opinion than any other media personality the world has ever known. Richards' remarkable archive of documentary footage, filmed during Jackson's travels throughout Europe and the United States (with the Rare Beer Club), will be combined with interviews of leading brewers, distillers and writers, along with archival footage from the original Beer Hunter series.

Michael Jackson was a prolific journalist - author of more than sixteen principal book titles focused on drink, and writer of scores of articles for magazine and newsprint - making him the most respected authority on beer and whiskey in the world. Had he come from a long line of academics, reporters, or writers, his enormous success would have been more easily understood. But he owed his success to his unique imagination, possessing the mind of a dreamer who thought in images. As the architect of his own life, he created a world of plenty with the stroke of a quill and the shake of a hand.

To give you a little insight into Michael Jackson's mind, let me regale a few stories he shared with me. As a young lad, he was his own thinker – the nonconformist, the one who could devise a plan to avoid involvement with high school rugby 'union.' He was a die-hard rugby 'league' fan, which made all the difference in the world, in his opinion. Armed with the cunning of a fox, he convinced his PE instructor that he preferred running track and paired up with a friend for daily runs. Of course, they ran to a local pub where the proprietess would serve them ale and join them in uproarious chatter; then they would walk back to school, running the last 50 yards to cloak their adventure.

The discovery of his talent for writing came as a surprise, even to himself. Jackson entered a school writing competition, reporting on rugby league using the rhythm of iambic pentameter in classical Latin. When he clinched the top prize, he admitted to a friend that he had not thought about writing for a living, but agreed that it was a good idea.

During his years in secondary education, Michael Jackson took a GCS type exam, and was selected for higher-level English, enabling him to acquire full credit for an English certificate and to leave school at the age of 16. He entered the workforce as a reporter, cutting his teeth from Fleet Street to the pressures of TV production at the David Frost Show. Jackson learned the business - the seedy background beneath political smokescreens, how to scoop a story in a pub, and why it was important to do so. He gained perspective from a cache of role models – Hemingway, Dylan Thomas, Chatwin and James Joyce … his list was endless - geniuses in their genre, and drinkers … all.

Along the way, Jackson noted that his colleagues drank beer, talked beer, and lived beer … but wrote about champagne and martinis. This would be his unique selling point - the pursuit of a passion for beer that would affect millions through his distinctive writing style. He became a world traveler, seeking to resurrect obscure beers, categorizing them by style, and eventually writing about whiskey and the terrior that could add nuances of flavor to either. By 1976, he published his first book on the subject, The English Pub. There was no turning back.

His list of honors, awards, and accomplishments was exceptional, including the Andre Simon Award, the Glenfiddich Trophy, several Glenfiddich Awards, the Gold Tankard of the British Guild of Beer Writers, the Mercurius Award, the James Beard Award, the 1987 Recognition Award from the Brewers Association in the United States and the Achievement Award of the Institute for Fermentation Studies. He was an Officer of Honour in the Chevalerie de Fourquet and Master of the Quaich in the Scotch whisky connoisseurs' society, Keepers of the Quaich. During the last ten years of his life, he suffered from Parkinson's Disease, but preferred to allow his admiring public to think he was drunk, rather than giving in to the illness that threatened to overtake his inimitable spirit.

As a beer journalist, international beer judge, and late life partner of Michael Jackson, Carolyn Smagalski has become a supporting member of the JR Richards team, along with beer personality Gary Monterosso and a bevy of television and post-production film specialists, including a legal team to assist with fair-use rights. Ten percent of all proceeds from the distribution and sale of the film will be donated to the Parkinson's Foundation.

JR Richards is seeking sponsors and contributors to assist in paying tribute to Michael Jackson and the significant contribution he has made to the global beer and whisky community. For more information, the website is up, along with the trailer and other uncut footage.

See the movie trailer here: https://vimeo.com/9005592

For further details on the documentary or sponsorship, click here: www.beerhuntermovie.com

Cheers!
 
You Should Also Read:
Michael Jackson Collection at Oxford Brookes
Court Avenue Brewing Remembers Michael Jackson
Michael Jackson Passes Away - World Beer & Whiskey Authority


Related Articles
Editor's Picks Articles
Top Ten Articles
Previous Features
Site Map





Content copyright © 2023 by Carolyn Smagalski. All rights reserved.
This content was written by Carolyn Smagalski. If you wish to use this content in any manner, you need written permission. Contact Carolyn Smagalski for details.