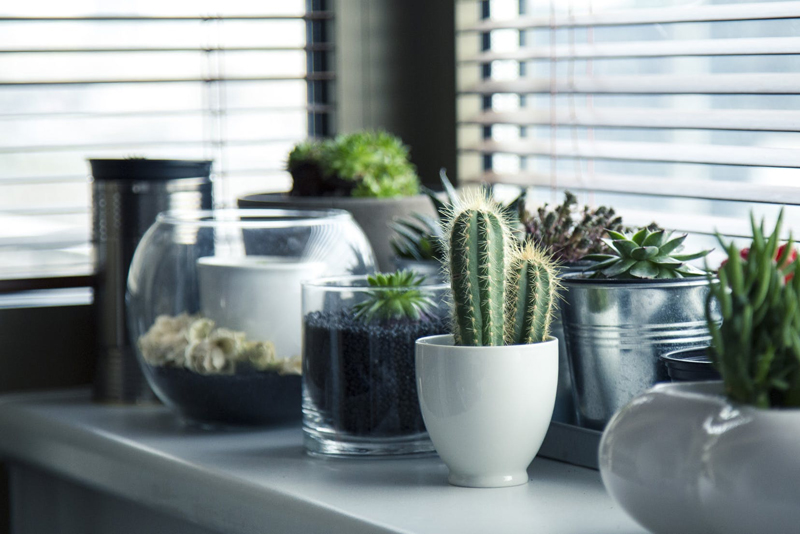 Though not as well-known as its relative the Rubber Tree, the Fiddle Leaf Fig makes a wonderful indoor specimen plant. This plant may also be recognized by its scientific name,
Ficus lyrata
, by some savvy plant lovers. Like other types of Ficus trees, Fiddle Leaf Fig is a foliage plant that is sure to bring many years of enjoyment when cared for properly. Luckily for less-experienced houseplant growers and those who simply don't want to have to fuss over their greenery, this is probably the easiest Fig to grow.
Fiddle Leaf Figs will tolerate a wide range of light levels. Bright and direct light is handled nicely. Depending on your proximity to the equator, you may want to watch for scorching on the leaves if the plant receives direct sun. Direct sun is weaker further from the equator, in the morning and evening and during the winter. Keep this in mind when choosing a place to keep your Fiddle Leaf. Plants receiving abundant sun will grow lots of bright green leaves.
Unlike
Ficus benjamina
, the Weeping Fig, lower light levels are quite okay, as well. The larger leaves of the Fiddle Leaf Fig are able to capture more sun than the small ones of the Weeping Fig. Plants receiving lower light will have darker green leaves.
Water your Fiddle Leaf thoroughly when the potting mix has dried out to about an inch and a half down from the surface. If the plant begins to take on a slight wilt after an extended period without water, it is definitely thirsty; this may be a good sign to look for while you are still adjusting to the water requirements of a new plant. Let the plant soak up plenty to drink and then pour off the excess. Never let the plant sit in water or root-rot won't be far behind. Fertilize once monthly with a liquid fertilizer during the spring, summer and fall.
Some additional tips for success with your Fiddle Leaf Fig include keeping the plant away from heater vents and drafty doors. Humidity is appreciated. Clean the leaves off once a month or so, removing dust and restoring shine. This will also help keep insects at bay. The pests you will most likely see on a Fiddle Leaf Fig are scales and possibly spider mites.
Prune the plant to keep it from becoming incredibly tall. This can be done early in the spring before new growth begins to burst forth; these trees may be topped and can benefit from root-pruning, as well. Keep in mind that Fiddle Leaf Figs grow pretty slowly, so don't lop off too much at a time if you can help it.
Fiddle Leaf Figs can be propagated by air layering and from tip cuttings. Air layering is the preferred method since it is hard to keep humidity high enough for cuttings while they are rooting. If you want to propagate from tip cuttings, say, when you have just topped your plant, be sure to use a rooting hormone and cover the entire cutting and pot with plastic wrap to keep humidity high until you see new growth.
This site needs an editor - click to learn more!

You Should Also Read:
Ficus Elastica, the Rubber Tree
Air Layering
Houseplants Newsletter




Related Articles
Editor's Picks Articles
Top Ten Articles
Previous Features
Site Map





Content copyright © 2022 by Lisa Beth Voldeck. All rights reserved.
This content was written by Lisa Beth Voldeck. If you wish to use this content in any manner, you need written permission. Contact BellaOnline Administration for details.