Guest Author - Jeanne Egbosiuba Ukwendu
Name:
Western Lowland Gorilla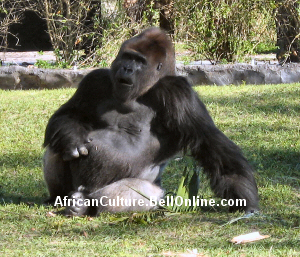 Scientific Name:
Gorilla gorilla gorilla
African Names:
Makaku (Swahili)
Height:
4 to 6 feet
Average Adult Weight:
150 to 400 pounds
Life Span:
Up to 35 years in the wild, 53 years in captivity
Description:
Western lowland gorillas are smaller than mountain gorillas. They have shorter hair and longer arms.
Habitat:
Western lowland gorillas live in thick rainforests.
Countries found in:
Angola, Cameroon, Central African Republic, Congo, Democratic Republic of the Congo, Equatorial Guinea and Gabon.
Babies:
Female western lowland gorilla do not start reproducing until age 9 or ten after which they give birth to one baby every five years. Gestation is roughly nine months and the baby weighs approximately 4 pounds.
Food:
Western Lowland Gorillas eat plants and occassionally insects.
Group Name:
Troop
Habits:
Troops are led by a mature male known as a silverback because of the swath of silver hair on its back. Troops can have up to 30 gorillas. The leader organizes the troop in activities such as eating, nesting in leaves, and moving about the group's 3/4 square mile to 16 square mile territory. The troop spends its day forgaging for food, resting, more foraging and resting.
Conservation Status:
Critically Endangered
Predators:
Jaguar, cheetahs, leopards, humans
Interesting Facts:
Gorillas are very shy and docile.
The western lowland gorilla is the gorilla most commonly found in zoos.
Gorillas make beds out of leaves, grass, and branches to sleep on at night.
Gorillas are strong enough to uproot small trees with their bare hands.