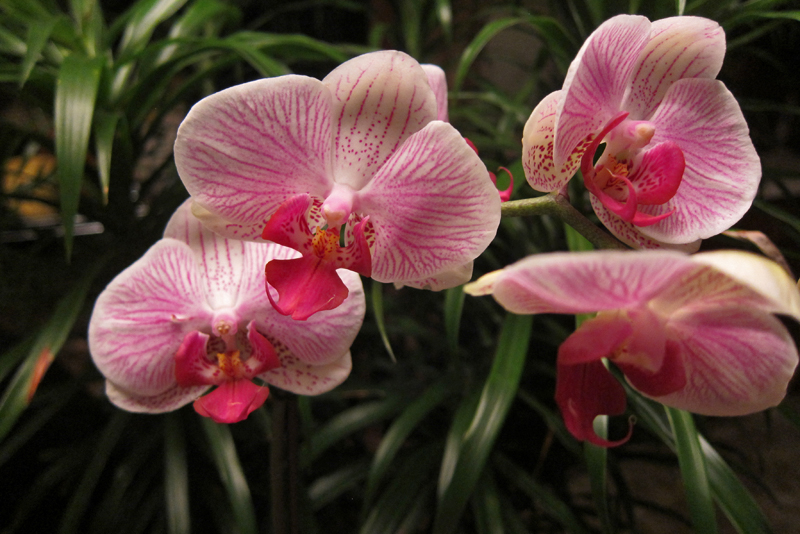 Keep a calendar near your growing area
Keep a small calendar in your orchid area so you can keep up with watering, fertilizing and spraying for various insects. This is particularly important in the transitional fall and spring times when a regimented schedule is not possible because of variable weather. I use one of those little 4 inch by 6 inch stand-up calendars. There is not room for anything more than a "W" for water, etc., but you can easily see when the last time you did it was.

Take pictures
Take pictures of your plants, especially when they are in flower. With the new digital cameras this will allow you to remember exactly what the plant looked like and you can make your favorites into wallpapers or any of the other uses that digital photography has given us.

Organize your growing area
Look around your growing area and see if there is a way to make your hobby more enjoyable. Color code your spray bottles with nice looking alternatives. Organize the stakes you use so that they are easy to see and easy for you to choose the correct one for what you need. Clean up any areas that have collected items that are distracting to the eye when you are looking at your plants. You will have a prettier and neater growing area for this effort.

Sunburn on orchid leaves
Orchid leaves can be sunburned if the plant is subjected to too much light. The evidence of this problem is a yellowed leaf in just the top portion of the leaf (that portion that is physically the highest or nearest to the light source). First it will appear yellowish and then the whole area will dry into an unsightly dead spot. Changing light conditions in the spring into summer are prime times for this to occur as the sun moves with the changing seasons. Watch your plants and move them away from a light source if it appears that they are getting direct sun.

Use gravel on your greenhouse floor
Using a material with many surfaces such as gravel or lava rock as the floor in your greenhouse or around your plants in the house provides multiple sources for evaporation and thus greater chance of keeping humidity high than a plain surface. Look around your area and see if there are opportunities to increase the surface area of your flooring in order to help increase humidity.

You Should Also Read:
Spring Orchid Growing Tips
Name Tags in Orchids
Flowering size plants


Related Articles
Editor's Picks Articles
Top Ten Articles
Previous Features
Site Map





Content copyright © 2022 by Susan Taylor. All rights reserved.
This content was written by Susan Taylor. If you wish to use this content in any manner, you need written permission. Contact Anu Dharmani for details.