Guest Author - Jeanne Egbosiuba Ukwendu
Name:
Lowland Nyala
Scientific Name:
Tragelaphus angasii
African Names:
Nyala (Swahili), Nyara (Shona), Inyala (Zulu)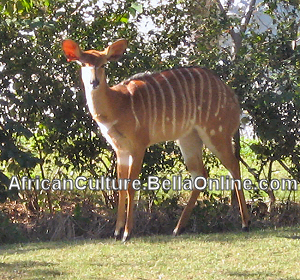 Height:
6 feet in length and 3 feet 6 inches in height.
Average Adult Weight:
120 - 175 pounds
Life Span:
Up to 16 years
Description:
Males can be multicolored with a shaggy, dark gray-brown coat and faint white, vertical stripes along the sides. They have a brown neck, orange legs, and white chevrons between the eyes. They also have long hairs hang that from their neck.
The female is much redder with clearly marked white vertical stripes and a shorter coat. Her white chevrons are much thinner than the male's.
Habitat:
Lowland Nyala are generally found in riverside thickets, dense brush and fringe forests.
Countries found in:
Lowland Nyala are found south of the Zambezi and are plentiful in Zululand reserves. They are found in Botswana, Malawi, Mozambique, Namibia, South Africa, Swaziland, and Zimbabwe.
Babies:
One calf is born after a 7 month gestation period. The calf is generally kept hidden from predators in the bush for the first few weeks of life.
Food:
Lowland Nyala eat fruits, seed pods, flowers, and tender leaves, and sometimes eat tender bark and tubers.
Group Name:
Nyala have family groups of 2 to 10 called a troop. Older males are solitary.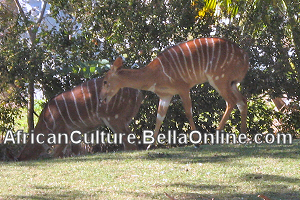 Habits:
Nyala are most active in the morning and evening. They rest in the bush during the hottest part of the day.
When they spot a predator, they bound away and use short barks along with waving the white underside of their tails to alerts others to the danger.
Conservation Status:
Least Concern
Predators:
Leopard, lion, and cape hunting dog.
Interesting Facts:
Lowland Nyala use their horns and hooves to dig tubers.
To establish dominance the male lowland nyala uses visual displays, such as raising the hair on his neck and walking with stiff legs instead of fighting.