National IPA Championship Hosted by Brewing News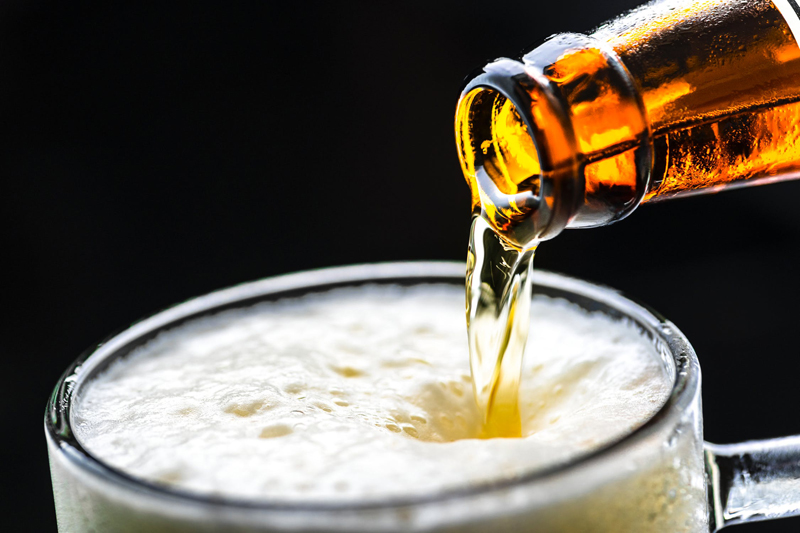 In any bracketed tournament, the Sweet Sixteen demands notice. At this level, real winners separate themselves from a qualified pack of competitors on a quest for the Golden Fleece - where sweat and commitment match brawn with brain in a race toward Olympian goals. In February, 2010, the National IPA Championship, sponsored by Brewing News, launched 128 commercial brewers on just such a quest, racing toward a higher sphere of complexity that is best described as true artistry.

Brewing News publishes in seven regions across the United States and covers beer news in 43 states, the District of Columbia, and three Canadian provinces. Publisher Bill Metzger orchestrates the competition, which began in 2008. That first year, only 32 entries were accepted. As word spread, entries grew by exponential numbers – all with the desire to be named the best IPA in America.

The competitors are randomly matched in brackets that progress through seven rounds, held at festivals throughout New York, Michigan, Pennsylvania, and New Jersey. These rounds begin in Syracuse, New York on February 14th and end in Atlantic City, New Jersey by the end of March. The random pairings make for an exciting competition where little-known names meet head-to-head with behemoth giants in parallel heats or in face-to-face combat.

At each competition location, the beers jockey for position through single elimination brackets where three experienced judges choose between Beer Alpha and Beer Beta. A steward serves three ounce pours in unmarked, clear glasses, while judges cleanse their palates frequently with water and bread to prevent any fatigue associated with aggressive hop levels.

At the Brewing News NIPAC website, anyone over the age of twenty-one can choose their favorite beers in the same style as they would select teams in the NCAA Basketball Championships. Total points are compiled for each round and recorded at the NIPAC website. The locker room winner can tote home a case of the champion beer - well worth the effort that it takes to fill out and submit the bracket sheet.

In the Locker Room, entrants provide descriptions of their IPAs, along with ABV per cent, IBU level, and Original Gravity. In most cases, they provide information on hop varietals, dry hopping, or other ingredients of specific importance. Breweries can only enter one beer, creating a level playing field by forcing specialists in IPAs to lay their mettle on the line.

Of the Sweet Sixteen competitors, seven hailed from the West coast. Could it be that terrior plays a significant part in the development of style and flavor? Does the proximity of Pacific Northwest hops to the brewery provide freshness that is harder to achieve with transport to more distant locations?

Certainly, the complexity of the hopping schedule may play a part, but not in every case. In analyzing those who moved on to the Elite Eight, some use five or six varietals, while another interprets the style with the use of a humble pair. As it gets closer to the finals, the excitement builds. Surprisingly, many strong names have fallen from the podium – names such as Rogue, Green Flash, New Holland, Terrapin, Deschutes, Lagunitas, Moylan's, Bear Republic, New Belgium, Flying Dog, Pike, Midnight Sun, and scores more. Solid IPAs, yes. But the random presentation opens the field for lesser known names to be acknowledged.





The Elite Eight (In Bold with Stars)

*Good Karma IPA - Mad Anthony Brewing Company, Fort Wayne, Indiana – 6.5% ABV – delicate, clean, citrusy and crisp.

       Knocked-out MoJo IPA – Boulder Beer Company, Boulder, Colorado – 7.2% ABV - 70 IBUs

*Road Runner IPA – Blue Corn Brewery, Santa Fe, New Mexico – 6.5% ABV - 80 IBUs - Dry hopped with Columbus, Centennial and Amarillo. Fragrant, citrusy, drinkable, truly world class.

       Knocked-out Hop Ride - Tenaya Creek Brewery, Las Vegas, Nevada – 7.2% ABV - 71 IBUs

*Headhunter IPA – Fat Heads Brewery & Saloon, North Olmsted, Ohio – 7.0% ABV - 77 IBUs – aromas of citrus, earth, and pine resin. Well balanced.

       Knocked-out 30th Street Pale Ale – Green Flash Brewing Company, Vista, California 6.0% ABV – 45 IBUs – a celebration of San Diego's 30th Street beer culture.

*Islander IPA – Coronado Brewing Company, Coronado, California – 7.0% ABV – 70 IBUs – Intensely hoppy, with waves of complexity and a firm foundation of maltiness.

       Knocked-out Stone IPA – Stone Brewing Company, Escondido, California – 6.9% ABV – 77 IBUs

NOTE: Hop varieties used in both Islander IPA and Stone IPA were identical, but not necessarily in the same proportion or following the same hopping schedule. Difficult choice – very close decision.

*WipeOut IPA – Port Brewing Company, San Marcos, California – 7.0% ABV – 65 IBUs – slightly hazy in appearance, but like silk in the mouth, with a luscious complexity.

       Four Seasons IPA – VooDoo Brewery, Meadville, Pennsylvania – 7.2% ABV – IBUs Unavailable – A superb IPA and a very close decision.

*Flower Power IPA – Ithaca Beer Company, Ithaca, New York – 7.4% ABV – IBUs Unavailable – The most complex hopping of any in the Elite Eight: Simcoe, Amarillo, Centennial, Chinook, Cascade, and Columbus

       Knocked-out India Pale Ale – Goose Island, Chicago, Illinois – 5.9% ABV – 60 IBUs – A British style IPA with complex hopping schedule: Pilgrim, Cascade, Styrian Golding, and Centennial

*Union Jack – Firestone Walker Brewing Company, Paso Robles, California – 7.5% ABV – 70 IBUs – Tropical citrus edge with unpretentious Centennial and Cascade hopping.

       Knocked-out Chinooker'd IPA – Lawson's Finest Liquids, Warren, Vermont – 6.9% ABV – 110 IBUs – with the tang of Chinook hops.

*Stolen Fire/Prometheus – Elysian Brewing Company, Seattle, Washington – 6.5% ABV – 80 IBUs – A climactic 15-year collaboration between Elysian and Big Time breweries, using Centennial, Cascade, Vanguard, East Kent Golding, and Fuggles hops.

       Knocked-out Marin IPA – Marin Brewing Company, Larkspur, California – 6.8% ABV – 70 IBUs – An earthy, malt ended, West coast version IPA.

For continuous following of the NIPAC results, including the announcement of the Final Champion IPA: https://www.brewingnews.com/nipac/
Cheers!

Update: The Champion has been chosen! HeadHunter IPA from Fat Heads Brewery and Saloon edged out Union Jack of Firestone Walker at the Final Round in Atlantic City, New Jersey. Congratulations to Fat Heads! You faced a tough opponent and held the edge.

Photos are (from top): Bill Metzger, publisher of Brewing News papers and Matt Allyn, Brewmaster/Owner of VooDoo Brewing Company in Meadville, Pennsylvania. Matt was a judge in the 2009 competition, but became a competitor in the 2010 Sweet Sixteen round, and was ineligible to serve as a judge this year; Brewing News Nipac Championship Banner (courtesy of Brewing News) 
You Should Also Read:
Becoming a Beer Judge - A Woman's Personal Journal - The Grande Finale
Beer Evaluation - Kinesthetic & Trigeminal Senses
Beer Keg Party Pump Basics


Related Articles
Editor's Picks Articles
Top Ten Articles
Previous Features
Site Map





Content copyright © 2023 by Carolyn Smagalski. All rights reserved.
This content was written by Carolyn Smagalski. If you wish to use this content in any manner, you need written permission. Contact Carolyn Smagalski for details.