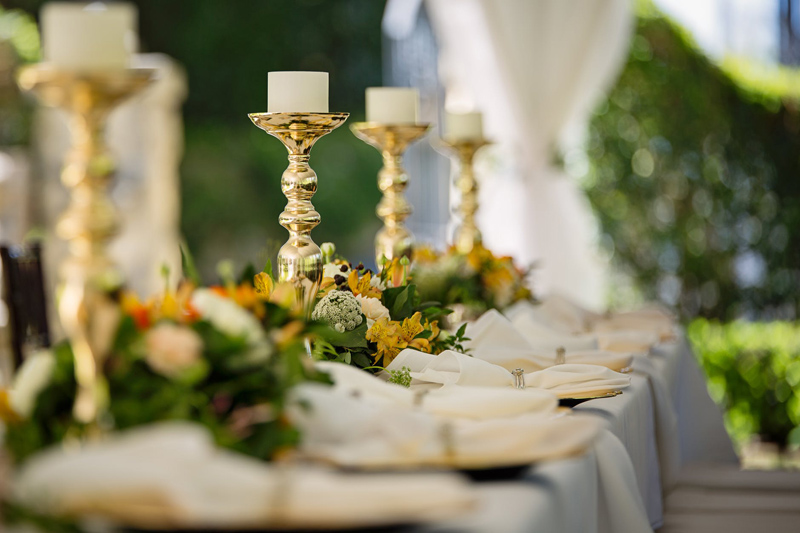 Wild Rice & Sausage Stuffing

1/2 c. uncooked wild rice
3/4 pound (12-oz pkg) bulk pork sausage
2 Tbsps oil
2 c. chopped onions
1-1/2 c.s chopped celery
1 Tbsp fennel seeds
6 Tbsps butter
1 can (14-1/2 ounces) chicken broth
5 c. cornbread crumbled
3/4 c. dried sweetened cranberries
1/2 c. chopped parsley
1/2 tsp dried sage
1/2 tsp freshly ground black pepper
1/4 tsp salt

Preheat oven to 350°F. Butter 13 x 9 inch pan.
Bring 2 cups salted water to a boil in medium saucepan over medium-high heat.
Add rice and cook 45 minutes until grains have opened; drain and reserve.
In a pot cook & crumble sausage until done.
Use slotted spoon to transfer sausage to large bowl.
Add oil, and heat in same pot over medium-high heat.
Add onion, celery and fennel seeds, and cook 6 to 8 minutes until softened, stirring occasionally.
Transfer to bowl with sausage.
Add butter and chicken broth to same pot and heat over high heat until butter melts.
Remove from heat, add cornbread and toss to mix.
To the sausage mixture, add the reserved rice, cornbread mixture, cranberries, parsley, sage, pepper and salt.
Toss to mix. Transfer to prepared pan.
Bake covered 30 minutes. Uncover and bake 30 minutes more until top is lightly browned

Potato Sausage Stuffing

1 pound lean pork sausage
2 potatoes, peeled and diced
1 1/2 c. chopped celery
3/4 c. diced sweet onion
3/4 c. butter
9 c. soft bread cubes
1/2 tsp dried thyme
1/2 tsp ground sage
1 tsp salt
1/4 tsp ground black pepper
Chicken broth if needed

Preheat oven to 350º F (175º C).
Place sausage, potatoes, celery, onion and butter in a large, deep skillet.
Saute over medium high heat until sausage is crumbled and evenly cooked.
Combine the bread cubes, thyme, sage, salt and pepper.
Toss together with the sausage and potato mixture. Add chicken broth if needed.
Bake stuffing in a covered casserole dish for 40 to 50 minutes.

Sausage Cornbread Stuffing

1 (12 ounce) package corn bread mix
1 pound sausage, cooked and drained
1 Tbsp butter
3/4 c. chopped onion
3 stalks celery, chopped
1 tsp dried thyme
2 tsp ground sage
1 tsp salt
1/4 tsp ground black pepper
1 c. chicken broth

Prepare cornbread as directed on package one or two days ahead. Crumble.
In skillet, cook and crumble sausage, drain well.
In another skillet saute onion & celery in butter until tender.
Remove from heat, allow to cool.
In a large bowl, combine crumbled cornbread, sausage, onions and celery.
Add sage, salt and pepper.
Mix well.
Add chicken broth to stuffing mixture.
Toss gently until evenly moist.
Loosely stuff in fowl or casserole dish and bake at 350º F (175º C) for 30 minutes.


Sausage/Apple/Cranberry Stuffing

12 cups cubed dry bread
4 Tbsps butter
1 c. chopped onion
1 c. chopped celery
8 ounces ground pork sausage
1 tsp rubbed sage
1/4 tsp dried marjoram
1/2 tsp crumbled leaf thyme
1/4 tsp crumbled leaf rosemary
1/4 tsp black pepper
1/2 tsp salt
1 c. chicken broth
1 large apple, peeled, cored, finely chopped
1/2 c. dried cranberries
1 large egg, lightly beaten
1 hard boiled egg (optional)
1/2 c. pecan pieces (optional)

Heat oven to 350° F. Grease a 13x9-inch baking pan.
In a large skillet, melt butter; add onion and celery.
Saute the vegetables, stirring, until just tender.
Add sausage to pan, cook and crumble until done.

Place bread cubes in a large bowl and pour the contents of the pan over them. Add the seasonings.
Stir and add chicken broth until well moistened but not mushy.
Taste and adjust seasonings.
Add the apples, pecans and cranberries then stir in the egg until well blended. Chop the hard boiled egg and fold it into the stuffing.
Put stuffing into the prepared pan and cover tightly with foil. Bake for 40 minutes.
Remove the foil and broil just until lightly browned.
Serves approx 8 - 10 people.

Note: If using inside a turkey always stuff the turkey just before roasting.
When the turkey is finished, remove all of the stuffing to a bowl to serve.


Related Articles
Editor's Picks Articles
Top Ten Articles
Previous Features
Site Map





Content copyright © 2022 by Gillian Scianna. All rights reserved.
This content was written by Gillian Scianna. If you wish to use this content in any manner, you need written permission. Contact Allyson Elizabeth D´Angelo for details.