My second cochlear implant operation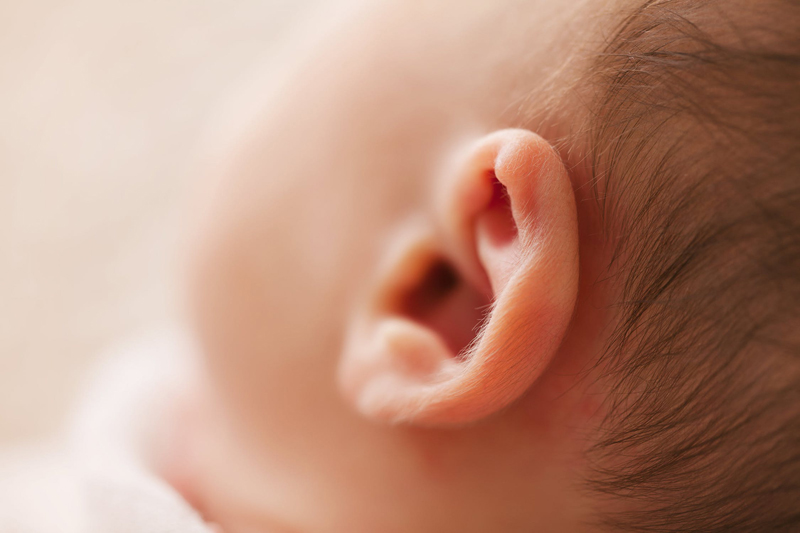 I thought a second cochlear implant operation would be easier but no matter how much confidence I had in the outcome I was obviously still stressing about the process. Time dragged… the day took so long to arrive… but now it's over and it's six days later.
I had to be at the hospital by 6:30am. We live one hour's drive from the hospital and I certainly didn't want to be late so we left home at 5:30am. Both of us were very tired because I hadn't slept too well anticipating how bad I might feel after the operation! At the hospital, I booked in, got my name tag and date of birth checked (so many times!) and was taken up to the ward. An hour or so later a nurse took my blood pressure (151/96), pulse and temperature. Then we were left alone. It wasn't until mid-day, after a 5½ hour wait that a nurse came rushing in, "Ok they've just called for you. Better get ready." A quick slip into the stunning hospital gown and into bed before the orderly wheeled me down to theatre.
In the theatre suite my name and date of birth checked once again (you would think they could remember it by now!) and I was asked what I was having done. Once again I thought they knew but perhaps they didn't want me to end up in the wrong theatre and wake up having had a breast removed or something? My bed was wheeled to the door of the operating theatre, my doctor arrived. He checked which ear he was implanting and marked it with a big black texta cross! I was asked to put the hair net on fully to cover all my hair (seemed a bit stupid to me since I was having it shaved shortly!), to get off the bed, walk into the theatre and hop up onto the operating table.
I lay down, the team started talking, my doctor mused about whether this implant would work as well for me as my first one has. The anaesthetist took my hand, poked in a needle, taped it into position, put a couple of heart monitor points on my shoulder – and that's all I remember.
Under the anaesthetic
Obviously I don't remember anything about this but the evidence is there! Plus the next day my doctor told me what he did. Once I was out to it the anaesthetist inserted tubes into my throat to make sure I could breathe and monitored all my vital signs. The surgeon shaved a portion of my hair – about a 2" strip around my ear. He's not a great barber but he did take only hair underneath so that longer hair from above falls down to cover the shaved part.
The rest of my hair was taped back to keep it clean as well as out of the wound. The operation site was swabbed with two different types of disinfectants waiting each time for them to fully dry before applying the next. Once the surgeon was sure the site was free from bacteria, so he couldn't transfer any of these into the open wound, the team put the drapes over me and the operation began.
The incision is a little less than 10cm long. It starts just above the top of my ear and curves around to a little above the base of my ear. Some of the side facial muscles were lifted to give access and a bed was prepared for the implant on my mastoid bone.
Great care was taken to avoid exposing, or at least expose as little as possible, of both the facial and the taste nerve. There is usually only millimetres of room between and around these nerves through which the surgeon can gain access to the cochlea window. So it's often not possible to miss these vital nerves. My facial nerve was not exposed thus reducing the chance of facial damage. However, just at the last before insertion my taste nerve was bruised.
The electrodes on the implant were inserted into the cochlea using a stylus. I was told it was an easy insertion (I had no calcification in my cochlea) and all was done that could be, to protect the very little residual hearing I have (a few low tones at 80+ dcbls).
| | |
| --- | --- |
| | From this point it was only a matter of closing the wound – with 20 staples! The photo shows my first implant in 2002 and the second on the right ear in 2010. It is a very neat looking job don't you think! My head was bound tightly to keep pressure on the area and I was moved to recovery. |
Next week: My recovery
You Should Also Read:
Bi-lateral Cochlear Implantation
Cochlear Implant Outcomes
What is a Cochlear Implant?


Related Articles
Editor's Picks Articles
Top Ten Articles
Previous Features
Site Map





Content copyright © 2021 by Felicity Bleckly. All rights reserved.
This content was written by Felicity Bleckly. If you wish to use this content in any manner, you need written permission. Contact Felicity Bleckly for details.