Easter Beer - Hoppy Treats in the Easter Basket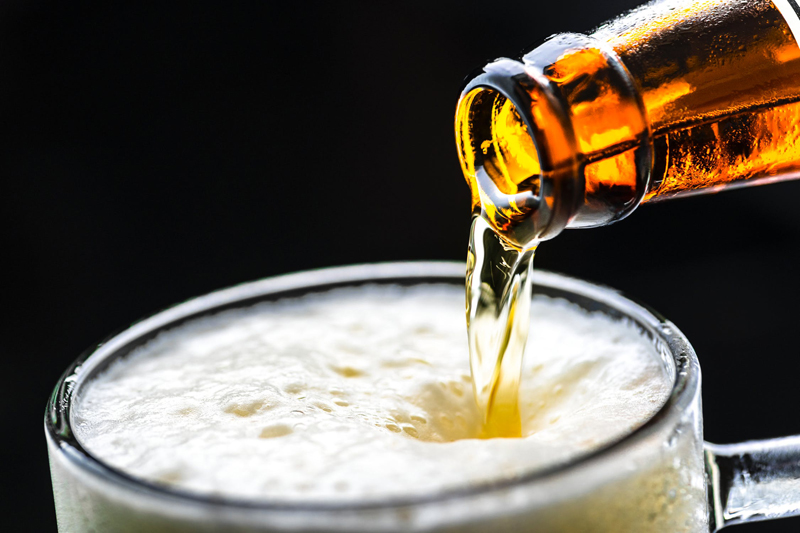 Old photographs prevail in our thoughts as clearly as the three-dimensional images they attempt to capture. You may have come across one or two such photos in the back of your attic...black and white, with glossy finish, a doggy-ear at the corner, crumpled lines on the surface. I recently found one of myself as a four-year old. My brother and I seem to be in perpetual motion, while the shadow of horizontal blinds runs in still-life fashion across the back wall. In morning's first light, we have just found our Easter baskets, filled with chocolate bunnies and cellophane grass. The joy reflected on our faces arrests the moment.

As an adult, I still find joy in chocolate and cellophane, but look for the added pleasure of a substantially-woven basket filled with Easter beer. Easter beer exists, particularly in Denmark where the market for these beers is flourishing, and it is well worth seeking out. Why not stage an Easter beer hunt for the adults of your clan, while little Emma and Ethan are looking for Easter eggs? Easter beer is a hoppy treat in any adult Easter basket.

Oppigårds Easter Ale of Oppigårds Bryggeri AB, Hedemora, Sweden arrives at 5.3% ABV. A bejeweled copper-brown body sings big on maltiness, like oatmeal cookies and brown sugar. As in your favorite basket, the toffee and nuts merge with fruit-like notes of orange, apricot and a hint of chocolate. Herbal earthiness and spices emerge, and hint that a fine pairing awaits when matched with smoked turkey, candied yams, and deviled eggs dressed in freshly shaved horseradish.

Gouden Carolus Easter Beer from Brouwerij Het Anker, Mechelen, Belgium announces itself with electric effervescence that gives life to a body of gold, with settling yeast particles and a pouffy, erotic head of alabaster. With a 10.0% ABV, the nose fills with bubblegum, squinchy pears, apples and orange peel, enhanced by ginger, coriander, and that indescribable "tripel" character. Pale malts provide hints of challah painted with honey, moderated by a citrus tanginess and bolder spices. When served in tandem with Easter ham, shrimp, and scalloped potatoes, your palate enjoys a grand slam on the flavor scale.

Mikkeller of København, Denmark crafts Hoppy Easter, also known as Drikkeriget GIPA, an American IPA infused with German hops. Served in your finest crystalline tulip, the body gleams a bright yellow straw with a head of vanilla mousse and crowning peaks and valleys. More like meringue, you are compelled to touch the surface and delve in the sculpted texture. Fresh tropical fruits rise up into the nose and on the palate. Honeydew, papaya, and tangerine mix with yeasty fresh bread. Herbal Noble hops add their own distinctive signature, marking this as a style of IPA unique unto itself. Serve with highly spiced Thai curried chicken or chipotle rubbed steak and a mole sauce.

St. Bernardus PaasBier, or Easter Beer, from Brouwerij St. Bernardus NV, Watou, Belgium splashes the day with its signature dubbel, showcased in a 750 ml bottle with cork and cage, and 7.7% ABV. Glowing like a mahogany-amber glass egg, its seductive body yields to a head of gauzy voile, humbly warning of the high alcoholic warmth that awaits. The nose screams of caramel, dark-spiced fruits, and rum. Pureed plums, sweet malt, ash, earth, and spiced honey are tempered with a balanced bitterness and warmth in the back of the throat. As an accompaniment to pork, ham quiche, honey-glazed carrots, and Italian Easter Pie, the mouth gives way to reckless abandon with a marriage of taste sensations.

Gourmetbryggeriet Happy Easter, brewed by Gourmetbryggeriet of Roskilde, Denmark, is served in a 66cl bottle and has a 6.0% ABV. Created as a spring holiday drinker, this beer won acclaim as best Easter Brew in a competitive blind tasting held among Danish newspapers in 2006. The amber body has near-bright clarity with an impressive foamy crown that settles to a ringed veil. Aromas match flavors of dark caramel malt, touched with plump, tender spring herbs and rye spiciness. A balanced bitterness pulls back the sweetness but does not overwhelm the palate. Mouthfeel is creamy and rounded, with a hint of tartness. Serve with pickled herring and onions, freshly baked rye bread, or braised lamb.

Ølfabrikken Highland Easter from Ølfabrikken of Roskilde, Denmark is an English Stout at 6.5% ABV. Deep ebony meets with an ivory tan head that rings the glass, leaving spotty lace with every swirl. Spicy rye, bittersweet chocolate, anise, roast, and smoked woodiness dominate the nose. On the tongue, silkiness drenches every surface with unsweetened mocha, smoked wood, and spiciness. As a partner to pre-dinner oysters, one cannot make a better match. With dessert, the complex notes and spice delightfully highlight chocolate mousse, carrot cake or Italian cannolis.

Cheers!


You Should Also Read:
Anderson Valley Anadama Beer Bread Recipe
Français Cherries & Cream Pie Recipe
Scandinavian Coffee Twist Beer Bread Recipe


Related Articles
Editor's Picks Articles
Top Ten Articles
Previous Features
Site Map





Content copyright © 2022 by Carolyn Smagalski. All rights reserved.
This content was written by Carolyn Smagalski. If you wish to use this content in any manner, you need written permission. Contact Carolyn Smagalski for details.