Beer Styles and Signatures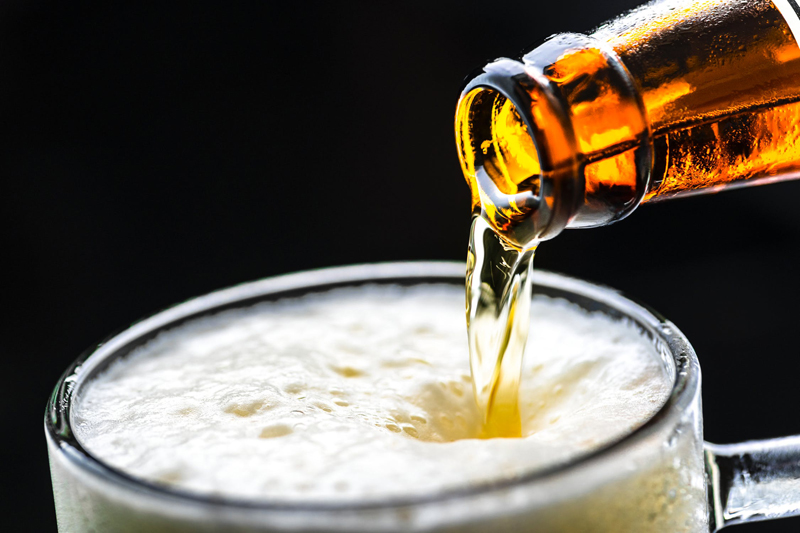 Descriptives for styles of beer, along with signature brews and their associated breweries.
A PYNK Affair Comes to Yards Brewing Company


Tom Kehoe and Yards Brewing Company got it right when they designed their October seasonal, PYNK: A Tart Berry Ale, released to the market in time for Breast Cancer Awareness Month.
A Few of My Favorite Things


December rocks! Whether you are preparing to celebrate Samichlaus Day, Chanukah, Christmas, Dongzhi, Kwanzaa, or Boxing Day, you may get momentarily distracted searching through the rows of tasty craft beers that add color and warmth to your winter holidays.
Ales and Tales and Halloween Spirits


You ponder the plight of nine witches who were hanged at Pendle Hill in 1612, condemned by the testimony of a nine-year-old girl.
Anheuser-Busch , Yuengling & Prohibition


Yeungling Brewery, America's oldest brewery, also delivered a truckload of beer to the White House the day after Prohibition was lifted.
Anheuser-Busch - Beer - Caffeine & Legendary Herbs


Beer with caffeine and legendary herbs: Anheuser-Busch recognizes the fast-paced, innovative life-stylers as a powerful force, one deserving of attention with a radical brew.
B. Nektar Meadery Showcases Ultra Premium Meads


As far as bees are concerned, few people could describe the mating rituals of the bee kingdom. A phenomenon of nature! Not quite a sentimental visual of the ideal honeymoon, is it?!
Beer Cocktails for Halloween


In the spirit of ancient tradition, let us celebrate Halloween to honor the past – those lost cultures who respected the chasm between life and death, the thin line that holds us by a moment's breath.
Beer for Billionaires


Beer has leaped into the world of the wealthy. Amsterdam brewer Carlsberg has announced the release of the most expensive beer in the world.
Beer Fox Guide to Dortmunder


At the tail end of the 19th century, "Dortmunder" became a desirable commodity throughout the booming Ruhr valley of Westphalia. It was not only embraced by the industrial laborers, but became so immensely popular that it was fondly referred to as "Export."
Beer Fox Guide to Winter Seasonal Ale


Time for a "Winter Warmer," that special treat of seasonal beer, so abundant at this time of year. These will put glitter into your spirit
Beer Fox Personality Profiles for Beer Enthusiasts


So, what's your style? How does your personality profile merge with your preference for beer?
Beer Styles - Tribute to Jackson , Eckhardt , Gatza & Papazian


How is beer style determined? Thanks to the work of Jackson, Eckhardt, Gatza and Papazian, styles are as clear as a German kolschbier.
Beer Wrapped in Tissue - A Sign of Luxury


We are sensory creatures. We are constantly tuned-in to those things that stimulate our senses. The most successful brewers understand the power of kinesthetic appeal, and strive to pique the senses on all levels.
Belgian Beer at the Brickskeller


A Smithsonian beer event at the Brickskeller in Washington, DC should never be taken lightly. The Brickskeller is the ne plus ultra in the world of beer bars...
Biere de Garde - The Best Kept Secret of French Flanders


A reflection of the joie de vivre attitude of the French, Biere de Garde is one of the best-kept secrets of Nord Pas-de-Calais!
Big Bold Barley Wine


There he stood – a deep copper-mahogany, with ruby lights shooting through his body. A thin head of cream laid like a mesh blanket on his surface.
Caribbean Island Guide to Beer


Here you are in "paradise." Somehow, your mind keeps wandering back to the U.S. mainland, where unlimited reserves of craft beer await your return. What you need is an Island Guide to Beer!
Caves, Catacombs & Beer Cellars


This secret world of caves and cellars seems to be shrouded in mystery, a throwback to ancient times when catacombs wound furtively underground throughout the European continent.
Celiacs Guide to Gluten Free Beer


Over 2 million Americans are diagnosed with gluten intolerance, also known as Celiac Disease. These beer-loving adults are finally gaining the attention of craft brewers throughout the world.
Champagne Beer for Champagne Girls


Your idea of the "Champagne Girl" is no different than the exotic, feminine beauty of the "Grand Cru Girl", "Duvel Darling", or "Woman of Witte."
Craft Brewing : A Culture of Collaboration


Craft Beer Collaboration: It stands out as a force that has advanced the artisanal beer community with a flourish
Crazy Beer Names that Stroke the Imagination


Certainly, Armageddon was not the original word used in the text of the New Testament, but became a word so powerful it has overflowed from its role in religious circles to touch the imagination of Rock Stars, Marvel Comics, World Wrestling Entertainment, and novelists Tim LaHaye and Jerry Jenkins.
Crooked Series from Uinta Brewing Company


The Uinta Mountain Range, stretching from northeastern Utah into Wyoming has its own crooked allure.
Dreaming of a White Christmas


When it's time for a holiday party, most fashionistas seem to think of the little black dress, embellished with sequins and lots of gold jewelry; but that little black dress must be the most hyped-up accessory in America.
Easter Beer - Hoppy Treats in the Easter Basket


As an adult, I still find joy in chocolate and cellophane, but look for the added pleasure of a substantially-woven basket filled with Easter beer.
Exuberance of English Bitters


Comfort in that which is bitter ... why then, do so many Americans shun the bitter and gravitate to the sweet?
Flying Fish Brewing Introduces Exit 11


Wednesday, July 15, 2009 marked the launch of Exit 11, the second release in the Exit Series of Big Bottle Beers, crafted by Flying Fish Brewing Company of Cherry Hill, New Jersey, USA.
Frank Boon - Preservationist of Lambic Tradition


My eyes glanced across the room, seeking out the master, aware that my own Grand Finale to this Lambic dinner would be a personal interview with the virtuoso of Lambic beers.
German Schwarzbier - Bold and Black


Totally devoid of light, the rich black body stands encased in a robe of darkness, momentarily shimmering with mahogany hues as the persistent aficionado searches for a glimmer of color beneath its tawny, tan head.
German Traditions Drenched in Beer


At first glance, Helles may seem like the drink of Lucifer, but it is nothing like Duvel or Piraat.
Great Grains - Great Beers with Michael Jackson


A Michael Jackson Presentation at the University of Pennsylvania Museum of Anthropology and Archaeology in Philadelphia is not only a chance to taste good beer with descriptions by the master; it is a view of civilization from the summit of the mountaintop...
Guinness Stout Nitro Can - Camp Beer


How do you define "Camp Beer"? If you are anything like me, you have an eclectic attitude toward this easy style.
Happy Hour Bees , Mythology and Mead


Did you know that bees get wobbly and stick out their tongues when drunk? They are responsible for countless Nordic legends of ambrosia and Celtic tales of saintly magic. As producers of honey, they provide the refined yet casual bridge between beer and wine.
Hedonism & Midnight Wit at Legacy Brewing


This bottle of Midnight Wit, the newest temptation in the Legacy Brewing portfolio of beers, had a note attached - "Open at midnight for maximum pleasure." So I did...
Irish Red Ales and Stouts for St. Patty's Day


Green - the symbol of Ireland, gateway to St. Patty's Day and the national color of Ireland. The color is all-encompassing, as is the celebration of St. Patrick's Day in the U.S., where it has become a day to celebrate life.
Is Beer the Secret Spice of Life ?


Discover the secrets of herbs and spices, crafted into beers with tantalizing results.
Is Ginger Beer an Aphrodisiac ?


In my local Indian food market, I recently came across a horn root. Shiny and fat, it appeared to have little nubs, or horns, protruding from the sides.
Is Saké Beer ?


Is saké beer, or is saké a beverage unique unto itself? Many would argue that, since it is made from rice, (a grain), and fermented, it is truly beer.
Low Carb Beer - Ultra , Light , Michelob and More


You´ve worked hard to get that weight off! It´s the Holiday, and nothing sounds as good as a robust, thirst-quenching beer. Reward yourself with a grand selection of "better-for-you" brews.
Mad Elves and Bad Elves


I happened to be on the North Pole Express today, an old steam engine on the New Hope and Ivyland Railroad line in New Hope, Pennsylvania.
National IPA Championship Rides Again


When asked what the principal ingredient in wine is, most women are pretty educated. "Grapes!" they sing, with gusto and enthusiasm. But ask them the same question about beer.
Oktoberfest & Marzen Styles of Beer


Oktoberfestbier, overlapped with Marzen and Vienna styles, flows abundantly in the fall, paired with foods that speak of seasonal comfort. The sweet breadiness of the Oktoberfest style is enough to convince even the most hard-line mainstream-beer enthusiasts to stray into the world of craft beer.
Organic Beer - Going Green for the Earth


Go green, young man, go green! is the new phrase of advice for the youth of our planet. Although I remember this adage from my grandmother and great aunts, as they grew their own vegetables and put up (as they called it)everything from peaches and jellies to corn and spaghetti sauce, I seem to have
Patriot Brewer Collection Recreates a Taste of the Colonies


Despite the ragtag historical recipes available, Jim Koch, with the help of experts on Colonial America, recreated four authentic beers for the connoisseur market.
Philly Beer Geek Creates Free Will I Am


If you are a true Beer Geek, you know how it feels. You find yourself searching the web for beer-quiz trivia, covering the answers, while sucking down a Belgian Dubbel cooled to precisely 49° F.
Pilsner Urquell - A Bohemian Original


Pilsner Urquell was the golden sparkle of European excellence, the model for a style that has endured for over 150 years.
Pleasurable Saison & Belgian Beauty


Saison is one of the world´s great brews. Unique, infinite in style, quenchingly refreshing, with an aura of seduction in its lasting quality.
Pleasures of Beer in Exotic Antarctica


So, what kind of beer might you expect in Antarctica? Ice beer?
Politically Incorrect Beer Titles - A Beer Fox Dysfunctional Family


The winter doldrums continue to gnaw at your stomach like a raw poker. Annoyed, you look for a beer that will match your mood, echo your temperament, and lift you from the muck of winter.
Politically Incorrect Beer Titles - Beer Fox Guide


While being part of a defined style within a hugely innovative society, craft beer creations often gain an extra jolt of prominence by virtue of their politically incorrect names - Just a touch of trenchant satire or a dusting of comical humor!
Politically Incorrect Beer Titles - Black Sheep


The winter doldrums continue to gnaw at your stomach like a raw poker. Annoyed, you look for a beer that will match your mood, echo your temperament, and lift you from the muck of winter.
Politically Incorrect Beer Titles - Over-Doing It


During times of boredom, we feel satisfaction in knowing that our zany artists & alchemists will wax immortal in their quest for ever-new and absurd beer titles, constantly adding to our list of politically incorrect brews.
Porter - History of Beer and Imagination


A tribute to the creativity and imagination of man, the robust characteristics of Porter are as rich as its history. Increase your trivia knowledge and enjoy a recommended brew or two.
Radler Fights for Its Life in New Zealand


Technically, a trademark cannot be granted on a name that is a generic term or is known as a recognized beer style, but DB in New Zealand succeeded in trademarking the terms Radler and Saison and claiming them as its own idea.
Real Cider and Perry


As a child, my love for nature's gifts was enormous. My mind's eye can retrace every dimple and divot on that Wild Cherry Tree with absolute accuracy...
Red Ales & Imperial Red Ales - Bold and Sexy


The ultimate symbol of red is the "Red Lion" - the elixir of life, held magically secret within a philosopher's stone, i.e., the power of immortality!
Rodenbach 2007 Vintage Oak Aged Ale Barrel No. 230


Our evening venue adopted the tone of a Viennese coffee house … joie de vivre, Bohemian kitsch. Elegant, hedonistic, lively
Rudi Ghequire & the Rodenbach Philosophy


Despite the late hour, Rudi Ghequire, Manager and 27-year Brewmaster of Rodenbach in Roeselare, Belgium, had agreed to meet with this Beer Fox to talk about Rodenbach and its philosophy, process, and products.
Saison & Biere de Garde at Farmer's Cabinet


Farmer's Cabinet reflects owner Matt Scheller's style for old-world décor and comfort. He features an incredibly diverse selection of European beers, including beers crafted in-house and foods from exotic entrees to artisanal cheeses.
Saison de Rose - Dominic Capece Builds the Guts


Dominic Capece - in collaboration with his co-partner John Stemler, Free Will brewer David Wood, and four dynamic women from the greater Philadelphia region - orchestrated the guts of the Saison de Rose project.
Sake - Education in Taste and Culture


Sake aromas are of a different nature; more light, delicate, and exotic.
Scottish Ales of Celtic Mystery


Scotland - a land of fragmented moors, lochs, castles and mountains, where Scottish Ales of wee and heavy character arose from her untamed tradition.
Seasonal Apple Beer


It tasted sweet on her tongue; sweet in the throat. She was delighted with the taste of cinnamon and apples, dessert-like and crisp.
Secrets of Belgian Ale - Dubbels & Tripels


Dubbels and Tripels may seem like a different language, but once you embark on a wondrous journey into the land of Belgian Ale, you will join the true connoisseurs of the brewing world.
Seven Barbarian Beers for the Spartan Warrior


We are positioned as the voyeur, peering through a mirror, into a society that is foreign in nature – violent, inhuman, and harsh, yet intoxicatingly sensual and filled with beauty. In a sense, it would be uncivilized to raise a glass in their honor...
Small Beer


Small Beer, also called Small Ale, was the typical beer of Colonial America. Because water supplies were often contaminated, it made sense to make beer for every segment of society, including children and laborers.
Space Beer – Light Beer at Zero Gravity


I'm digging the newest light beer on the market. As a beer with mass, but not a mass-market beer, this rookie is so light it is totally weightless – in space, that is.
Summer of Weisse at Iron Hill Brewery


It seems like "European Summer Madness." A seasonal sassiness, set in motion by the heat and sunshine - one that exhilarates the body and sets the mood for a bit of summer vice...or, is that Weisse?
Sweet Seduction - English Brown Ale , Mild Ale & ESB


England´s rich history overflows with tales of invading armies, controlling royalty, religious rites, and hospitable alewives, while creating a tradition of fine brews known as English Brown Ales, Bitters and Mild Ales.
The Big Easy


An easy beer that quenches the thirst and snaps clean on the palate begins in the mind. When the quench is on, so is the brewer.
The Seductive Style of Kolsch


Crystal Clear Kölsch - the brilliance of 18K gold! Hints of fruit and subtle malt sweetness are balanced by crisp hop bitterness in this balanced blend of hot British Style and chilly German lagering.
Trappist Beer - The Select Seven


It is no wonder that a mysterious aura surrounds the world of Trappist Beer. Brewed in small quantities, but with the same dedication to perfection that had become their trademark, this beer became known throughout the world as the champagne of Belgium.
What's Your Beer Mood ?


What's your pleasure tonight? I won't go all cliché on you and say I want something tall, dark and full of muscle; but I am on the lookout for something a little playful to match my mood
White IPA - Bouquet of Wheat and Spice


If you are a fan of India Pale Ale, commonly referred to as IPA, you may regularly drink several versions of this very popular style, including American IPA, English IPA, and Imperial IPA.
Wicked Women - Classic Beer Series from Brewsters Brewing


Few women have been recorded as figures who have changed the course of history and often, when recognized, they are immortalized as "wicked pleasure seekers." Perhaps they were all women of brilliance, confident enough with their own self-presence to create a lasting impression…or maybe they were
Winter Warmers - 20 Must Haves for the Beer Cellar


This winter, share your valued Winter Warmers with friends and lovers. Replenish your selections early in the season, while supplies are abundant and variety is yours for the asking.
Winter Warmers for the Discriminating Beer Drinker


Your mind enters darkened hallways…catacombs…winding concrete stairways that melt into darkness…an archway surrounding heavy oak doors that open into your beer cellar.
Winter Warmers with Heat and Spice


This is where holiday magic begins; where generosity and sharing leap from the hands of the givers; and where dreams for the New Year take wing.
World Slogan - Will Chew for Beer


An old wives' tale cautions against beer in the morning, but I suspect those old wives were not from Belgium; nor were they from Philadelphia where craft beer is a celebrated entity.
Editor's Picks Articles
Top Ten Articles
Previous Features
Site Map
Content copyright © 2018 by . All rights reserved.
This content was written by . If you wish to use this content in any manner, you need written permission.
Contact Carolyn Smagalski for details.