As my eyes scan the fifty-some seminars being presented at the 27th Annual Craft Brewers Conference for 2010, my lids begin to flutter and my mind hesitates, much like the double-lined pause on a youtube video. As human beings, we are built to absorb to capacity; then, our brains shut down like an engine out of gas. My reverence for Craft Brewers increases with every passing line. How can brewing a simple glass of beer be so complex?

We are fortunate to see the gleam in the glass, to feel the golden elixir slosh across our lips, and to laugh with the pleasurable effects for hours afterward. But within that pleasure lays a complexity that few understand. It stretches across levels of artisanship and knowledge rarely pondered ... from decoction mash temperatures to ingredients, both local and imported - from mash tun and fermenters to canning, keg and bottling lines. Then, there are government regulations, importation rules, and the gastronomic creativity required to brew beers that merge with specific foods, whether everyday hamburgers or gourmet fois gras, miatake nuacman, or duck and molé.

The Craft Brewers Conference, together with the BrewExpo America® Trade Show, is the largest annual gathering for brewing industry professionals in North America. Coupled with the biennial World Beer Cup, the 2010 event hit attendance levels of over 3,200 beer specialists. The triple-header, sold-out event - held at the Sheraton Chicago Hotel & Towers in downtown Chicago, Illinois, USA from April 7-10, 2010 - amassed the world's leading brewers, brewmasters, brewery and brewpub owners, industry supply professionals, and other brewing industry leaders with growth exceeding 40 percent over prior years.

International judges were sequestered in private, climate controlled rooms at the Sheraton Chicago Hotel & Towers, for the World Beer Cup Competition, held April 6-7, 2010, just prior to the start of the conference. This international competition gathered 179 judges from 26 countries, with 62% of the judges traveling from outside the United States. These judges assessed over 3,330 beers from 642 breweries in 44 countries, and were served by 250 volunteers. Competition styles were broken down into 90 categories for the World Beer Cup, with many categories additionally split into 2-4 subcategories. The largest category for the 2010 competition was Wood & Barrel Aged Beers, with 115 entries. The smallest was German Sour Ales, with 9 entries.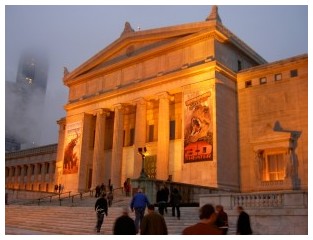 An evening Welcome Reception kicked-off the conference on April 7th at Chicago's Field Museum of Natural History, internationally recognized in evolutionary biology and paleontology, archaeology and ethnography – a fitting venue for this gathering of leading beer professionals. The main architectural motifs of the Field Museum echo the more refined classic Ionic style, inspired by the Erechtheum,  with the grand Stanley Field Hall (the central reception area) opening up a massive space, rich with pediments and arches amidst white Georgian marble.   World-class beer, canapés, pizza and hors d'oeuvres were served in the shadow of Sue, the largest Tyrannosaurus Rex fossil yet discovered, and a restored Mastodon pair with massive tusks extending 8-feet out from each body. Above the networking crowd, a menacing Pteranodon froze in suspended animation, poised for the kill.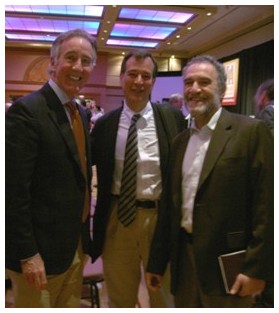 Thursday signaled the opening of the Brewers Conference and BrewExpo America®, launched by Charlie Papazian, President of the Brewers Association and key members of the Brewers Association staff. A memorable Keynote Address followed, presented by Congressman Peter DeFazio (D-OR) and Congressman Richard E. Neal (D-MA), both champions-of-support for the American craft brewing industry.

In 2007, Congressman DeFazio founded the House Small Brewers Caucus in the U.S. House of Representatives, "in order to recognize the important place that America's small brewers hold in our communities and their unique contributions to our culture and economy." He is a firm believer in the grass roots movement and of supporting craft brewers with reasonable recognition in Washington. His belief in craft brewers runs deep, and he expounded on the many reasons craft brewers are deserving of community and governmental support:

"You have a built-in clientele."

"You're an antidote to globalization."

"You're not part of the problem."

"Nobody here is asking for a bale-out."

"You are individual entrepreneurs."

"Your innovation is incredible."

He implored each member within the craft brewing community to recruit their member of Congress for the Small Brewers Caucus by doing an event for them, asking for an appointment late in the day, bringing good beer, and talking with them about craft beer and the support their brewing establishment provides within the community. His voice resounded with, "Get me more members of the caucus!"

Jim Koch, founder of Boston Beer Company, had approached Congressman Richard Neal with an idea for legislation that could level the playing field in the brewing industry, while at the same time, create jobs and strengthen the economy. Although not even in his congressional district, Mr. Koch had observed Congressman Neal and his commitment for fairness and equality. In his introduction, Jim Koch affirmed the Congressman's reputation came, "not from government or politics, but in the tradition of public service."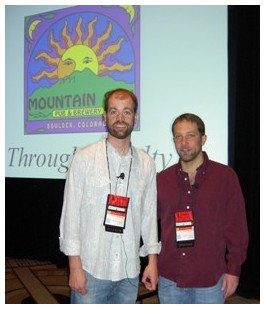 In that spirit, Congressman Neal agreed that "creating a beer culture that is the envy of the world" is in the best interest of the communities they serve.  Congressman Richard Neal (D-MA), in conjunction with Congressman Kevin Brady (R-TX), introduced HR 4278, a bill that would provide a small excise tax break to the nation's smallest brewers, freeing-up funds for small brewers, and additionally opening up more opportunities for employment in communities throughout America.

[The Brewers Association notes: "Because of differences in economies of scale, small brewers have higher costs for production, raw materials, packaging and market entry than larger, well-established, multi-national competitors.  A Harvard study of the Economic Impact of H.R. 4278 indicates that the bill would generate more than 2,700 new jobs over the first year to 18 months, followed by an average of 375 new jobs per year over the following 4 years."]

In summarizing, Congressman Neal remarked:

"Some tax cuts are better than others."

 "I am happy to lead the charge for tax relief for small breweries. Your Congressman or Congresswoman would be happy to spend time with you at your place of business. Tell anecdotes ... Do not discount the value of personal input. Get in while the elevator is on the ground floor."

"The legislation that I propose is about creating jobs. It's quality that you present to the American people."

Words that stay with you, and confirmation of the pride that lives and grows in the heart of the American Craft Brewer...

Cheers!

For guidance on how to talk with your Congressman about legislation supporting Small Craft Brewers, visit the Brewers Association website.

A Craft Brewer, as defined by the Brewers Association, can be found at the Brewers Association website.

Photos are (from top): Nick Matt, Brewers Association Chairman of the Board; The Field Museum of Natural History, Chicago, Illinois, USA; (Left to right) Congressman Richard Neal (D-MA), Jim Koch, founder of Boston Beer Company, and Charlie Papazian, President of the Brewers Association; (left to right) Timothy McMurray and Paul Nashak of Mountain Sun Pub & Brewery, Boulder, Colorado, USA