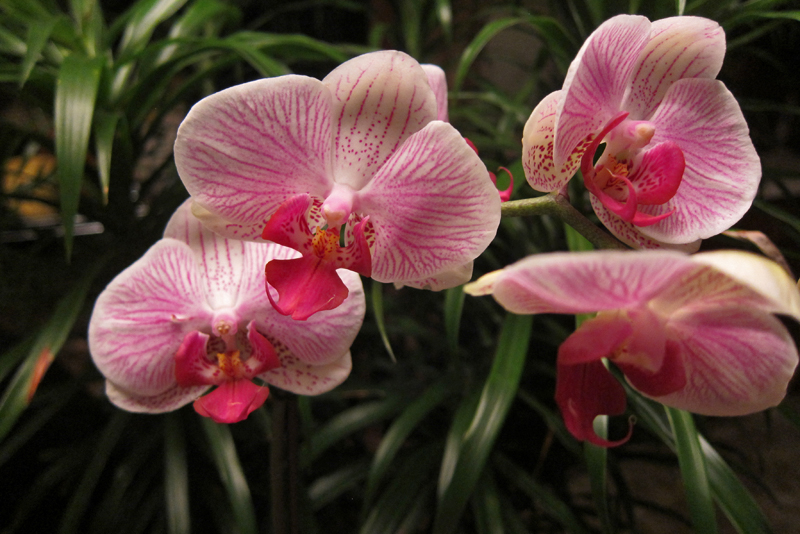 Orchids, like other plants, are subject to certain diseases and insects. Most diseases are fungal and can be treated if they are noticed and treated immediately. If you suspect something is wrong from the appearance of your plants, do not ignore the symptoms. Check the plant and those around it to determine what is wrong. Some of these diseases can kill your plant in less than a week if you do not treat it appropriately. The main diseases which appear in orchid collections are fungal diseases and viruses.
Fungal diseases are generally recognized by soft blister-like areas of infection. They spread rapidly and are spread by the spraying of water which moves spores to new plants where it can spread rapidly. Any black areas on an orchid are bad news and it is imperative that the plant and any others around it be isolated and sprayed with a fungicide such as Physan or Consan as soon as you can get it on them. Cut out the obvious blackened area and some unaffected areas with a sterile razor blade and either spray or sprinkle with cinnamon which will seal the wound. Moving the plants away from others can keep the problem from being passed on to new plants.
As a general rule, fungal diseases are prevalent when humidity is very high and air circulation is lacking. Make sure that your plants are receiving adequate air circulation at all times and take the time to check your plants periodically for any sign of problems. Many growers add fungicide to the water they give their orchids in order to kill any possible sources of infection.
Viruses are the deadliest of diseases of orchids. There is absolutely no cure for them and they are very infectious in a collection. The only known way to keep from getting viruses in your collection is to ensure that plants you buy are not infected, sterilizing all tools used on your orchids between plants, and do not allow water to drip between plants. Insects which feed on sap such as aphids, mealy bugs and spider mites can also transmit a viral infection as they move between plants.
There are very few recognizable symptoms of virus on orchids, but it has recently become possible for hobbyist growers to test their own plants. Before this, it was necessary to send a sample to a lab for the tests. Now you can order your own kit to do so from Agdia which has
Orchid ImmunoStrips™
available to the general public. This is a quick and easy way, although not inexpensive, to check for viruses in any plant you may suspect has a virus. Here are some pictures of leaf symptoms of virus
leaf symptoms of virus
from the Brisbane Orchid Society.
You Should Also Read:
Viruses
Identifying and Treating Rots on Orchids
Segregate those new orchids


Related Articles
Editor's Picks Articles
Top Ten Articles
Previous Features
Site Map





Content copyright © 2022 by Susan Taylor. All rights reserved.
This content was written by Susan Taylor. If you wish to use this content in any manner, you need written permission. Contact Anu Dharmani for details.