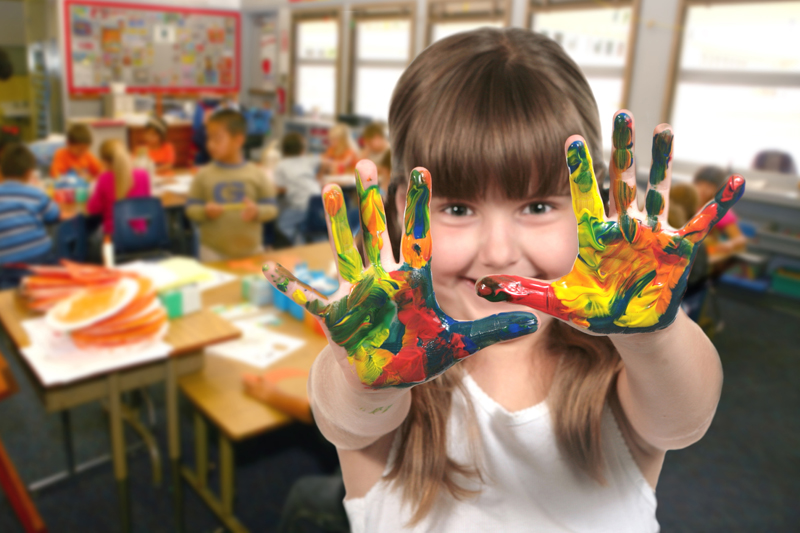 It is wonderful to craft as a family. To be able to gather everyone around the kitchen table and spend time creating something can bring the family closer together.
Crafting with your children does not have to mean that you go to the store and specifically buy a craft kit. You do not need to spend a fortune. All around us at home every day we are surrounded by items that can be used to create and craft.
Think of what you throw away, and when you realize that you are throwing away the same thing fairly often you may start to think of it as an object that may be useful. For instance, a few times a week I make a gallon of powdered drink; I tear the foil piece off the top and pour the powder into the water and then I toss the little plastic cup into the recycle bin. I started to think about what I could do with them if I saved them. Now they can be used to sort beads, hold some glue, or decorated to become a piece of furniture for the doll house.
The same thing happened with all the little food boxes I was throwing away. A gelatin box can be converted into a race car or an animal, a cereal box can be sliced down and become a CD or magazine storage case, a box from a cake or brownie mix can be made into a doll bed. Think of the fun that can be had with these small cardboard boxes that I had been just throwing away. I will be featuring these craft projects in a future article.
You just need to have some basic supplies in your family craft box, and I bet most of them you can find in your house right now, you just need to gather them all together:
Crayons
Safety scissors
Lunch bags
Yarn
Empty food containers
Colored pencils
Paper plates
Markers
Popsicle sticks
Paint brushes
Old shirts for smocks
Magazines
Sketchpads
Tissue paper
Cotton balls
Paint
Newspapers
Old drop cloth
White glue
Glue sticks
Construction paper
Clothespins
Scraps of cloth
Cardboard tubes
Paper towels
Paint
Toothbrush
Any other items that might be interesting
At my house, because I sew and quilt we were able to add other items to the list that you may not have at your house, such as buttons, rick rack, other sewing trims. On the other hand you may have things at your house that will be great to add to the family craft box that we don't have at my house. Maybe you have nuts and bolts and screws and electrical wire. I hope you will share your ideas with us of other common items good for crafting.
When you read that list and imagine gathering them all up you probably start to think that there is no way that you will be able to store them in one place once they are gathered. If you are short on space you may have to get a little creative; for instance you could hang a shoe rack on the back of the pantry door and most of the supplies could fit into the little pockets, and with those taken care of then it would be much easier to find a good spot for the other items.
One of the main ideas here is that you want to keep everything accessible to your children. The time the children spend crafting with you will become a springboard to their future creativity. The time will come that they will craft by themselves if you have spent time with them initially, and if the supplies are accessible.
Enjoy Crafting!
Great crafting container ideas:
Creative Options 1354-87 Grab N' Go Rack System with 4 No.2-3500 Pro-Latch Utility Organizers
available from Amazon.


Related Articles
Editor's Picks Articles
Top Ten Articles
Previous Features
Site Map





Content copyright © 2022 by Launa Stout. All rights reserved.
This content was written by Launa Stout. If you wish to use this content in any manner, you need written permission. Contact Launa Stout for details.