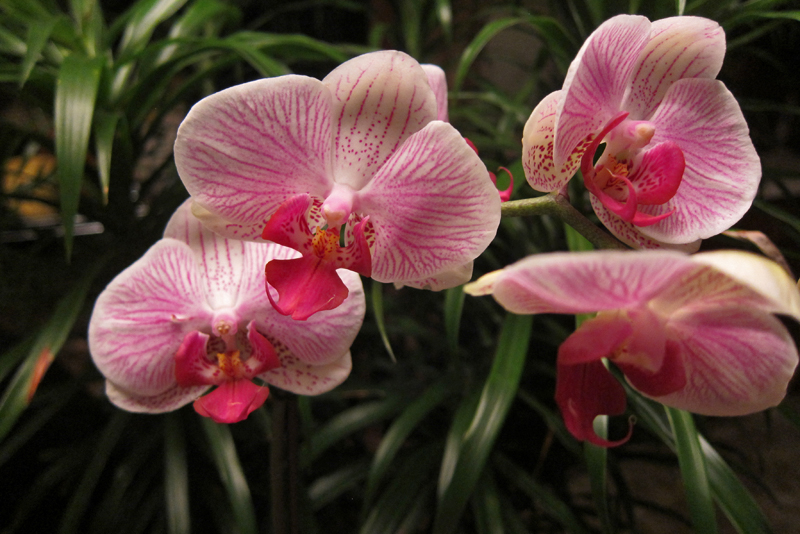 Use Neem Oil once a month as a systemic
Add two tablespoons of Neem Oil per quart to the plain water that you use each month to clean out the minerals from your plants. It is important to flush out your plants and with only Neem Oil added your plants will absorb more of the oil. This will work in a systemic fashion to repel and kill sucking pests such as mites, scale and mealy bugs.

Move your plants around if they are not doing well
If you have a plant that is not doing terribly well, try moving it around. If it is not blooming the chances are that it is not getting enough light -- move it to a brighter area. If the leaves look reddish even though it is growing and blooming for you, try moving it to a slightly shadier location which will allow the leaves to return to a greener color.

Styrofoam pellets can be used
Styrofoam pellets can be used to increase the permeability and draining of your mix. They do not absorb water so adding them at the bottom of a pot will allow more air circulation and increase drainage. Stay away from the pink varieties since they have been coated with anti-static chemicals which are not good for your orchids. White and green styrofoam peanuts are just fine.

Use lava rock to give your pots stability
Use lava rock, the black variety is best, to provide stability to your pots for those orchids which may prove to be top heavy. Placed at the bottom of a pot they will add weight and help to keep the orchids from tipping over. The lava rock can be found in most landscape departments of large stores or at garden centers. It normally is relatively inexpensive and is easy to use. You do not want to use only lava rock for potting since roots can be damaged during repotting when they have adhered to the rock and you try to remove them.

Use wire supports when you repot
When you repot, use the wire supports which have a circular cage to hold your orchids in place until the roots take hold and keep the plant upright. These supports attach to the side of the pot and are generally 6 to 8 inches, or 15 to 25 centimeters, high. The circular portion is put round the top of the plant to keep it supported.

You Should Also Read:
Spring Orchid Growing Tips
Cutting off keikis
Getting Ready for Spring Repotting


Related Articles
Editor's Picks Articles
Top Ten Articles
Previous Features
Site Map





Content copyright © 2022 by Susan Taylor. All rights reserved.
This content was written by Susan Taylor. If you wish to use this content in any manner, you need written permission. Contact Anu Dharmani for details.