Nowhere In Africa - Movie Review
When I rented this movie, I really didn't know what to expect. This is a movie from Germany and the dialogue is in German, Swahili, and English so there are subtitles throughout. Nowhere in Africa is set in 1938 in Germany. We are introduced to a mother, Jettel, and her daughter, Regina, who are Jewish. Jettel's husband, Walter, is already in Kenya and has sent for them to escape from the Nazis. Jettel is reluctant to leave Germany and her friends and family, but does as her husband asks.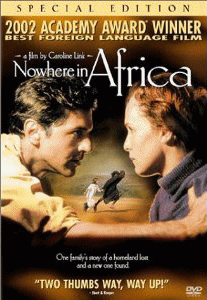 Regina flourishes in Kenya, while Jettel has a hard time adjusting to the primitive lifestyle of East Africa. One scene I particularly enjoyed was when Jettel needed water for her garden. Owuor, the family's cook, takes her to the watering hole to fill a couple of buckets of water. There is a group of local women there as well. They watch Jettel fill her buckets and struggle with the weight of them. Jettel asks Owuor to help carry the water. The moment Owuor picks up the buckets the other woman start yelling and calling out to him, "Owuor! Help me with the water! Owuor! The water is too heavy!" Making fun of Jettel and shaming Owuor for doing women's work.
There are many scenes like this one that are accurately portrayed:
- A little Kenyan boy sneaking up behind Jettel, touching her hair, then running back to join his laughing friends.
- Jettel telling Owuor he must learn German if he is to speak to her. Later in the movie we find she has decided to learn Swahili.
- An elderly Pokot woman dying under a tree instead of inside her home to keep the home pure.
Near the end of the movie, Regina and Jettel attend a Pokot ceremony in which a cow has been slaughtered and the tribe is celebrating.
Nothing in this movie is gratuitously filmed. The director didn't insert a wildebeest migration just because he could or show tribal ceremony one after another for curiousity's sake. Everything in this movie fits the way it should.
I can't recommend this movie highly enough for it's accurate portrayal of life in Kenya. Jettel's loneliness of living a life outside of her native culture and the difficulties to adapting to a new culture is juxtaposed with Regina's almost immediate assimilation into Kenyan culture and life. The almost everything right - the farmhouse, the culture of the Kenyan tribes, the interactions with the local tribes.
Nowhere in Africa won the 2002 Academy Award for Best Foreign Language Film along with many German film awards including Best Film and Best Cinematography. This movie is rated R for sexual content.
Nowhere is Africa is based on the autobiographical novel of the same name by Stefanie Zweig.
Nowhere in Africa
is available at Amazon.com
I rented this copy of "Nowhere in Africa" from NetFlix.com with my own funds.
This site needs an editor - click to learn more!

You Should Also Read:
The Constant Gardener Movie Review
The Ghost and the Darkness - Movie Review




Related Articles
Editor's Picks Articles
Top Ten Articles
Previous Features
Site Map





Content copyright © 2022 by Jeanne Egbosiuba Ukwendu. All rights reserved.
This content was written by Jeanne Egbosiuba Ukwendu. If you wish to use this content in any manner, you need written permission. Contact BellaOnline Administration for details.