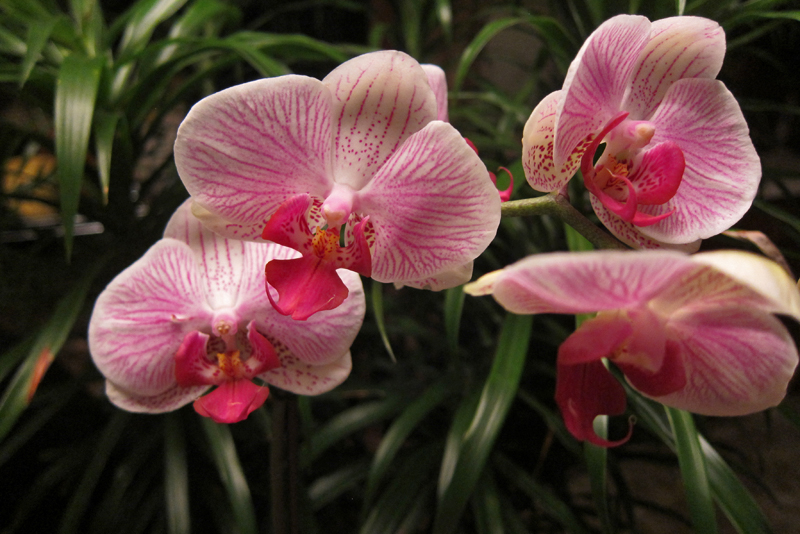 One of the most fascinating things about orchids is the subject of pollination and the number of different species that serve in this capacity. They range from hummingbirds in the Americas to the sun birds in Africa; many different kinds of bees and wasps; moths, butterflies, flies, gnats, ants and termites.
In many instances, orchids make nectar to attract their pollinators. The most famous of these is
Angraecum sesquipedale
which when seen the first time by Charles Darwin led him to predict that the pollinator was a moth with a 12 inch, __ centimeter, tongue to reach the nectar. Many of the night blooming orchids of Madagascar are also pollinated by moths. There is even a recently discovered one which is pollinated by a cricket -- caught by a camera.
Hummingbirds pollinate some species of orchids in the new world, mostly at higher altitudes where the insect pollinators are fewer in number. These orchids are usually red or orange in color and adapt themselves to provide a shape that is perfect for these pollinators to access. Even more interesting, among orchids, they have pollonia (pollen sacs) which are dark colored so that they don't distract the bird by showing up on the bird's beaks.
The most interesting, to me, are the bee orchids of Europe which have evolved to resemble the bees which pollinate them. In some instances they emit a pheromone used by female bees to lure the males. Most of these orchids do not provide any actual food for the bees, they just lure them to try to copulate with the flowers, thus getting the pollonia on them which is deposited when they visit the next flower. This is referred to as pseudocopulation and has been shown to have evolved in a number of different species of orchids in all parts of the world. Wasps are also known to be tricked by orchids in this manner as well as lured to attack flowers which look like male wasps which are attacked. In other instances, the flowers resemble spiders which wasps use to nurture their young and the wasps gather pollonia as they try to deposit their eggs on the flowers.
In one kind of orchid, as a bee lands on the flower, the pollonia is deposited by a hinged lip which slaps closed on the bee and sticks the sac on the insect's head. Small flowered orchids around the world are pollinated by gnats and ants as they wander over the flowers. A particularly interesting Australian variety has been found to be pollinated completely underground by termites. The plant and flower never break the surface and it was only found when a farmer plowing a field unearthed a weird flower covered with termites.
You Should Also Read:
Orchid Diversity
Angraecum sesquipedale
Orchid Profile - Spider Orchids


Related Articles
Editor's Picks Articles
Top Ten Articles
Previous Features
Site Map





Content copyright © 2023 by Susan Taylor. All rights reserved.
This content was written by Susan Taylor. If you wish to use this content in any manner, you need written permission. Contact Anu Dharmani for details.