Stop Wine Spills with Wine Diaper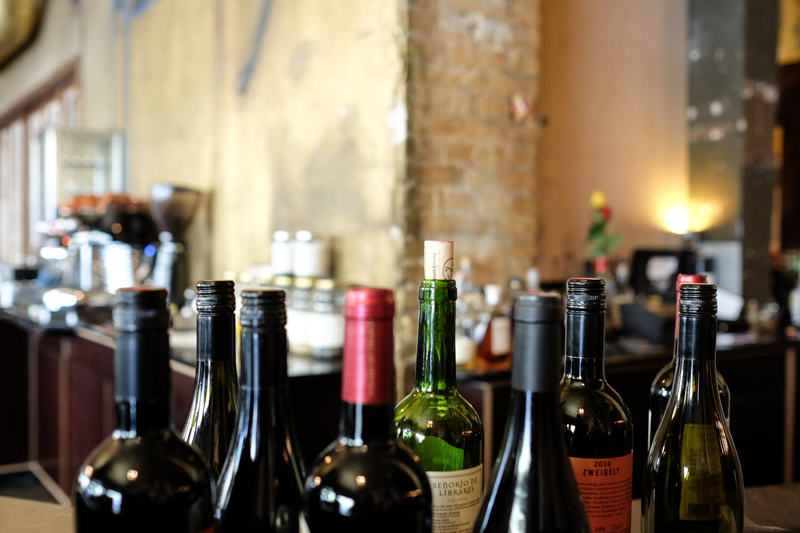 When travelling we often want to bring wines home with us. With current air security arrangements we cannot carry liquids in our hand baggage yet fear bottles packed in our baggage may break or leak and wine will flood our case.
There are two ways to tackle this: protect bottles from damage or pack them in a container that will prevent any spillage leaking. I have recently tested
such a container.
The Wine Diaper is a thin plastic re-sealable bag lined with absorbent material which will hold a bottle of wine. Should the bottle break or the
closure leak then the Wine Diaper is intended to absorb the spill and thus protect your clothes and belongings.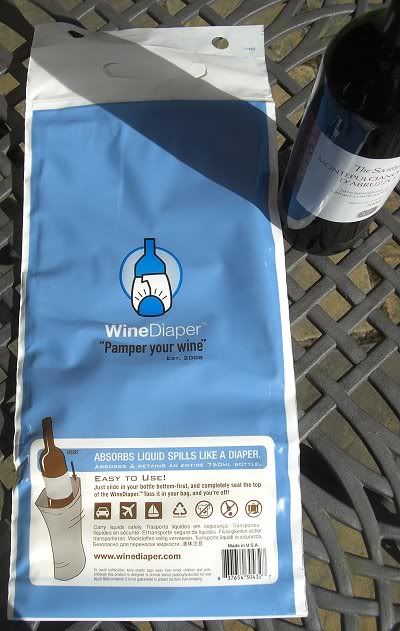 The Wine Diaper


The Wine Diaper bag itself states that, while it offers added protection, it isn't guaranteed to protect from breakages. However their website shows a suitcase being thrown off a high balcony and then a man jumping on the case from which he then takes out a Wine Diaper from which he removes an unbroken wine bottle. Wine bottles are remarkably tough and I am not convinced the Wine Diaper made any difference then.
I first thought I'd test the product by breaking a bottle inside a Wine Diaper but, because bottles are robust, I decided to remove the cork from a bottle of
wine, put the opened bottle upright into the Wine Diaper, carefully seal it then knock it off a table onto a stone floor. Without a cork the wine would
spill. Frankly I was doubtful the Wine Diaper could work as the lining seemed too thin to soak up 750ml of liquid. And there is no lining at the top of
bottom of the bag so limiting protection from knocks.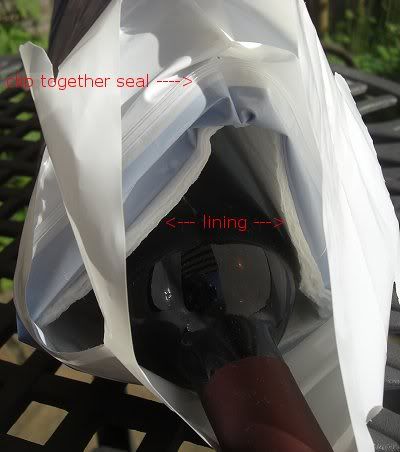 The Wine Diaper open, showing the lining and seal strip


I gave a push and the bag fell on the floor where I left it for 20 minutes. When I lifted it there was a small damp patch on the floor and the outside of
the bag was wet. I opened the Wine Diaper expecting to find loose liquid and was surprised to see that the lining has swelled and absorbed every last drop.
Nothing spilled out. I was amazed; the lining wasn't soaking wet, it felt damp.




After 20 minutes I turn the Wine Diaper over to see a damp patch on the ground.


So what about the small leakage? I found a tiny hole in the plastic bag caused, presumably, when it fell onto the rough stone floor and some of the
initial rush of wine escaped before the lining could absorb it.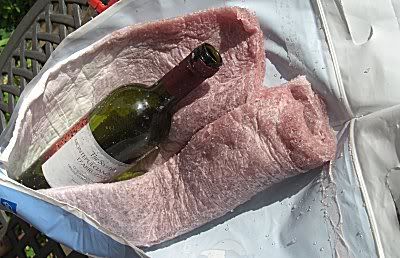 The Wine Diaper, with the plastic bag cut open and lining lifted off bottle to show how lining has swelled and absorbed all the liquid. And note that the lining at the bottom of the bottle is still dry.


If the Wine Diaper was in baggage which was so roughly treated that the bottle shattered I wonder if the unlined plastic at either end would be pierced by
glass shards. For this reason, and the slight leak I had, I don't rate Wine Diaper as 100% successful but I am very impressed and if you want reassurance
against spillage when travelling then it will give you peace of mind.
Wine Diaper costs $10 for three and can be reused indefinitely until it prevents at leak. See www.winediaper.com
Disclaimer: I received one Wine Diaper from the manufacturer free of charge which I tested and destroyed while researching the above article.
Have you used this product? Tell us what you think on our friendly
forum
.
---
Peter F May is the author of
Marilyn Merlot and the Naked Grape: Odd Wines from Around the World
which features more than 100 wine labels and the stories behind them, and
PINOTAGE: Behind the Legends of South Africa's Own Wine
which tells the story behind the Pinotage wine and grape.
---
You Should Also Read:
Carrying Wines on a Plane
Travelling With Wine
Taxing Travellers Wine


Related Articles
Editor's Picks Articles
Top Ten Articles
Previous Features
Site Map





Content copyright © 2022 by Peter F May. All rights reserved.
This content was written by Peter F May. If you wish to use this content in any manner, you need written permission. Contact Peter F May for details.