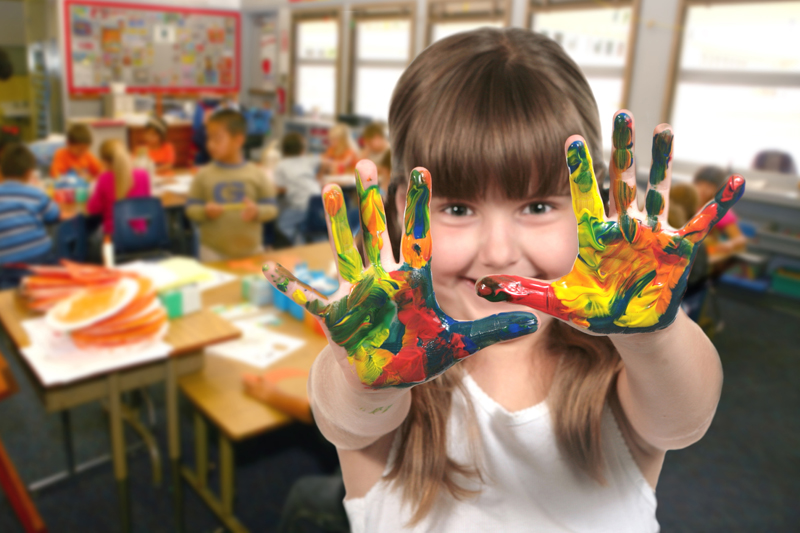 Did you know you can make art with a salad spinner? The often neglected piece of kitchen equipment takes on new life and purpose with this easy craft. The finished project makes a great decoration for any special occasion. We like to use red, white, and blue paint to create a Memorial Day or Fourth of July decoration.

For this project you will need a salad spinner, white cardstock or paper plates, bright paints in your desired colors, and glitter. If you wish to use your salad spinner for salad in the future, be sure to use washable paint. If you don't have a salad spinner, keep an eye out for one at thrift shops and yard sales or ask friends and family if they have one they don't use.

Begin by trimming your paper plate or cardstock so that it will lie flat in the basket of the salad spinner. Kids may find it easier to trace a salad plate or other similar-sized object onto the paper before cutting. Lay the paper in the basket of the salad spinner. Use a spoon to drop small blobs of paint around the paper plate. For the best results use colors that blend well together, such as red and blue.

When you have your paint blobs in place, put the lid on the salad spinner and give it a good hard spin. Younger kids will probably need help with this. The paint will splatter around the paper, creating a neat effect almost like fireworks. If your salad spinner has a quick stop button, use it at the end to create even more of a splatter effect. Open the salad spinner and carefully remove your paper.

At this point, you can sprinkle glitter on top of the wet paint if you wish. Repeat the process to make as many as you like. We often attach the finished plates together with yarn or ribbon to make oversized streamers. Simply punch a hole in the top and bottom of each paper plate. Thread yarn through the top of one plate and make a loop to hang the decoration from. Use more yarn to connect the plates together, leaving at least three inches of exposed yarn between each plate. For a finishing touch, tie a few extra strands of yarn or decorative ribbon through the bottom hole of the last plate. These look great hung on a door or from a covered porch, where they will blow around in the breeze.

You Should Also Read:
Make a Summer Fun List


Related Articles
Editor's Picks Articles
Top Ten Articles
Previous Features
Site Map





Content copyright © 2022 by Kimberly Misra. All rights reserved.
This content was written by Kimberly Misra. If you wish to use this content in any manner, you need written permission. Contact Launa Stout for details.