Interview – Secrets Revealed - Steve Hawk 2010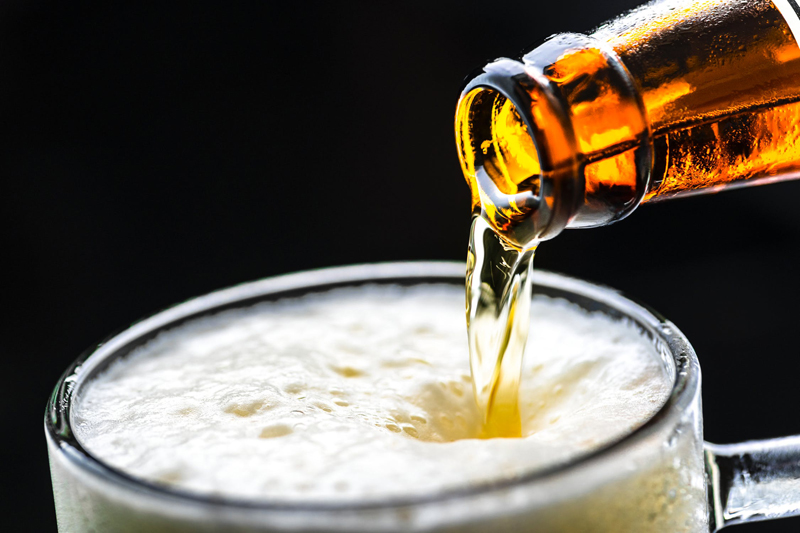 Steve Hawk, Philly Beer Geek 2010, answers questions about his personal connections to beer; then, reveals secret plans for his future.

When did you become involved with beer? / Did you always like beer?
Would you believe I was raised in a family that never had a beer in the fridge? Both of my parents aren't much of drinkers and my goal in life is to get my older sister into drinking beer (no easy feat). So besides the occasional sip from my grandfather's empty can, there wasn't really any early exposure to beer. I can pretty much pin my first memorable beer experience to my trip to Germany as a foreign exchange student, right around my 16th birthday. At a corner bar in the city of Oldenburg, I felt so grown up sitting at the bar with my backpack on. I don't remember anything about what style or brand it was, but I do remember the glass was huge.

Then, the beer craziness didn't really start until shortly after I met my wife. We started attending beer events and traveling to new bars together. I started brewing a few years after that – and then I helped co-found a homebrew club and it's been fun to watch it and the rest of the beer scene grow around us.

Did you drink the "childhood flavors" of Bud-Miller-Coors at first; then, graduate as an upper-craft drinker?
To be completely honest with you, I never really drank any of the big three at all. My friends, who I credit for introducing me to beer, were drinking a lot of Molson at the time. And then, once autumn came around and I had my first sip of Samuel Adams Oktoberfest, I was hooked. It's been pretty much nothing but craft beers since then.

Is your approach to beer more scientific or organoleptic – based in the technical or the overall "feel-good" aspects?
I'd say it's a little bit of both. I'm totally into the technical aspects of beer and brewing, but I'd say beer is meant to be an experience. If you're around good friends or at a great bar – I swear the beer tastes better.


What aspect about the beer world would you change, and how?
I think the only thing that needs change immediately is the PLCB. During all the raid-craziness, I started reading over the liquor laws and realized how some of them are so archaic and ridiculous - it's silly and it totally needs an overhaul. Wow, look at me sounding like Lew Bryson! But other than that, I'm pretty happy, from the great bars and the beer selection we have in Philly to the shopping convenience and prices in Jersey, life is good.

Do you brew? How much? For how long?
Care to elaborate on that?
Absolutely, I've been brewing for over 3 years now. I started out brewing with little partial boil extract batches in my kitchen and recently have been brewing 10-15 gallon all-grain batches with a couple friends of mine from the homebrew club. We've experimented with a lot of recipes, but we haven't brewed in a couple months… the reason being we're actually in the process of setting up a nano brewery. You heard it here first! Hopefully in the next few months, I'll be fulfilling a dream of mine. We already have most of the equipment we need to start – it's going to be a small 1 barrel setup. The plan is to do it upstairs at the Hulmeville Inn – so you know our 'tasting room' is going to be the Best Beer Bar in the Burbs. It's all about beer … really exciting … stay tuned for more details.

Are you certified in beer tasting - have you had any formal education about beer or is your approach purely through self-motivated experience?
No, I haven't taken any formal classes yet, though I plan to do so eventually. I don't really have a huge desire to become a beer judge, although I've helped organize and steward a bunch of contests. I read books and magazine articles about beer non-stop, but most of what I learned has all been from on-the-job training.

Do you maintain a beer cellar? If yes, what are you in the process of maturing?
I've been told by my friends I brew with, that my house isn't exactly the ideal place to store beer for long periods of time. It's probably because it's really easy for me to justify any day as a special occasion. Though I have managed to save a couple good ones in the basement; a couple Westvleteren 12's that my English buddies brought me – and of course, the awesome prize pack from winning the contest is certainly a good way to start a cellar.


Do you collect beer stuff? Beer coasters, neon lights, glasses, bottles, bottle caps, napkins, etc.?
Yeah, I have tons of glassware, it's like every event I go to I end up picking up something new. I have a couple rare beer signs and I'm a big fan of brewery T-shirts as well. But what I think I have the most of are bottle caps. I've been subconsciously collecting them since I started drinking beer. I have at least a couple thousand. I have this dream of doing a cool art piece with them all – but of course nothing yet.

What's your favorite beer?
I am the worst at answering that question. I'm just so diplomatic. I can tell you what my favorite styles of beers are. I'm a sucker for a good English bitter and any traditional German lager. And I can tell you what beers end up in heavy rotation in my refrigerator: Brooklyn Pennant Ale, Yards Brawler, Aventinus Weizenbock, and the PBC Kenzinger ... oh, and any of those Flying Fish Exit Series beers. But picking a "favorite" is just too tough.

Favorite brewery?
Another tough one to narrow down. I'd say were pretty lucky to live near so many great local breweries. But besides them, I say I'm always on the look at for any new Founders, de Struise, Russian River, Unibroue, Dieu Du Ciel, Brew Dog … and of course, what I've had so far from Surly and New Glarus make me anxious to take a road trip to the Midwest.


What's so special about Hulmeville Inn?
Simple. Have you ever met Jackie, Nick, Natalie, Bob, Dillon (okay, you get the point)?
It's just a great neighborhood bar with a really friendly and easy-going atmosphere. I've talked about it in my speeches, how great the community is there. It's almost comical – you literally see people who you wouldn't think would have anything in common, sitting at the bar sharing beers and conversation. And, like I said, all the bartenders are great and super knowledgeable (even Bruce) and the beer events are always 'must hits'.

And I can't say enough about the "former gap jeans model" Jeff Lavin, he's like the older brother I never wanted. He's a really hardworking and down-to-earth dude. He's gone above-and-beyond for our Homebrew Club and also is very involved in local charities and organizations … and is the main reason the Hulmeville is the best place in Bucks County to grab a pint.

But how can I forget THE BEER?! The draft list changes damn near everyday (I have proof! Every time it gets updated - an email gets sent out to us losers on the mailing list who want to know when we have to leave work early to try something rare.) We also have the best tasting-sessions there – Jeff is as 'into beer' as we are (if not more) and is always searching for new beer to feed our addiction. I can't tell you how many amazing beers I've tried while "hanging at 'ville".

Now that you've won Philly Beer Geek 2010, where do you go from here? I know you yelled, "I'm going to Disney World" - then changed it to "I'm going to Hulmeville Inn!" Do you have other beer-related goals?
World domination ...
I don't want to lie. The thought of running in the Beer Drinker of the Year contest out in Denver has crossed my mind, but probably nothing that lofty any time soon. But with the brewery starting soon – and since I'm now a beer ambassador of sorts for the city of Philadelphia, I have a lot on my plate already. I definitely have a goal of promoting Philly Beer and the Beer Geek contest, in and around the city, as much as possible. There are tons of worthy contestants out there and I want them all to compete in 2011 for my crown!

Read more about Steve Hawk: Steve Hawk, Philly Beer Geek 2010, talks with the Beer Fox about his big win at the Philly Beer Geek Finals Competition, held on June 10, 2010 at Manayunk Brewery & Restaurant in Philadelphia, Pennsylvania.

Cheers!

Photos are (from top): Family shot - Steve and Crystal Hawk on right, with Steve's Dad and Sister; Steve Hawk on the Philly Beer Geek Mobile; Steve Hawk during competition 2010; Steve sweats-it-out in the Semi-Finals

You Should Also Read:
Interview – Philly Beer Geek 2010 - Hawk's Win
2010 Philly Beer Geek Semi-Finals
The Human Growler Becomes a Legend


Related Articles
Editor's Picks Articles
Top Ten Articles
Previous Features
Site Map





Content copyright © 2023 by Carolyn Smagalski. All rights reserved.
This content was written by Carolyn Smagalski. If you wish to use this content in any manner, you need written permission. Contact Carolyn Smagalski for details.