The Human Growler Becomes a Legend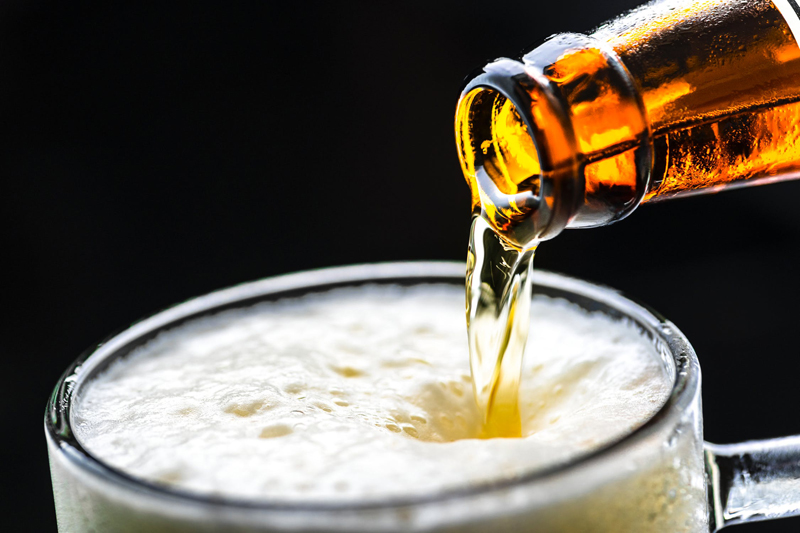 In his third attempt to seize the title, Steve Hawk, the Hawkenator – better known in Philadelphia circles as The Human Growler - captured the coveted title as Philly Beer Geek 2010 at the Philly Beer Geek Finals Competition on June 10th during the last Thursday of Philly Beer Week at Manayunk Brewery & Restaurant in Philadelphia. His on-stage entrance was considered, by some, to be grand. Not really grand, but creative enough to glean the support of a raucous audience from the onset of the competition. Rolling in on a "Beer Geek Mobile" – a motorized beer cooler equipped with steering – and cheered on by more than 30 supporters - with signs, Steve Hawk shirts, and posters on sticks - he moved to the "head of beer geekdom" from the earliest moments of the competition … then stayed there.

During the semi-final round, each competitor is required to choose a beer moniker that describes his or her role in the beer world, and carries that name into the Finals. This name can be serious or humorous, and often sticks beyond the limits of the competition. Steve Hawk, sponsored by the Hulmeville Inn in Hulmeville, Pennsylvania, USA was over-the-top in his choice. He kept the moniker from his 2009 attempt at Philly Beer Geek and laughs at himself. "It's definitely not easy to come up with a beer stage name, but this one stuck. And anytime I can use a joke about my body storing beer for short periods of time … it's always a home run."

Six competitors had earned seats as Finalists in the competition, emceed by Philly Beer Geek Founders Jason Harris of Keystone Homebrew Supply and Carolyn Smagalski, Independent beer writer and Beer Fox from Beer & Brewing at BellaOnline. Finalists and their sponsors were:

• Steve Hawk, the Human Growler, sponsored by Hulmeville Inn, Hulmeville, PA

• Kate Stewart, the Beeranthropist, sponsored by Iron Abbey Gastro Pub, Horsham, PA

• Mike Gretz, Herr Bier-Mikester Gretz, sponsored by Brauhaus Schmitz, Philadelphia, PA

• Mike Lessa, Dump Bucket, sponsored by Keystone Homebrew Supply, Montgomeryville & Bethlehem, PA

• Dan Berlin, Man Full of Trouble, sponsored by Dock Street Brewery, Philadelphia, PA

• Jessi Black, Schwartzbier Frau, sponsored by Bridget Foys, Philadelphia, PA.




Contestants were out to impress the judges, who sheepishly raised whiteboards begging for bribes, laughs, and beer. Despite the light mood and humorous approach, the professional panel of judges took their roles seriously, fully aware that the winner would walk away with the 2010 Philly Beer Geek title and a cache of prizes worth more than $1,000.

Members of the Illustrious Panel of Judges were:

• Don Russell - co-founder and Executive Director of Philly Beer Week; winner of the 2006 Brewers Association Beer Journalism Award in Consumer Print; author of Joe Sixpack's Philly Beer Guide: A Reporter's Notes on the Best Beer-Drinking City in America and Christmas Beer: The Cheeriest, Tastiest and Most Unusual Holiday Brews; "brews-man-news-reporter" for over ten years at the Philadelphia Daily News.

• Lew Bryson – Managing Editor at Malt Advocate, which recently became a part of M. Shanken Communications, publishers of Cigar Aficionado, Wine Spectator, Food Arts, and more; drinks writer for Cheers, New Brewer, and Beverage Business; author of a series of brewery guidebooks: New Jersey Breweries, Pennsylvania Breweries (in its 4th edition), Virginia, Maryland and Delaware Breweries, and New York Breweries; Internet blogger at "As Seen Through a Glass."

• Jack Curtin - "Atlantic Ale Trail" columnist for Celebrator Beer News of California; published in American Brewer Magazine and Philadelphia Weekly; served as "Eastern Pennsylvania" columnist for Mid-Atlantic Brewing News and as beer-writer for the now defunct titles Beer & Tavern Chronicle, Barleycorn and SEPTA Weekly. Currently also maintains Internet presence at The Beeryard and Liquid Diet – The Blog.

• Bryan Kolesar - Philly's own blog-freak at the Internet-based Brew Lounge; writing about beer since 1995; co-founder (with Dock Street Beer) of the Amazing Philly Beer Race, a competitive run held during Philly Beer Week; creator of the most easily-interpreted Philly Beer Week Event Spreadsheet ever produced.

• Doug Marchakitus – Head Brewer at Manayunk Brewery & Restaurant, Philadelphia, PA; former assistant brewer to Larry Horwitz at Iron Hill Brewery, where he co-crafted Abbey Dubbel - a beer that was, in Doug's words, "an experiment that went wonderful." Abbey Dubbel won a Silver Medal at the Great American Beer Festival in 2008.

Nate Gefvert, Philly Beer Geek 2009, had the honor of serving on the Illustrious Panel of Judges during the Philly Beer Geek Semi-Finals for 2010, where he and his panel of three other judges whittled-down a larger group into the select six finalists.


Within the "comedy-club atmosphere," Philly Beer Geek Finalists were put through a series of challenges, including Fast-fire Trivia, Free Form Questions from the judges, The Home Bar Advantage (telling why their sponsor was worthy to be listed in the Top-Ten List of GQ Magazine, along with a little-known fact about their sponsor), Beer Profiling, a Stump the Chumps segment (Finalists asked the Judges questions), and a short campaign speech nominating their favorite Philly beer for Mayor of Philadelphia.

The evening was peppered with memorable moments. A few of the stand-outs:

Mike Gretz caught Don Russell with a taste of history from his own book: asking him to identify the first Brewster in America, where she was located, and when she brewed. When Judge Russell declined to answer, Gretz brought the room to uproarious laughter when he said, "I got this one from page 109 of your book, Joe Sixpack's Philly Beer Guide. It was Mary Lisle in Philadelphia, 1734."

Kate Stewart not only identified the Dogfish Head beer, but also explained the difference in flavor profile from previous years.


During the Free Form round, Steve Hawk was asked, "If you were to own a water park, but all the water had to be beer, what beer would you choose?" Stunning the judges and the audience, he launched into an imaginative business plan in which he would have different beer styles featured in themed areas of the water park, as if he had already pondered such a question in the creative wanderings of his thoughts.

When it came time to nominate a beer for Philly mayor, Kate Stewart was true to her moniker as Beeranthropist. She chose Stoudt's "Ex Gratia," a specially-brewed Lemon Beer, crafted to celebrate the Great Chefs Event Benefitting Alex's Lemonade Stand Foundation – a beer that would care about the people of Philadelphia.

Steve Hawk nominated Yards as he slapped a beer poster (with graphics imitating the classic Obama red-and-blue campaign art) on the wall behind him. He was ready with thoughts about how his was home-grown in the city, cared about the neighborhood, and was focused on energy efficiency and sustainability. As icing on the cake, he covered his own face with the smiling image of Yards Owner Tom Kehoe on a popsicle stick, bringing the audience to cheers and guffaws.

This year, the winner was clear. Steve Hawk, the Human Growler, grabbed the crown as Philly Beer Geek 2010, yelling, "I'm going to Disney World!" He then recorded an additional youtube video with an enthusiastic, 'I'm going to Hulmeville Inn!" Kate Stewart was awarded 2nd place, and two evenly matched competitors – Mike Gretz and Mike Lessa – shared third. They were so evenly matched that even the Judges' tiebreaker couldn't clear the path.




The judges were amply impressed with the contestants. Judge Jack Curtin prompted the crowd to give all the Finalists a standing ovation for their outstanding performance. After the competition, Steve Hawk remarked, "I can tell you Cloud 9 feels pretty darn good! It's been quite a week. I definitely have a goal this year of promoting the title and the contest as much as possible. I feel so strongly about it - I want the whole city to enter next year."

Cheers!
Photos are (from top): Emcees Carolyn Smagalski and Jason Harris with Philly Beer Geek 2010 Steve Hawk in center; Judges Don Russell, Doug Marchakitus, and Lew Bryson; Steve Hawk and his Fan Club; Yards for Mayor Poster; Crowd goes wild when Steve Hawk wins 
You Should Also Read:
Philly Beer Geeks
2010 Philly Beer Geek Semi-Finals
Philly Beer Geek 2009 Nugget Nate Gefvert


Related Articles
Editor's Picks Articles
Top Ten Articles
Previous Features
Site Map





Content copyright © 2022 by Carolyn Smagalski. All rights reserved.
This content was written by Carolyn Smagalski. If you wish to use this content in any manner, you need written permission. Contact Carolyn Smagalski for details.