Can Craft Time be Learning Time?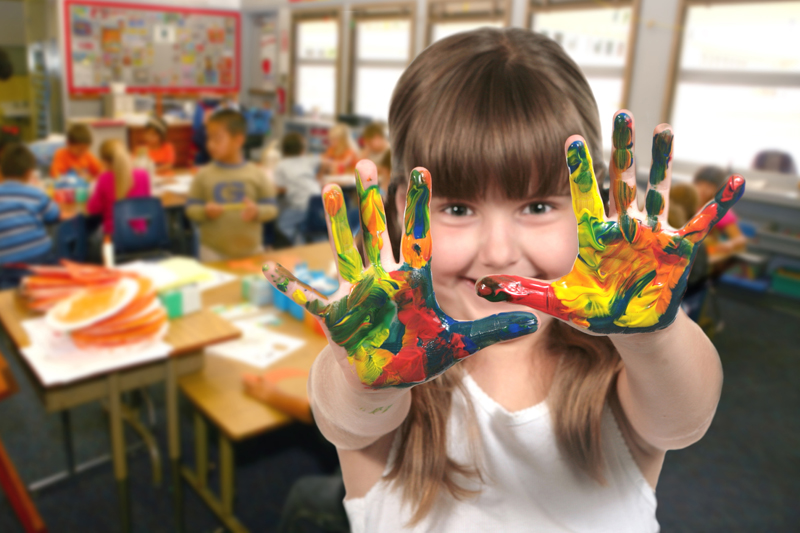 You and your toddler/ preschooler sit down with finger paints to paint on construction paper. The final product is a true work of art—of course!! You name and date the picture and tuck it away in the memory box as a reminder of his young days and of the enjoyable bonding time you spent together. However, could that craft session have given you and your child more than just a great time? The short answer: Yes! Let's discuss just a small touch of what other treasures can be found while crafting with your youngest artists.

Our children's cognitive development expands in many ways on a daily basis. Because you have the eager interest of your child during craft time it is a great time to practice some cognitive skills. Using the finger paint example above, you can practice following directions for instance. Depending on the age of your child, you may start with one step verbal directions with physical cues, then progress to one step verbal- only directions; then move on to multi-step verbal directions as he progresses in understanding.

Language development aspects can be explored as well. Include a wealth of sounds, words, phrases, and sentences within the flow of the craft. Use repetition of these verbal cues. For a toddler expanding his list of words, introduce new words during the activity and use the new word throughout the craft session. Words such as paint brush and color words are examples. For preschoolers, model appropriate sentence structure and letter sounds. Change the words of familiar tunes to teach a concept. For example, using the tune to "Mary Had a Little Lamb", sing this phrase instead: "This is How We Play with Paint". Couple words with actions and objects as well to further language development along.

Introducing paint brushes or sponges to the paint project can help with the development of fine motor skills. For toddlers, model and encourage one finger dabbing. For preschoolers, consider squeezing a small amount of paint into a soda bottle cap. The child can practice using the paint brush to zero in on the small surface area of the paint in the bottle cap, while practicing how to hold a thin object in his hand with increasing control.

Include as well some practice in his social skills. Taking turns with success is a skill he will use for the rest of life.

Using the simple craft project of paint and paper, we were able to cite ways that learning can be incorporated into craft time. Take just a moment before your next craft session to brainstorm on ways to optimize the time you are spending with your child. How can learning in any of these areas be explored: cognition, language, fine/ gross motor skills, social emotional skills, or behavioral skills? How can I tailor the project to meet the learning needs of my child's development at its current level? The beauty of it all is that the enjoyment of the craft takes center stage and learning is a nice bonus that can accompany it!



Related Articles
Editor's Picks Articles
Top Ten Articles
Previous Features
Site Map





Content copyright © 2022 by Angelica Arroyo. All rights reserved.
This content was written by Angelica Arroyo. If you wish to use this content in any manner, you need written permission. Contact Launa Stout for details.