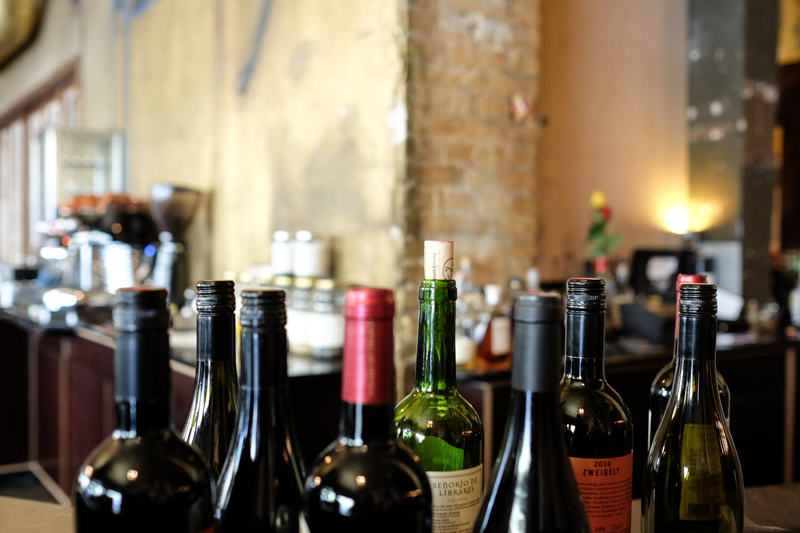 Tasting notes of thirty Finger Lake Rieslings, in alphabetical order.
RS is Residual Sugar measured in grams per Litre. While generally the higher the RS the sweeter the wine but the amount of acidity present will affect hwo sweet or dry the wine will taste. ABV is alcohol by volume. VG - Very Good.
Chateau La Fayette Reneau Dry Riesling 2009 RS10gL
Spicy fresh and dry with honeydew melon, greengage and soft lime flavours. Delicious, most enjoyable I have tasted. VVVG
Chateau La Fayette Reneau Semi-Dry Riesling 2008
Slight petrol nose, sweetness blunts acidity.
Chateau La Fayette Reneau Late Harvest Riesling 2008
Some botrytis, pleasantly sweet but not overly.
Dr Konstantin Frank Dry Riesling 2009 RS6gL 12%abv
Keuka Lake fruit, soft sweetish at first with soft acids on finish
Dr Konstantin Frank Dry Riesling 1997
Quite a stinky petrol nose, good body offering sweet mouth feel and a lingering finish.
Dr Konstantin Frank Semi-Dry Riesling 2009 RS21gL 11.5%abv
Pleasnat off-dry clean refreshing quaffer with a spicy finish
Hearts & Hands Riesling Reserve 2009 RS 15gL 9.6acidity 12%abv
Restrained greengage flavours, soft acids, very easy drinking, just off dry.
Hearts & Hands Late Harvest Riesling 2008 RS 77gL 12%abv
About half the grapes were botrytised. This is honey sweet with a refreshing streak of minerality and orange peel flavours. Delicious.
Heron Hill Riesling 2007 RS1gL 12.5%abv
From a single vineyard. Sweet petrol front with minerality and tropical fruit flavours. Very spicy finish with a long finish.
Keuka Springs Dry Riesling 2009
Actually off dry with pear fruit flavours and noticeable acids on finish.
Keuka Springs Semi-Sweet Riesling 2009 RS32gL 12%abv
Medium-sweet on front palate with balancing acidity on finish.
King Ferry Treleaven Dry Riesling 2008 RS8gL 10.9%abv
Cold fermented, made from estate fruit. Good body, slight oiliness and sharp acids on finish.
King Ferry Treleaven Semi-Dry Riesling 2008 RS25gL
Finger Lakes appellation as some fruit bought in from Seneca Lake. Medium body, medium fruit.
Lakewood Semi Dry Riesling 2008 RS30gL 11%abv
Very fruity, apricot flavours off dry but not sweet, gentle acids.
Lakewood Dry Riesling 2008 RS8.5gL 11%abv
Apple flavours with tangy finish, clean finish.
Lamoreaux Landing Dry Riesling 2009
Tasty lemon lime flavours, balanced and soft.
Lamoreaux Landing Dry Riesling 'Round Rock Vineyard' 2009
Creamy minerality, clean lime flavours gentle acids. VG
Lamoreaux Landing Dry Riesling 'Red Oak Vineyard' 2009 RS14gL
Sweeter and seems blander then Round Rock, some acids on finish.
Lamoreaux Landing Dry Riesling 'Yellow Dog Vineyard' 2009 RS16gL
Crisp apple lime refreshing sherbert flavours, crisp acidity, really good, well balanced VVG
Lamoreaux Landing Semi-Dry Riesling 2009 RS18gL
Vineyard blend. Seems lacking acidiy and hence somewhat bland after previous, but pleasant drinking and there's a pleasant uplift of acidity on finish.
Ravines Wine Cellar Dry Riesling 2008 3gL 12.5%abv
Dry and austere and tight fruits at first opening up to some florality.
Ravines Wine Cellar Dry Riesling 'Argetsinger Vineyard' 2008 3gL 12.5%abv
Tight mineral base with green apple and spicy flavours.
Ravines Wine Cellar Dry Riesling 2006
Petrol character developing in this older wine, subdued acidity.
Sheldrake Point Dry Riesling 2007
From estate fruit. Petrol nose which follows on to palate, tangy finish.
Sheldrake Point Late Harvest Riesling 2008 RS115gL 6.6 acid 13.7abv
Made from 'heavily' botrytised estate fruit. Sweet/acid seesaw on palate, some orange blossom, hot finish
Sheldrake Point Riesling Ice Wine 2008* RS164gL 12.6%abv
*harvested in early 08 from 07 growing season. Able to make ice wine 'roughly one year in two'. Luscious ripe sweetness with decent balancing acidity.
Standing Stone Riesling 2009 RS28gL
Angular with a sweet edge, greengage flavours good balance.
Swedish Hill Dry Riesling 2009 RS10gL
Winemaker Ian Barry says "2009 was a really great Riesling year in Finger Lakes, it was cool giving racy acidity. The wine is made in lots of small lots using different yeasts and then blended to give the desired result."
I found it crisp with very green apple tones, has a depth and body, VG
Swedish Hill Semi-Dry Riesling 2009 RS20gL 12%abv
Made from mostly Seneca Lake fruit, this was very pleasant with sweetish front palate and lots of crisp green apple fruit flavours. Has a long finish with acids developing.
Disclosure: The author tasted the above wines in July 2009 as a guest of the New York Wine and Grape Foundation
---
Peter F May is the author of
Marilyn Merlot and the Naked Grape: Odd Wines from Around the World
which features more than 100 wine labels and the stories behind them, and
PINOTAGE: Behind the Legends of South Africa's Own Wine
which tells the story behind the Pinotage wine and grape.
---

Wineries of the Finger Lakes
The latest (2008) edition of Emerson Klees' book is shown on the right. Amazon more prominently displays the 2000 edition so take care when ordering. The 2008 edition has a yellow strip at the top right reading '100 Wineries' but otherwise the covers are identical.






Pinotage
A wine detective story. Come with me as I try to find out the truth behind South Africa's own variety.







Related Articles
Editor's Picks Articles
Top Ten Articles
Previous Features
Site Map





Content copyright © 2022 by Peter F May. All rights reserved.
This content was written by Peter F May. If you wish to use this content in any manner, you need written permission. Contact Peter F May for details.