Watercolor Painting for Kids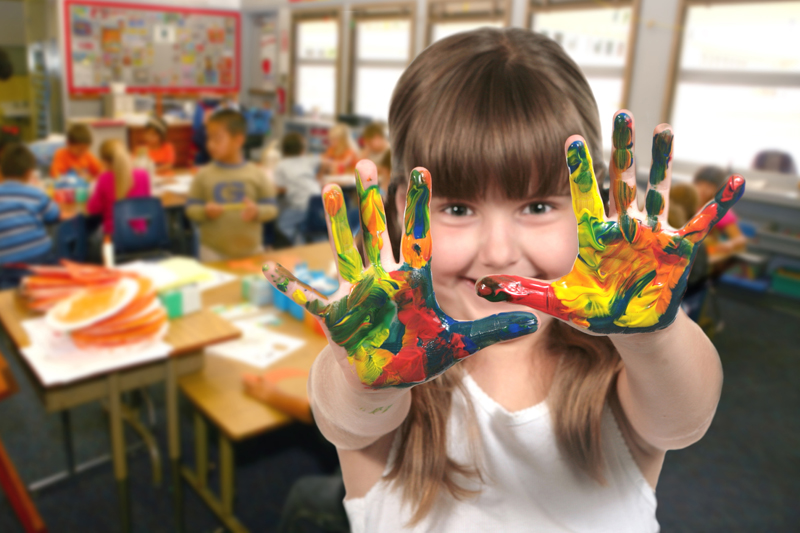 Watercolors are a great way to get even the most reluctant child excited about arts and crafts. Watercolor paint is fun and easy to use, often producing a project worthy of framing.

To do watercolors with your kids you need watercolor paper, watercolor paint, and paint brushes. Regular drawing paper will work, but watercolor paper holds color better, is less likely to wrinkle, and is less likely to tear when wet.

You can buy watercolor palettes in the kids' section of the craft store, but you'll find better quality watercolors in the regular art aisle. You might spend a little more, but it is well worth it; the colors are brighter and they blend better. Prang is a good brand to try. Figure on one watercolor set and brush per child. Brush quality is important. Decent paintbrushes last longer, are less likely to shed, and are easier to paint with than the tiny brushes usually sold with kids' watercolor sets. You'll find packs of watercolor brushes sold alongside the paint.

Teaching your children the correct way to do watercolors will make your supplies last longer. To begin, tape their paper to a sheet of newspaper to keep it from shifting around. Give each child a small cup of water and a dry paper towel. Take a small spray bottle and mist the surface of the watercolor palette. Show your child how to wet their paintbrush, blot it on a dry paper towel, and dip it in the paint. Also demonstrate how to rinse off the brush and blot it on the paper towel before switching colors. This will keep the colors in the palette cleaner.

If the colors do get murky, just rinse the palette in water until the colors look clean. Let the palette dry before storing it. Used brushes should be gently washed with mild soap and water. Blot them gently and let them air dry before storing.

When your kids get used to the basic technique they can mix colors to create different shades, blend in white to create a pastel effect, or blot the wet painting gently with a paper towel to create a muted effect.

If the edges of the painting curl during the drying process, just press the paper under a heavy book for a few days. Try framing your child's favorites. They look great in a kid's bedroom, in a playroom, or along the walls of a hallway.



Related Articles
Editor's Picks Articles
Top Ten Articles
Previous Features
Site Map





Content copyright © 2021 by Kimberly Misra. All rights reserved.
This content was written by Kimberly Misra. If you wish to use this content in any manner, you need written permission. Contact Launa Stout for details.