Official Name:
Great Socialist People's Libyan Arab Jamahiriya
Alternate Names:
Libya Capital City:
Tripoli
Flag:
Libya's flag is a plain green field. Green is the color of Islam.
Date of Independence:
December 24, 1951 from the United Kingdom and France.
National Anthem:
Allahu Akbar (God is the Greatest)
Population:
5,670,688
Size/Area:
679,359 square miles - slightly larger than Alaska.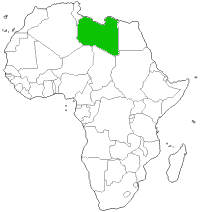 Land Locked:
No
Coastline:
1100 miles
Bordering Countries:
Algeria, Chad, Egypt, Niger, Sudan, Tunisia
Administrative Divisions:
Libya is organized into 22 states - Al Butnan, Al Jabal al Akhdar, Al Jabal Al Gharbi, Al Jafarah, Al Jafrah, Al Kafrah, Al Maraj, Al Marqab, Al Murzuq, Al Wahat, An Nuqat al Khams, Az Zawiyah, Banghazi, Darnah, Ghat, Misratah, Nalut, Sibha, Surt, Tarabulus, Wadi al Hayat, Wadi ash Shati
Major Cities:
Tripoli, Benghazi, Al Bayda, Misurata, Sabha
Languages:
Arabic
Religions:
Islam
Major Holidays:
Mouloud (Prophet's Birthday, February 26), Jamahiriya Day (March 2), British Evacuation Day (March 28), Evacuation Day (June 11), Revolution Day (July 23), National Day (September 1), Italian Evacuation Day (October 7), also Islamic holidays which vary from year to year.
Currency:
Dinar
Currency Code:
LYD
Highest Point:
Bikku Bitti at 7437 feet
Lowest Point:
Sabkhat Ghuzayyil at -154 feet
Bordering Bodies of Water:
Mediterranean Sea
Climate:
Libya has a Mediterranean climate along the coast and an interior with an extreme dry desert climate.
Major Industries:
Petroleum, petrochemicals, aluminum, iron and steel, food processing, textiles, handicrafts, cement
Major Agricultural Products:
Wheat, barley, olives, dates, citrus, vegetables, peanuts, soybeans, cattle
Natural Resources:
Petroleum, natural gas, gypsum
Time Zone:
UTC +2

Tribes of Africa eBook
This eBook is the most complete listing of African tribes available on the internet. The first section of this book is the tribes sorted alphabetically by country. The second section is the tribes sorted alphabetically by tribe name.
This site needs an editor - click to learn more!

You Should Also Read:
Egypt Country Facts
Algeria Country Facts




Related Articles
Editor's Picks Articles
Top Ten Articles
Previous Features
Site Map





Content copyright © 2018 by Jeanne Egbosiuba Ukwendu. All rights reserved.
This content was written by Jeanne Egbosiuba Ukwendu. If you wish to use this content in any manner, you need written permission. Contact BellaOnline Administration for details.