Guest Author - Jeanne Egbosiuba Ukwendu
Name:
Black and Rufous Elephant Shrew
Scientific Name:
Rhynchoyon petersi
African Names:
Sengi (Bantu)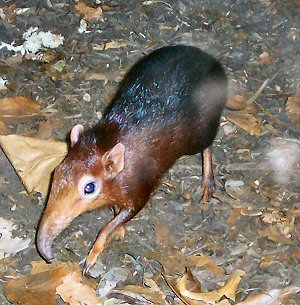 Length:
11 inches in length
Average Adult Weight:
1 to 1.5 pounds
Life Span:
Four to five years in the wild.
Description:
The Black and Rufous Elephant Shrew has a distinctively patterned coat, which is reflected in its name. Elephant shrews take their name from their long pointed head and long trunk-like nose. Their long, slim legs and hunchbacked posture give elephant shrews the appearance of a miniature antelope or tiny pig with a long tail.
They have a gland underneath their tail that produces a strong scent used to mark territories. This musky smell may serve as a deterrent against many carnivores.
The Black and Rufous Elephant Shrew's "trunk" is used to search for food.
Habitat:
The Black and Rufous Elephant Shrew prefer to live in lowland and mountain forests, dense woodlands, and coastal forests.
Countries found in:
Kenya and Tanzania
Babies:
Black and Rufous Elephant Shrew are monogamous. They will build up to ten nests which are roughly one meter wide. Gestation is 42 and 60 days. The pair will produce one or two relatively large young that are weaned at about two weeks of age.
Food:
The Black and Rufous Elephant Shrew eats insects and small mammals.
Habits:
They are mostly active during the day foraging for insects and beetles with the long noses.
Conservation Status:
Vulnerable
Predators:
Birds of prey and snakes are predators.
Interesting Facts:
The black and rufous elephant shrew is not related to the shrew, but to a group of African mammals, which include elephants, sea cow, aardvarks and hyraxes.