Guest Author - Jeanne Egbosiuba Ukwendu
Name:
Von der Decken's Hornbill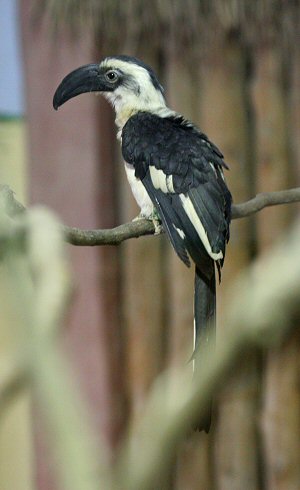 Scientific Name:
Tockus deckeni
African Names:
Fimbi wa Decken (Swahili)
Length:
17 to 20 inches long
Average Adult Weight:
4 to 6 ounces
Life Span:
about 10 years in the wild, 20 years in captivity
Description:
The Von der Deckenís hornbill has mainly white plumage on its body with black wings and a black tail. The male has a red and ivory two-tone bill while the female has a black bill. Their long bill allows them to forage and collect food from branches. They have short, broad, and rounded wings which are efficient for short intervals of flight.
Habitat:
Von der Decken's Hornbill prefers the open bush and scrubby woodlands of the dry savanna and arid steppe.
Countries found in:
Von der Decken's Hornbill is found east of the Rift Valley, from Ethiopia south through Kenya to Tanzania.
Babies:
The female lays two to three white eggs in a tree hole. She then seals herself in with the eggs by blocking off the hole with a type of cement consisting of mud, droppings and fruit pulp. A small opening is left for the male to bring food tp the mother and her chicks.
Food:
Von der Decken's Hornbill is an omnivorous bird eating insects, snails, mice, nestling birds, lizards, tree frogs, fruit, berries and seeds.
Group Name:
Flock
Habits:
Von der Decken's Hornbill form monogamous pairs and nest in natural cavities in trees.
Conservation Status:
Least Concern for extinction
Predators:
Monkeys and snakes
Interesting Facts:
Von der Decken's Hornbills have a mutual pertnership with Dwarf Mongooses. They forage together and warn each other of approaching predators.