RV Trip to the Las Vegas Strip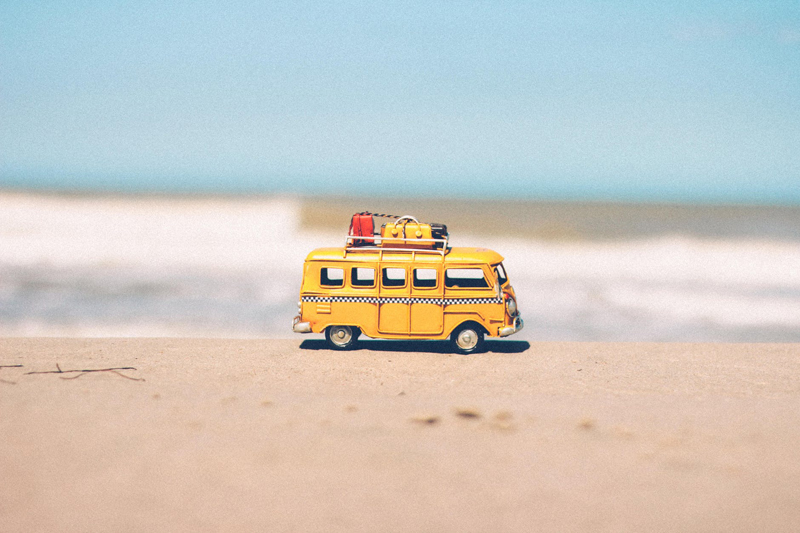 Las Vegas holds a special place in my heart, and so does RVing. So what could be better than a perfect marriage of the two? While I've done my share of boondocking at several of the hotel parking lots, I prefer to stay longer than a night or two, so my preference is to get some full-hookups at an RV park.
Where to Stay
Nothing looks cooler than seeing an RV park with huge casinos and skyscrapers behind it. And that is exactly what you will find at the Circus Circus KOA located adjacent to the Las Vegas Strip. The park has over 600 sites, including ones that can accommodate rigs up to 80 feet long. It also features many amenities, like an immaculate general store; a covered play area that is toddler-friendly; free wireless internet; a sauna, hot tub and pool; and Super Sites that have patios and landscaping. The standard sites are pretty much full hookups in a parking lot, but it doesn't matter, because you're in Vegas baby! Didn't bring your own rig? No worries! The park even has an Airstream on-site that is available for rent.
The only downside to this park is that it can get noisy—especially on the weekends. Motorcycles and cruising cars revving it up, along with some random hoots and hollers from late night partygoers make up the bulk of the racket you'll hear, but it's nothing that some white noise can't fix.
Getting Around
Just a short walk to the bus stop in front of Slots of Fun (located next door to Circus Circus) and you can catch The Deuce, a double decker air-conditioned bus that takes visitors up and down The Strip. It makes stops in front of all of the casinos so you won't have to miss out on any of the action. Avoid taking The Deuce during mealtimes; otherwise the lines get heavy and the other riders can get pushy. As the weekend rolls around, traffic backs up on The Strip and oftentimes you can walk to your destination much quicker than you can get there on The Deuce. Of course, you can always take a taxi and—even better yet—walk off some of those extra calories you consumed.
Where to Eat
Why belly up to the trough at the Circus Circus buffet when there are so many other tasty dining options to be found nearby? After enough visits to this segment of The Strip, I've found that it's much more appetizing, adventurous, and intestinally advantageous to dine elsewhere. The Riviera, located directly across the street from Circus Circus features a food court that has several several affordable dining options including India Masala which features a tasty vegetarian combo plate. Just a short walk down to 252 Convention Center Drive will lead you to a fabulous Ethiopian restaurant called Meskarem. You can also get a veggie combo platter here for under $15 that easily feeds two people. Looking for something a little more elegant? Another short walk, or a quick jaunt on The Deuce will get you to The Wynn where the food is nothing short of spectacular. And, my favorite feature is that there are dining options available for every kind of diet. For instance, they have vegan menus available in all of their restaurants, including the fabulous buffet which features several vegan options. Pizza Place located at the front entrance of the Esplanade has a delightful tofu Parmesan sub along with many other tasty options.
Regardless of where you eat, or how you get around, having an RV park located right on The Strip will guarantees you a great place to park it while you're there.
Note: I visited this RV park anonymously and was not compensated for my visit or review.


Related Articles
Editor's Picks Articles
Top Ten Articles
Previous Features
Site Map





Content copyright © 2022 by Erin Floresca. All rights reserved.
This content was written by Erin Floresca. If you wish to use this content in any manner, you need written permission. Contact Erin Lehn for details.