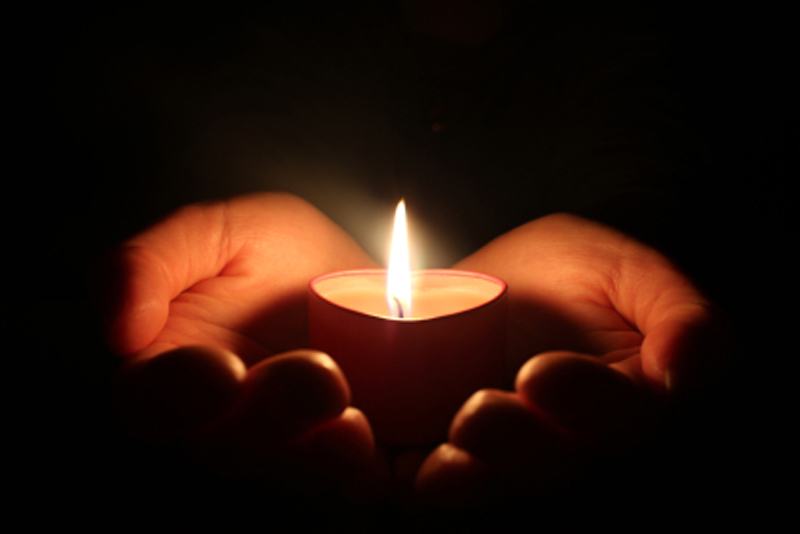 The Fool has escaped his experience in the Tower. He came face to face with who he was and found his way out of the room of mirrors. He relied on his blind faith and intuition and jumped out the window. He landed in the moat and continued on his journey, much wiser than he was before.

The Fool wanders through the darkness. He is still wet and cold from his crash landing in the moat. But, his depression and addiction is gone. He feels alive again and ready for his next adventure. However, he doesn't have a clue which direction to take. He is lost in the wilderness.

Eventually, he sees a dim light shining in the distance and follows it. As he gets closer, he realizes that it is a Star shining and rising high above the treetops. He finds himself in a clearing and beholds a strange sight.

There is a naked woman kneeling beside a pool. She has two containers filled with water in her hands. She is pouring water from one container on to the ground beside her. The water forms five rivulets which correspond to the ebb and flow of the five senses. The water from this container also nourishes and sustains the living plants around her. The water she is pouring from the other container is going back into the pond, representing the cycle of life. Life began in the waters of the land, and eventually finds it's way back to them.

She is kneeling with one foot in the water, representing her intuitive and emotional nature. The other foot is on dry land, representing her logic and practicality. She is a perfect blend of both.

The Star rising above her is her connection to a higher power. She is enlightened and aware that she is more than just a body. The other seven stars correspond to her chakras, the spinning energy centers within the human body. In order to be happy and healthy these energy centers must be open and receiving light from the Source of all things.

As the Fool approaches Starlight beckons him to join her. He kneels beside her and she hands him the containers. As the containers begin to fill and empty, the Fool feels something deep within himself release. He weeps tears of sorrow, pain, fear, anger, and self loathing. As his tears mingle with the waters in the pond, he begins to understand the cycle of his life. And, he also begins to truly understand that all things have meaning and connection. He sees himself reflected in the pond as part of a much bigger picture.

If the Star card appears in your reading, it indicates that there truly is a light at the end of the tunnel. Perhaps you have been through a very difficult time in your life when your life came crashing down around you. There is always a way through the darkness. You just have to look for the light of the Star. It may be dim at first. But, as you get closer, it will fill you with the hope you need to continue forward.

Take excellent care of yourself physically, emotionally and spiritually right now. Pamper yourself, get the rest you require, eat healthy foods, and find a spiritual practice that suits you. This might be meditation or yoga or even dance. But, it is essential that you open up your heart and mind to the light of hope and fulfillment.

The Fool cleanses himself in the pool. He washes his clothing and hangs it to dry in the light of the Star. He has his first peaceful sleep in a very, very long time. His dreams are filled with happiness and joy, and he awakes refreshed and recharged.

He puts on his clean clothing and he and is little dog Wisdom start out on their journey once more.






You Should Also Read:
The Tower Tarot Card


Related Articles
Editor's Picks Articles
Top Ten Articles
Previous Features
Site Map





Content copyright © 2022 by Linda J. Paul. All rights reserved.
This content was written by Linda J. Paul. If you wish to use this content in any manner, you need written permission. Contact Linda J. Paul for details.