Guest Author - Jeanne Egbosiuba Ukwendu
Name:
Egyptian Tortoise (more commonly called Kleinmann's Tortoise and sometimes called Leith's Tortoise)
Scientific Name:
Testudo kleinmanni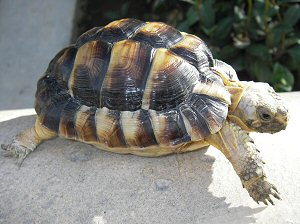 Length:
Approximately 6 inches long.
Life Span:
Up to 50 years or more.
Description:
Female tortoises are larger than the males. The males are more slender with a longer tail.
The shell of an Egyptian Tortoise has a high dome and ranges in color from ivory to pale gold, dark brown or a dull yellow. The bottom of the shell is light yellow usually with two dark triangles on the underside.
The head and legs are a pale ivory-yellow to yellowish-brown.
Habitat:
The Egyptian Tortoise lives in the desert along with semi-arid areas. You can find them in areas with compacted sand, gravelly areas, among scattered rocks, dry woodlands, shrubby habitats, and coastal salt marshes.
Countries found in:
Libya and formerly Egypt. The Egypt population has been completely destroyed by human activity.
Babies:
Egyptian Tortoises begin mating around age ten to twenty years.
In the wild, Egyptian Tortoises mate in March which hatch in August or September. The clutch of eggs is laid in a shallow bowl beneath some bushes or in a vacant burrow. Each clutch contains one to five eggs.
Food:
It is not known what Egyptian Tortoises eat in the wild. In captivity, they eat fruit, vegetables, and grasses.
Group Name:
Herd
Habits:
Egyptian Tortoises are least active when it is very cold or very hot. During the colder months, they come out during midday. During the warmer season, Egyptian Tortoises are active in the morning and evening. They spend the rest of their time under brush or in rodent burrows for shelter.
Conservation Status:
Critically Endangered with an estimated 7,500 tortoises remaining.
Interesting Facts:
The Egyptian Tortoise is extinct in Egypt.
This is the smallest tortoise in the northern hemisphere.
It would take 400 Egyptian Tortoises to make up one Galapagos Tortoise.