Winter Beer at Allentown Brew Works Fest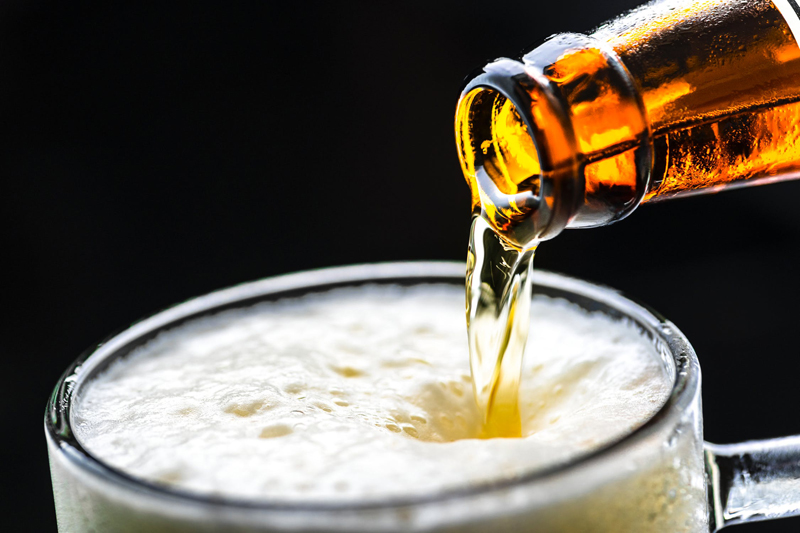 As the weather turns cold in the Northern parts of the United States, our mood turns to heightened anticipation of those highly alcoholic brews typically found at Holiday dinners and next to a roaring fireplace. These beauties may exhibit ruby-rose bodies capped with pink cream, intense golden liquids with long legs, or deep dark torsos with chunky, tan mousse, layered like thick meringue to the rim of the glass. Sounds a bit exotic, doesn't it?

Believe it or not, I am actually referring to Belgian Dubbels and Tripels, Barley Wine, Rauchbier, and Winter Warmers. Mouthfeel and flavor vary dramatically among them – so dramatically, in fact, that you may sample two that have the same appearance, yet be stunningly different in taste. One may have the qualities reminiscent of spice cake drizzled with cherries and apricots while another may be smoky and bacon-like. So, how do you know which will blend well with your pineapple-dressed ham or a Black Forest cake?

If you are fortunate enough to be within reasonable travel-time of a Winter Beer Festival, seize the opportunity to sample these treats. As you taste, focus on their distinctive flavors, and make brief notes on your program. You will be shocked at how accurately this tiny piece of information can assist you when preparing a menu or enjoying tapas on a snowy evening.

On Saturday, December 4, 2010, Mike Fegley, owner of Allentown/Bethlehem Brew Works invited me to the Allentown Brew Works Craft Beer Festival 2010, held at the Brew Works in the heart of Allentown, Pennsylvania, USA. More than 30 brewing companies served enthusiastic beer lovers between the reflection of light oak flooring and chandeliers of Austrian crystal … then down a flight of stairs to the bar of sexy lights, hanging like orange fruits within its euphoric ambiance.

This Sold-Out event greeted the chilly Holiday season with more than 40 hand-crafted brews, showcasing the heat of Winter Warmers, Hi-test Porters, and enough Imperial Stouts to melt the Polar Ice Caps. Select beers were on hand, often poured by the brewers or brewery-owners themselves. As a geek who loves craft beer and the details of ingredients and method used to produce such wonders, I reveled in every beer that poured over my lips – so much so, that I never did come face-to-face with the elusive Rude Elf himself - Mike Fegley, whom I was told had been spotted by the local paparazzi at the fest, rude-elfishly dressed in red pants and a green elf-shirt.

Despite missing the grand Elf himself, I did not miss the focal point of the Festival: regional Craft Beers from Pennsylvania, New Jersey, Delaware, and New York; national wonders from Colorado, New England, Missouri, and Minnesota; and imported beauties from Germany and Quebec.

Some of the notable highlights:


Kyle McDonald is crafting great brews at Harvest Moon Brewery/Café in New Brunswick, New Jersey. Harvest Moon Pumpkin Stout exhibits complex layers, brewed with cinnamon, nutmeg, allspice, and canned pumpkin in the mash, with the added ingredient of Madagascar vanilla bean. He uses 100% Fuggles, and an added dose of vanilla bean post filtration. Harvest Moon brewed several seasonals in 2010, all recipes formulated by McDonald, including Iowa Farmhouse Ale, with 15% flaked corn and flaked barley; Winter Warmer, a 7% beer, similar to a Belgian Dubbel and lightly spiced with ginger, nutmeg, and cinnamon; and a Barleywine Style ale, reminiscent of Brooklyn Monster, British in style, but not as hoppy as Bigfoot Barleywine form Sierra Nevada Brewing.

Bullfrog Brewery of Williamsport, Pennsylvania is a little gem that puts forth magnificent beers of high quality and tons of flavor. Two main features held me captive, wishing for more exposure to the secrets of the Bullfrog: Strouse's Raspberry Cream Stout, made with 84 pounds of raspberries and winner of Brewer for the Day in Williamsport's 14th Annual Mardi Gras Celebration in February, 2010; and Double Coffee Stout, crafted with 13 pounds of organic fair-trade Alabaster coffee, full of rich, espresso flavors and a clean, dry finish.


Nicole Courides, sole owner of Inter-course Brewing Company, proudly displayed her portfolio of beers, with names that played on the double entendre implied by the small towns surrounding Lancaster, PA – names like Blue Ball Porter, Mount Joy Light, Bareville Pilsner, and Paradise Pale Ale. She reported a production increase of 40% over the previous year, and an infectious enthusiasm that attracted the youthful segment of festival patrons. After all, it's hard not to love Intercourse.

Allentown Brew Works featured cask-conditioned Belgian Rum Raisin Ale at 10.5% ABV, a "super" Rude Elf Reserve Belgian Ale, pumped-up with organic raisins and Jamaican rum-soaked oak chips. Brewed with candi sugar and special spices, the body gleams orange-amber, with the haziness of a mountain sunrise drenched in mist. A chewy body is drenched in fruit and light heat, demanding the full attention of the palate. Cocoa Porter shines forth as strongly as the Brew Works regular porter, but is fortified with cocoa nibs. Fully a European porter, it features English malts and English hops – possibly East Kent Goldings as a finishing hop – and shines forth with a robust chocolate flavor.

Chris Bowen of Hammersmith Ales talked at great length about his Arctic Alchemy project, a 2,000 mile trek across the Arctic for the historical re-creation of Allsopp's Arctic Ale, an 1852 brew commissioned by Queen Victoria to ensure the health of those brave explorers in search of the Northwest Passage. With Beau Baden of Allentown Brew Works, Chris Bowen won the 2007 ProAm Gold-medal for English Style India Pale Ale at the Great American Beer Festival in Denver, Colorado, USA. As a fan of both historical beerology and British cask ales, Bowen has designed and crafted his newest brewing operation just south of Bethlehem, and has been featured in Forbes Special Issue September 2010 (page 52).


Stegmaier Winter Warmer was showcased by the Lion of Wilkes-Barre, Pennsylvania. Traditionally known as "Old World Ale," this dark brew is crafted with well-modified pale malts – Caramel and specialty malts. Malty and roasted, it rolls across the tongue with a medium-full body, a touch of fruit, and hints of tannins and phenolic notes. Attention to detail is a strong point in the packaging of this cold-weather wonder, exciting the eyes with a cool blue-and-white theme and rebus-puzzle bottle-caps that prompt decoding while you relax with beer in hand.

Did you Know?

Sly Fox is scheduled to open a new brewhouse on Route 100 in Pottstown, Pennsylvania. They will move brewing operations from the Royersford location and will add a tasting room in Pottstown, but will also continue to brew in the Phoenixville location.

Yards Tavern Ale is made with spruce tips from the Blue Spruce, collected in 60 pound batches, and dissipated into the ale in nylon hop bags at the end of the boil.

Stoudt's Scarlet Lady and Winter Ale are two hoppy red ales that should not be ignored for Valentine's Day. Blended with chocolate, they are the perfect aphrodisiac for the lover of gustatory balance.

Other winter Ales to seek-out in winter: Weyerbacher Merry Monks, Tiny, and Winter Ale; Brooklyn Brown Ale and Pennant Ale 55; Yard's ESA; Troegs Troegenator Double Bock; Lancaster Shoo-Fly Porter; Sam Adams Winter Warmer; Victory Hop Devil and Wild Devil, Unibroue La Fin du Monde; Green Mountain Cidery; and Bitburger of Germany.

Lew Bryson's 4th Edition of Pennsylvania Breweries has just been released in 2010, and is an indispensible guide for a self-guided tour of the best craft beer locations throughout Pennsylvania. Bryson was signing books at the fest, and will continue to appear at brewpubs, taverns, and beer fests throughout the coming months.

Cheers!

Photos are: (from top)Sam Adams beer for a happy crowd; Weyerbacher Brewing at the fest; Nicole Courides shows off her Flagship Beer; Troegs features Troegenator

 
You Should Also Read:
Beer Fox Guide to Winter Seasonal Ale
Big Bold Barley Wine
Rudi Ghequire & the Rodenbach Philosophy


Related Articles
Editor's Picks Articles
Top Ten Articles
Previous Features
Site Map





Content copyright © 2022 by Carolyn Smagalski. All rights reserved.
This content was written by Carolyn Smagalski. If you wish to use this content in any manner, you need written permission. Contact Carolyn Smagalski for details.