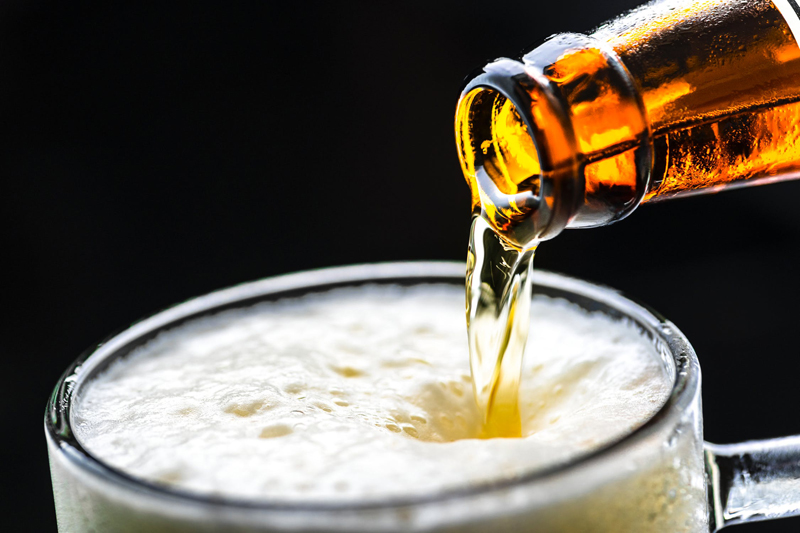 There he stood – a deep copper-mahogany, with ruby lights shooting through his body. A thin head of cream laid like a mesh blanket on his surface. Aromas of caramel, nuts, berries and spice announced his bold character.  Behemothic…assertive…throat grabbing.  Barley wine.


I drift back in time. My body is tightly strapped to the jump master, hooked at the shoulders, waist and hips. He pulls the straps tighter, until our bodies nearly melt together. I stand with my arms crossed in front of me, ready for the next step, one that will take us into the void of space, so unnatural to the human condition. We step into air, tumble backwards, and I spread my arms like an eagle's wings - my first skydive. The thrill is beyond words. It literally takes my breath away. Colossal.

Bringing the snifter beneath my nose, I allow the intense hoppiness to permeate my senses. Sharp and crisp, earthy with a touch of apricot liqueur and a knife's edge of intimidation. Again, my mind wanders.

The engine roars beneath my feet. We are cleared for take-off, and I wonder if fear will be overpowered by adrenaline. I had never flown in an aerobatic aircraft, but my pilot has a choreographed routine ready. We start with a slow roll and a few Cuban Eights. I fantasize that a Cuban Eight would be a good name for a cigar.

We are heading straight skyward, upward at dizzying speeds. I feel like I am lying on my back. We approach the apex of the Hammerhead, until we are nearly motionless, drifting onto our side with an edge of knife-like sharpness, then plummet downward with stunning force. Gargantuan.

I pour the crimson-bronze liquid across my lips. Estery flavors greet my tongue – plums, raisins, cherries, red grapes – along with a vinous, sherry-like complexity. The alcohol warms the back of my mouth, then rolls down my throat with appealing force. It is a Hammerhead on the ground – that barley wine style that takes me through inviting comfort and heart-clutching throes.

From a historical perspective, barley wine was called "first sort." In actuality, many terms that are style-specific by today's definitions, were used as names for barley wines of the past – terms such as strong ale, old ale, Scotch Ale, Barton Ale, and stingo. To create this style, early brewers used a technique called parti-gyle brewing, in which the first runnings were used to brew stock ale for their most prominent, local clientele. They would then re-use the grain throughout several batches of ale. With each batch, there would be less sugars available for fermentation, and each round would consequently become weaker and weaker. Women, children, and servants would be given the weakest ale from the last runnings.

First Sort was aged in wooden barrels that were branded with several XXX's, to indicate their prominence. It was common to use heavy-handed hops, which served as a preservative. The high levels of alcohol achieved also served to preserve the ale.

Creating barley wine is a challenging art. Large quantities of malt are used, requiring special treatment in order to reign in the sweetness and make it palatable for sipping. Assertive hopping is necessary for balance. Full fermentation of the generous malts will enable the brewer to achieve higher alcohol levels, but care must be used when working with delicate ale yeasts. Ale yeast typically has a limited tolerance for alcohol and may fall out of solution and become dormant before full fermentation is achieved. Some brewers awaken the yeast by rousing, or gently stirring it back into solution. They will then pitch additional fresh yeast into the mix to convert all the sugars into alcohol. An alternate method of achieving this conversion of sugars is with late pitching of champagne yeast, or other strains that are more alcohol tolerant.

Flavors vary considerably, from bold, hoppy, and coarse in younger barley wines to more mellow and sherry-like with aging. Unquestionably, barley wines are full of complexity – the estery profile of apricots, cherries, plums, raisins and prunes, mixed with vinous and wood characteristics, and often, a slight tannic quality.

You may choose to do a tasting of the various barley wine style ales available. Two contrasting styles of sampling will delight your palate in distinctive ways: a "horizontal" tasting compares unrelated barley wines crafted by different breweries; a "vertical" tasting analyzes vintages of the same barley wine from sequential years.

Beer Fox Recommended Barley Wine

Arctic Devil Barley Wine – Midnight Sun Brewing Company, Anchorage, Alaska, USA

Alesmith Old Numbskull – AleSmith Brewing Company, San Diego, California, USA

Millennium – Old Dominion Brewing Company, Ashburn, Virginia, USA

Willimantic Willi Whammer – Willimantic Brewing Company/Main Street Café, Willimantic, Connecticut, USA

Old Horizontal – Victory Brewing Company, Downingtown, Pennsylvania, USA

Old Gander Barley Wine – Sleeping Lady Brewing Company, Anchorage, Alaska, USA

Brooklyn Monster Ale – Brooklyn Brewing Company, Brooklyn, New York, USA

J. W. Lees Vintage Harvest Ale – J. W. Lees & Company (Brewers) Ltd, Manchester, England, UK

Old Crustacean – Rogue Ales Brewery/Brewers on the Bay, Newport, Oregon, USA

Fred – Hair of the Dog Brewing Company, Portland, Oregon, USA

Samael's Oak Aged Ale – Avery Brewing Company, Boulder, Colorado, USA

Big Woody Barley Wine 2006 – Glacier Brewhouse, Anchorage, Alaska, USA

Old Knucklehead Barley Wine – BridgePort Brewing Company, Portlans, Oregon, USA

Barley Wine – Moose's Tooth Pub and Pizzeria, Anchorage, Alaska, USA

Killer Penguin Barley Wine – Boulder Beer/Wilderness Pub, Boulder, Colorado, USA

Druid Fluid – Middle Ages Brewing Company, Ltd., Syracuse, New York, USA

Anchor Old Foghorn – Anchor Brewing Company, San Francisco, California, USA

Sierra Nevada Bigfoot Barley Wine Style Ale – Sierra Nevada Brewing Company, Chico, California, USA

Old Ruffian Barley Wine – Great Divide Brewing Company, Denver, Colorado, USA

Olde School Barley Wine – Dogfish Head Craft Brewery, Milton, Delaware, USA

Stone Old Guardian Barley Wine Style Ale 2006 – Stone Brewing Company/Stone Brewing World Bistro & Gardens, Escondido, California, USA

Behemoth Blonde Barley Wine – Three Floyds Brewing Company/Brewery & Pub, Munster, Indiana, USA

Olde GnarlyWine - Lagunitas Brewing Company, Petaluma, California, USA

Old Herb Barleywine – Southampton Publick House, Southampton, New York, USA

Mirror Mirror – Deschutes Brewing Company, Bend, Oregon, USA

Olde Dueteronomy – Alley Kat Brewing Company, Edmonton, Alberta, Canada

Blunderbuss Barley Wine – Cambridge Brewing Company, Cambridge, Massachusetts, USA

John Harvard's Fire Drake Barley Wine – John Harvard's Brew House, Manchester, Connecticut, USA

Old Abominable – Stoudt's Brewing Company/Black Angus Restaurant & Brew Pub, Adamstown, Pennsylvania, USA

Baden Baden Red Ale Especial – Cervejaria Baden Baden, Campos Do Jordão, Sao Paulo, Brazil

St. Ambroise Millésimée 2006 – McAuslan Brewing, Montréal, Quebec, Canada

Cheers!
 
You Should Also Read:
Beer & Barley Wine in the Alaskan Winter
Hedonism & Midnight Wit at Legacy Brewing
Slaapmutske Nightcap from Belgium


Related Articles
Editor's Picks Articles
Top Ten Articles
Previous Features
Site Map





Content copyright © 2022 by Carolyn Smagalski. All rights reserved.
This content was written by Carolyn Smagalski. If you wish to use this content in any manner, you need written permission. Contact Carolyn Smagalski for details.