Tara - Female Buddha of Compassion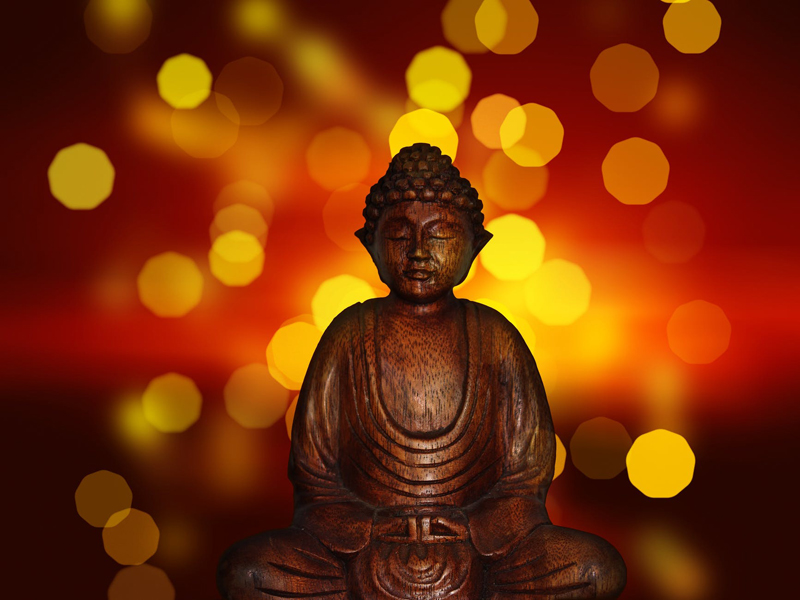 Tara is a female deity honored in multiple Buddhist and Hindu traditions as an embodiment of feminine enlightenment. In Tibetan Buddhism, there are actually multiple Taras, each a different color, representing various aspects of enlightenment. The most well-known are Green Tara, representing compassion in action, and White Tara, also representing compassion, along with purity and undifferentiated truth.
Depending on the tradition, Tara is represented as either a goddess, a
dakini
, a Buddha, or all of the above. According to the dominant Tibetan legend, two incarnations of Tara were born from tears of Avalokitesvara or Chenrezig, the male Buddha representing the compassion of all the Buddhas. Upon witnessing the pain of the world, he shed two tears, each of which became a different incarnation of Tara - one the Nepalese princess Bhrikuti, and the other the Chinese Princess Wencheng. Within Tibetan Buddhism, both are credited with playing a major role in the spread of Buddhism within Tibet.
Tara is sometimes referred to as the 'first feminist' within Buddhism because of another legend, in which she vows to incarnate continually in a women's body, aiding all sentient beings. According to this legend, before incarnating here in human form, Tara existed as a young princess named Yeshe Dawa, or 'Moon of Primordial Awareness', in another realm. She was a devout Buddhist in that realm, and became known for her spiritual attainments. Because of this, some young monks approached her and praised her, advising her that she should pray to be reborn as a man in her next life, to further her progress. To which she replied:
"Here there is no man; there is no woman, no self, no person, and no consciousness. Labeling 'male' or 'female' is hollow. Oh, how worldly fools delude themselves...Those who wish to to attain supreme enlightenment in a man's body are many, but those who wish to serve the aims of beings in a woman's body are few indeed; therefore may I, until this world is emptied out, work for the benefit of sentient beings in a woman's body."
-from
The Origin of Tara Tantra
, by Jo Nang Taranatha.
Tara is used as a meditation deity, or
yidam
, within several
branches of Tibetan Buddhism
. Within
Vajrayana Buddhism
, there are also many Tara
sadhanas
, or practices, outlined in what's often referred to as the 'Tara Tantras' - the collection of texts describing these practices. Most of the practices incorporate the Tara mantra of 'Om Tare Tuttare Ture Svaha'.
Tara also represents enlightened feminine energy and compassionate action within all of us, and Tara practices are ultimately aids for realizing this aspect of ourselves. There are many different Tara aspects, most associated with a color. Some of the most common Taras, along with their associated aspects, are:
Green Tara - compassionate and enlightened action
White Tara - compassion, emptiness, purity, truth
Red Tara - desire and magnetizing force
Yellow Tara - wealth and abundance
Blue Tara - transmuting anger
Black Tara - power
Tara appears in both Indian Buddhist and Hindu texts and lineages, and is also often associated with the Chinese deity Kuan Yin, and the Japanese deity Tarani Bosatsu.
For more on Tara and Tara sadhana, check out:
You Should Also Read:
Women in Buddhism
Dakinies in Tibetan Buddhism


Related Articles
Editor's Picks Articles
Top Ten Articles
Previous Features
Site Map



Follow @mommymystic
Tweet



Content copyright © 2022 by Lisa Erickson. All rights reserved.
This content was written by Lisa Erickson. If you wish to use this content in any manner, you need written permission. Contact Lisa Erickson for details.