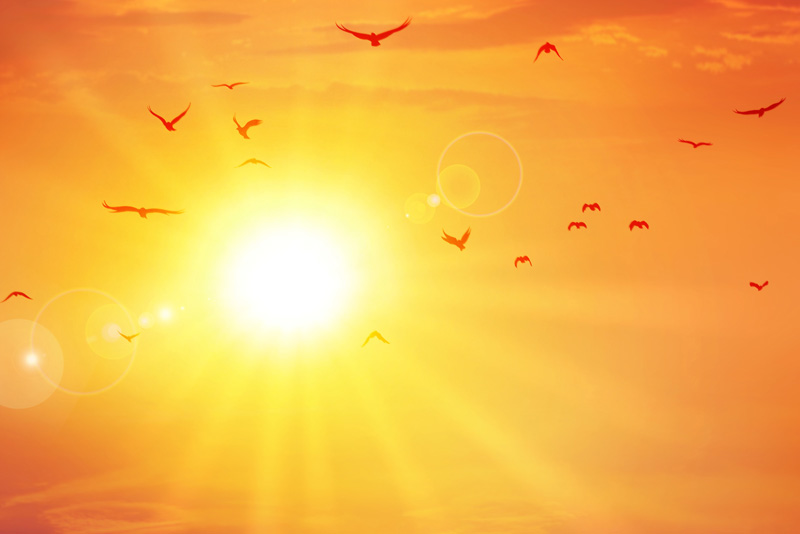 We humans are so wrapped up in ourselves. Life is all about us isn't it? Almost everything we do is for our own good – our own glory. In the best times of life we talk about being in our glory. When were your glory days? Maybe you are in them now. That time when everything is going your way. You are happy and influential. Everything you put your mind to succeeds. You are in your glory. Glory days may last a few years, a decade, or even a lifetime. However, in the end, they usually don't amount to much. Other people, "our fans" forget us. We are replaced. Someone else gets our spot. A younger one takes up the glory.
When we are living for our own purposes, we go about our business and make our plans without thought of God's plans. James puts it in perspective when he asks "What is your life? You are a mist that appears for a little while and then vanishes." (James 4:13,14 NIV)
Isaiah says "All men are like grass and their glory is like the flowers of the field. The grass withers and the flowers fall…" (Isaiah 40:6-8 NIV)
Looking at life from the point of view of a blade of grass, life is amazingly short and a bit depressing. All of your life is spent producing that flower but in the end, you wither, your flower falls. Above you and all around you is God's eternity.
Peter wrote, "With the Lord a day is like a thousand years and a thousand years are like a day." (2 Peter 3:8, Psalm 90:4 NIV) God's view of time is beyond our understanding. He created time. It is difficult to comprehend eternity so we concentrate on building a life within the lifespan of a blade of grass.
Living life solely for our own glory is fruitless work. Depending on the glory of someone else is equally fruitless. The only way to experience true glory is to be part of God's purpose - to be part of His plan. Fruitful work is work that builds His kingdom instead of our own.
Isaiah ends the passage saying, " The grass withers and the flowers fall, but the word of our God stands forever." There are no plans or purposes that will stand against our God.
Glory:
very great praise, honor, or distinction bestowed by common consent
something that is a source of honor, fame, or admiration
How do you join God in working for His purpose? Pray for His guidance. He will show you where His kingdom work is being done. Make His purpose, yours.

Names of God Ebook
Almighty God. The Creator of heaven and earth.
Our God is given names in Scripture that describe
the characteristics of His personality.
Get to know God through the names given Him in Scripture.
You Should Also Read:
Christians Together
Don't Blame Jesus
Real Christian Living


Related Articles
Editor's Picks Articles
Top Ten Articles
Previous Features
Site Map



Follow @LynneChapman
Tweet





Content copyright © 2022 by Lynne Chapman. All rights reserved.
This content was written by Lynne Chapman. If you wish to use this content in any manner, you need written permission. Contact Lynne Chapman for details.