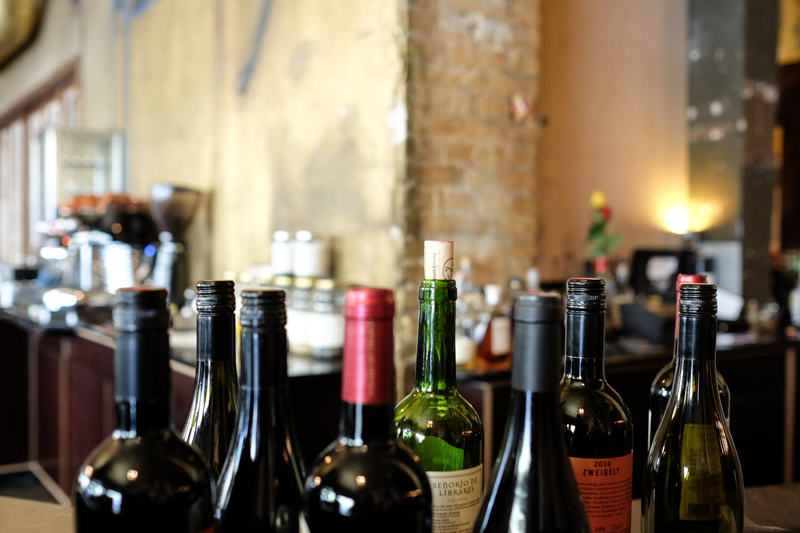 A line of coloured smudges across the neat rows of vines showed that the harvest had started. Pickers were wearing woollies and fleeces against the morning chill. While the heavy layer of mist had lifted, the sun was yet to warm the day.
The first grapes picked here in Alsace are those destined for Cremants, the champagne method sparkling wines of the region. These grapes should be slightly under ripe to give necessary acidity.
The date of the harvest is set annually by the local wine association, it is 1st October in 2013, and one is not permitted to pick before, although exceptions are made for some Cremant grapes.
But who are the pickers, here in northern France on the Rhine River which is the border with Germany? Etienne Hugel, 12th generation of Hugel & Fils winery which was established in 1639, told me their 90 pickers were mostly local, and had worked for the firm for many years and sometimes generations. "One is 70 years and has picked for us all his life, and his father before. Another is a bank manager who takes two weeks holiday to harvest our grapes. Most take holiday from their normal job. So they get paid twice, holiday pay and then again by us." Etienne smiles, "I expect they declare it to the taxman."
A friend travelling with me whispers in my ear. "Let's come back next week to pick grapes, won't it be fun!" I am less than gracious in my reply. "Not blooming likely," I grunt.
For picking grapes is hard backbreaking physical work, it is dirty and it is dangerous. I've done it, and will never again.
When the viticulturist decides the harvest can start in a particular vineyard there are about three days to take the grapes at their optimum.
In Alsace the vintage takes six weeks or so, picking different vineyards by their location – grapes planted on cool hilltops will ripen later than those in the warm valleys, and different varieties ripen at different times.
Pickers start at first light and work until dark. It's cold at first then gets increasing hot with the sun's ray burning your neck as you're bent over hunting out bunches hidden in the canopy of vegetation. You use a short curved blade, or sharp shears to cut the stalk, holding a bunch with one hand while cutting with the other. As you work often by feel it is all too easy to cut your hand and loss of fingertips is an occupational hazard. The vegetation houses all sort of bugs and snails and juice from sweet grapes attracts wasps. Soon your hands, sticky with juice, are coated with dust, your body is aching from bending over, and you are getting sun burnt.
From a distance grape picking has a romantic image, unchanged since mankind discovered wine.
But for me, it's a scene best admired from a reasonable distance.
Marc Hugel is in his vineyards talking about the 2013 vintage in this video https://www.youtube.com/watch?list=UUR8OYMFSp5qS0HDrunYZCVw&v=saqYp9hsf9Y&feature=player_embedded
Have you picked grapes? Tell us on our
forum
.
Peter F May is the author of
Marilyn Merlot and the Naked Grape: Odd Wines from Around the World
which features more than 100 wine labels and the stories behind them, and
PINOTAGE: Behind the Legends of South Africa's Own Wine
which tells the story behind the Pinotage wine and grape.
---
Disclosure: Peter F May visited Alsace at his own expense and paid for all visits and tastings.


Related Articles
Editor's Picks Articles
Top Ten Articles
Previous Features
Site Map





Content copyright © 2023 by Peter F May. All rights reserved.
This content was written by Peter F May. If you wish to use this content in any manner, you need written permission. Contact Peter F May for details.