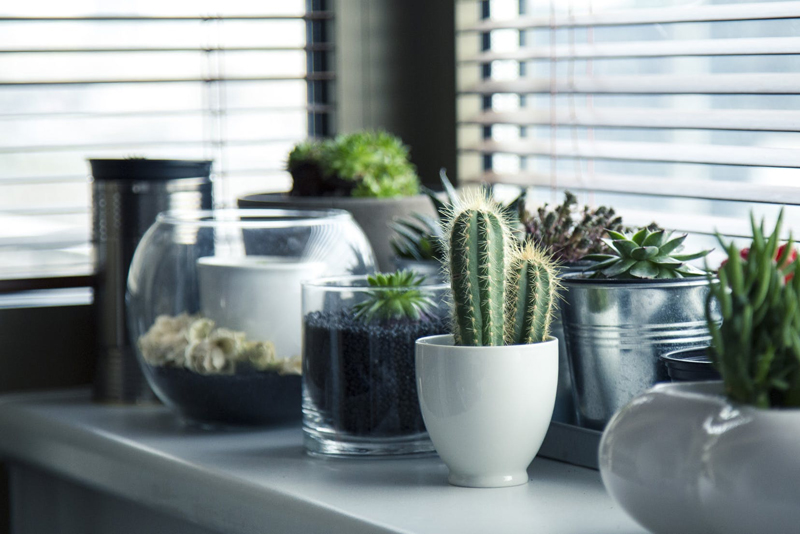 A flowering houseplant that you will see often around Christmas and Valentine's Day is the Kalanchoe (pronounced "kal-un-KOH-ee"). Kalanchoe blossfeldiana, is also known as the Florist's Kalanchoe, Christmas Kalanchoe, or (my favorite) Flaming Katy. It has succulent leaves and comes in some shockingly bright versions of red, pink, white, fuchsia, yellow, gold, orange, and more. It's really hard to resist picking one up during the drab, short days of winter when they are most often available.
Kalanchoes are very easy to take care of, even for a beginner. This was one of the first houseplants I personally owned and the biggest problem I had was that it never re-bloomed for me. Fortunately, I now know why. These plants need six weeks of nights that are at least 12 hours long in order to flower. That means no lights on, anywhere!
Depending on your latitude, the natural day length is appropriate for flower bud induction from the beginning of October until the beginning of March. As long as there are no lamps on in the room or streetlights shining in the window at this time, your plant will flower nicely on its own. If this option doesn't work for you, you can force your plant to flower at any time of year by covering it with a box or putting it in a closet for those 6 weeks. During the day, bring the plant back out into a well-lit area.
Getting a flowering plant to flower is certainly what most of us are interested when growing houseplants, but of course there are other things that should be taken into consideration. When your plant isn't spending 12 or more hours a night in the dark, it needs to get lots of bright sun. In regions near to the equator, it is advisable to keep the plant out of the direct mid-day sun as it will scorch the leaves. In most other areas, a bit of direct sun is great for this plant. Keep an eye out for dead brown patches on the leaves, especially at the edge. This is a clue that the plant is getting too much sun.
Kalanchoe need a well drained potting mix. You can add extra perlite to your regular potting mix to achieve this. Make certain that there is at least one drainage hole in the pot and never let the plant sit in water for extended periods. Let the potting mix dry out about a quarter of the way down between waterings, and then give it a good soaking. Fertilize at every other watering, but cut back when the plant is in full bloom.
It is very easy to propagate Kalanchoe: they are usually propagated from stem cuttings. After the plant has flowered it is sometimes necessary to give it a bit of a pruning, so use the opportunity to pot up some more plants. The cut ends can be stuck in their own pots or in groups. Rooting hormone is not necessary, but can't hurt.
Kalanchoe is not prone to insect invasion, although scale, mealy bugs, and occasionally aphids will take up residence. Over-watering can also be a problem, so be sure to pay attention to how much water the plant receives.
In general, Kalanchoe is a beautiful houseplant to have in your collection and is very easy to care for. Now that you know everything you could possibly need to know about caring for your plant, it's time to pick one out. Of course, with all the beautiful colors available, the hardest part is picking out just one.
This site needs an editor - click to learn more!

You Should Also Read:
Mealybugs
Aphids
Houseplants Newsletter




Related Articles
Editor's Picks Articles
Top Ten Articles
Previous Features
Site Map





Content copyright © 2022 by Lisa Beth Voldeck. All rights reserved.
This content was written by Lisa Beth Voldeck. If you wish to use this content in any manner, you need written permission. Contact BellaOnline Administration for details.