DeToren Winery, South Africa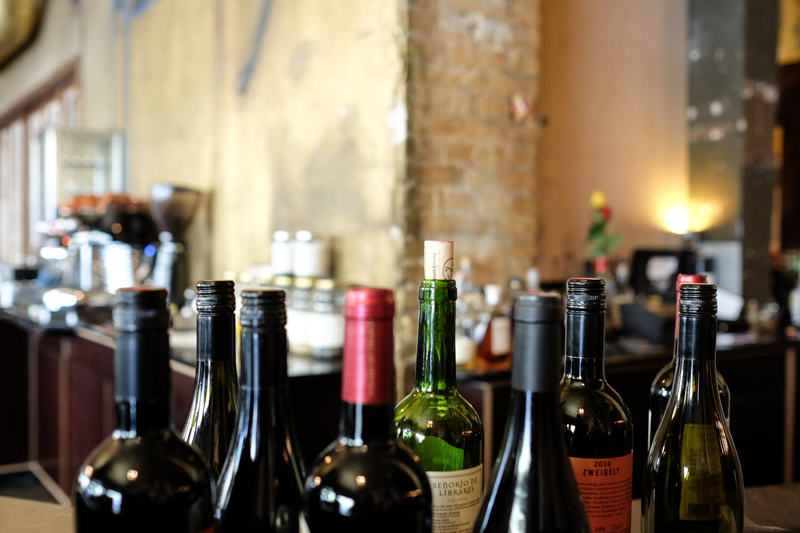 De Toren is a cult artisan wine estate near Stellenbosch South Africa that specialises in Bordeaux style blends.
De Toren means 'the tower'; the property is named after a utilitarian tower that juts from the middle of the winery and is at the core of their winemaking.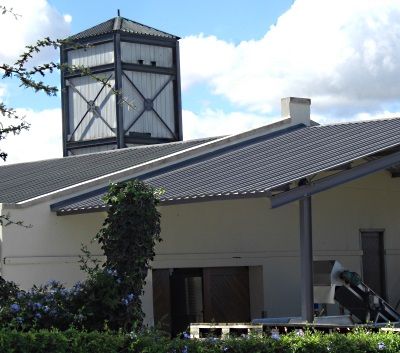 "We were the first totally gravity-fed winery in the country," says Sean Coetzee, Marketing Manager. "Imaging moving peaches by rolling them down a staircase — they'd get broken and bruised. That's what happens to grapes when they're pumped. We have no pumps at De Toren. We wheel tanks of grapes and juice onto the elevator platform, lift them up and let gravity transfer their contents down to a lower tank."
De Toren started in 1994 as a retirement project of Emil and Sonette den Dulk. The property, high on the Polkerdraai Hills, has splendid views of Table Mountain and the sea in the distant. "It's three degrees Celsius cooler here than down in Stellenbosch," Sean explains, "we align our vine rows with the prevailing Atlantic sea breezes which further cools and keeps grapes healthy."
The den Dulks employed Stellenbosch University to survey their soils and found they were ideal for Bordeaux varieties. On 24 hectares they planted two vineyards to Cabernet Sauvignon, Merlot, Cabernet Franc, Malbec and Petit Verdot. One vineyard, on a southern facing warmer gravelly slope, has a majority of Cabernet Sauvignon. The other vineyard, which gets just the morning sun, is predominantly planted to Merlot which suits its clay soils.
"De Toren was the first to make a blend of all five varieties," says Sean. "We make single vineyard wines, vinifying each variety separately in 50% new, 50% second fill 225 litre French oak barrels — except for Malbec for which we use American oak as it better suits Malbec's sweetness."
Sean showed me the basket press they use, traditional in every way except it has medical grade plastic staves instead of the usual wood. "Wood has tiny holes which can harbour bacteria," says Sean. "We had these staves especially made because they are sterile and can be properly cleaned."
The wines age in barrel for 12 months, then over a period of six months the barrels are tasted and, in conjunction with invited customers, various blends are tried until a final one is chosen. After final blending the wines age in bottle for another six months before going on sale.
I tasted three De Toren wines.
First was
La Jeunesse Delicate NV
(90 Rand at winery) a new addition to their range. This is made mostly from pink Malbec juice that was drawn off during fermentation to increase skin to juice ratio (and thus colour and flavour) in the remaining. Instead of pouring it away as previously they have blended in some Cabernet and Merlot from older years to make a non-vintage light easy drinking red. "On a hot day one doesn't always want a heavy red wine with lunch. This should be served chilled; it's fresh and light – the name means 'youthful and delicate'."
De Toren
Z
2011 (255 Rand) is the Merlot based blend. "Z represents Zephyrus, the Greek god of the west wind," explained Sean. "2011 was its best vintage ever." The wine had been decanted for an hour and it was soft and ripe and very pleasant drinking. "This is a great food wine," says Sean, "try it with a mild curry."
De Toren
Fusion V
2011 (354 Rand) is their flagship label, based on 50-60% Cabernet Sauvignon. It has great structure, is firmer than the 'Z'. "Steak is the perfect match," said Sean.
Not tasted and newly announced are two icon wines, sold in locked cages. De Toren
XVII
2012 (1,950 Rand) takes its name from Pliny's book Seventeen on viticulture. "This is extreme winemaking," said Sean. "We selected certain vines in the vineyard which are tended by a dedicated team who wear surgical gloves. All but four bunches are removed, as are surrounding leaves, exposing them to the sun. When we harvest the bunches the outer grapes are discarded and we use just perfect berries from inside the bunch. They are hand sorted, barrel fermented. The winemaker sleeps in the cellar and the barrels are turned every three hours. We make five barrels and released only 1100 bottles. Customers are limited to four bottles each per year."
De Toren
Black Lion
2012 (1,950 Rand), also in a cage is a new venture this year. It is a Shiraz from two vineyards managed by De Toren, one in Swartland and the other in Stellenbosch. Only 608 bottles were produced.
Tasting, sales and cellar tours at De Toren are by appointment only. Contact details are at www.de-toren.com .
Talk about wine on our
forum
.
Peter F May is the author of
Marilyn Merlot and the Naked Grape: Odd Wines from Around the World
which features more than 100 wine labels and the stories behind them, and
PINOTAGE: Behind the Legends of South Africa's Own Wine
which tells the story behind the Pinotage wine and grape.
Peter F May visited De Toren at his own expense.


Related Articles
Editor's Picks Articles
Top Ten Articles
Previous Features
Site Map





Content copyright © 2022 by Peter F May. All rights reserved.
This content was written by Peter F May. If you wish to use this content in any manner, you need written permission. Contact Peter F May for details.